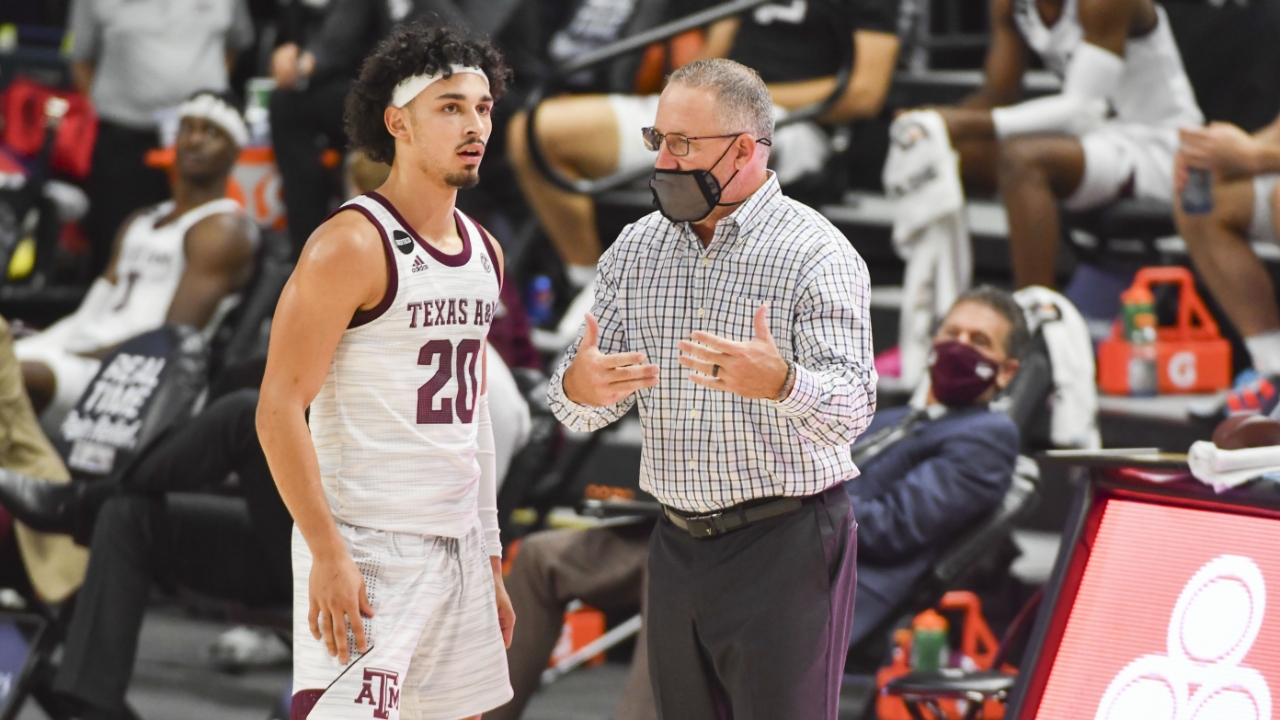 Photo by Lia Musgrave, TexAgs
Texas A&M Basketball
Aggies aiming to gain traction, finish well in mid-season trip to Kansas State
---
Sports teams often come up with slogans for motivation or reminders to reach goals.
"Nine more minutes" would be an appropriate slogan for Texas A&M.
The Aggies (7-7) played some of their best basketball for about 31 minutes in a 78-66 loss to LSU. The Aggies led 66-60 with 8:50 remaining but failed to score the rest of the game.
Adding nine more quality minutes will be the Aggies' goal when they resume their season on Saturday at 11 a.m. at Kansas State (5-12) in the SEC/Big 12 Challenge.
Despite the late-game scoring drought, A&M coach Buzz Williams was encouraged by the Aggies' effort against LSU. He's hoping the Aggies demonstrate similar — though longer — effort the remainder of the season.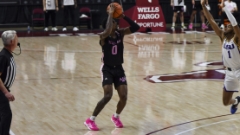 Jamie Maury, TexAgs
"That's the whole key to this," Williams said. "Can we gain some traction relative to the effort? Now, I think our measure becomes different because of the effort. Our struggles have been at the foundation, at the core of it based on effort, our spirit, our attitude, etc."
Does that same light come into effect on Saturday morning?
The Aggies certainly hope so.
Senior guards Jay Jay Chandler, Savion Flagg and Quenton Jackson combined for 46 points in the loss to LSU. In the previous game, they combined for zero points in a loss to Ole Miss.
Point guards Andre Gordon and Hassan Diarra committed only two turnovers each against LSU.
Even forwards Kevin Marfo and Jonathan Aku, who have largely been nonexistent much of the season, have played well as of late.
Aku was much more physical than usual in grabbing a career-high eight rebounds. Williams is optimistic Aku, a 6-foot-9 sophomore, is developing into an effective post.
"I think he's right on the cusp," Williams said. "Is it going to happen today or tomorrow? I don't know. But some of those eight rebounds he got kind of made you take a second glance. Is that the new Aku? Is that the next Aku? Is that going to be who Aku becomes?"
"We need him to take the next step. I believe he will. What's the timeline of that? I'm not exactly sure."
"At the end of the day, it's about Texas A&M. It's about what we can do, how we can get better, how we compete in practice and translate that to the game."
The Aggies are hopeful the next step will help end a three-game losing streak.
Kansas State, though, is suffering twice as much. The Wildcats have lost seven straight. They were embarrassed by Baylor 107-59 in their most recent setback.
Guards Mike McGuirl and Nijel Pack are the only Wildcats scoring in double figures. Like A&M, Kansas State has struggled with scoring, turnovers and rebounding.
Gordon said the Aggies are more focused on their own problems than those of Kansas State.
"At the end of the day it's about Texas A&M," Gordon said. "It's about what we can do, how we can get better, how we compete in practice and translate that to the game. We're more worried about our style of play, our game plan, more than Kansas State."
Never miss the latest news from TexAgs!
Join our free email list
PRESENTED BY