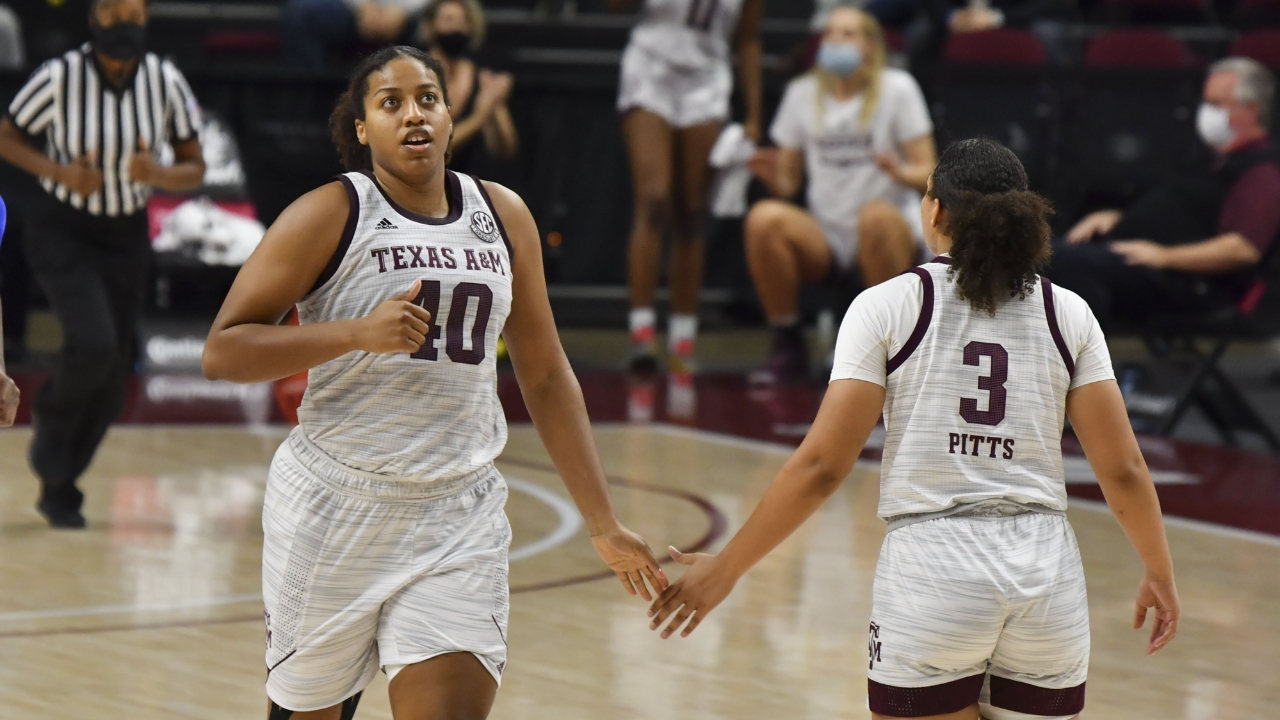 Texas A&M Women's Basketball
Late defensive surge helps No. 8 Aggies sneak past Missouri, 70-66
---
No. 8 Texas A&M (14-1, 5-1 SEC) now has a new winning streak after defeating the Missouri Tigers (5-5, 1-4 SEC) 70-66, Sunday afternoon in Columbia.
In the SEC, Gary Blair and all other coaches will take any road win no matter the shape or form. Despite only shooting 39% compared to Missouri's 54%, the Aggies persevered with some clutch baskets and key defensive stops late to steal a game on the road.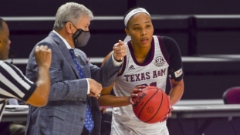 Lia Musgrave, TexAgs
Although it wasn't the best performance, coach Blair was proud of his team for coming together and securing the win.
"Sometimes you have to learn how to win ugly on the road to become a better team," Blair said. "We learned a lot today about ourselves in a tough road game like this."
While ugly was a way coach Blair described today's victory, the Aggies showed why they're a top 10 team in the second quarter. Trailing 18-13 after one, Texas A&M went on a 23-4 run in the second quarter, dominating on the glass and in the paint during the stretch. N'dea Jones led the way scoring six while securing seven rebounds in the quarter. Ciera Johnson was also a force inside as the Aggies knew they had mismatches down low.
"Our confidence is still high when we don't make outside shots," Jones said after the game. "We know that every game we can count on Johnson and our forwards to score inside the paint."
While A&M earned a 38-30 lead at halftime, some key baskets and three-pointers by Missouri derailed any shot by A&M to get comfortable. In fact, the Tigers were leading the 8th ranked Aggies 62-60 with just over four minutes to go.
However, back to back baskets by Kayla Wells switched the lead back to the Aggies with under two minutes to go. The Aggies' defense held Missouri to no points for 2:30 minutes to help retake the lead.
"It was a tough game but at the end of the day, we'll take a win no matter how it comes."
Aaliyah Wilson had a shot to ice the game late, but after missing two free throws, Missouri had one last chance down 68-66 with six seconds left to upset the top 10 Aggies. On the inbounds pass, Jordan Nixon was in great position and forced a turnover.
Destiny Pitts later went to the free-throw line and made both to make it a two-possession game in crunch time. Just like coach Blair, N'dea Jones also knew the Aggies didn't play their best in their 70-66 win.
"Road games are hard no matter who you play," Jones said. "It was a tough game, but at the end of the day, we'll take a win no matter how it comes."
Coach Blair and the Aggies will have to find more answers, however, as the Aggies' next game will also be on the road against Auburn, Thursday at 7:30 on SEC Network.
MESSAGE FROM OUR SPONSOR
Special thanks to 12th Man Technology for their sponsorship of women's basketball postgame stories throughout the season at TexAgs! For the ninth consecutive year, WBB content will be available to you for free!
Never miss the latest news from TexAgs!
Join our free email list
PRESENTED BY