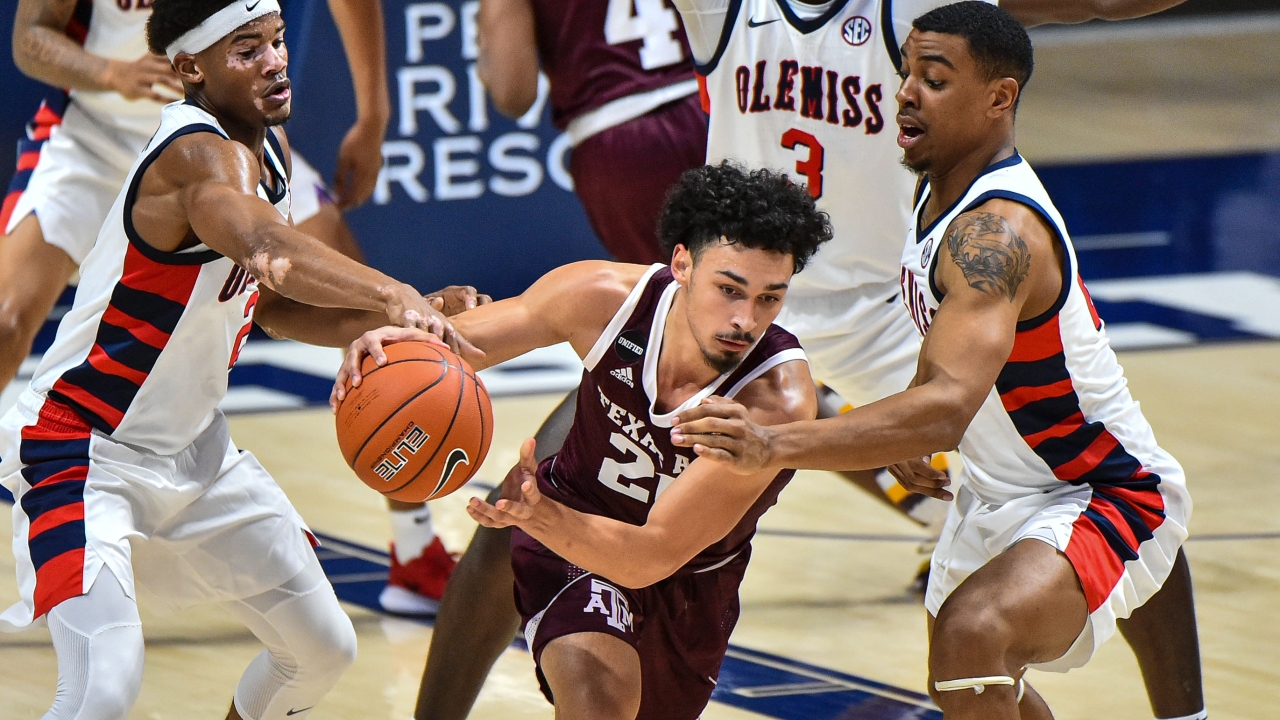 Buzz Williams
Emanuel Miller
Jaxson Robinson
Texas A&M Basketball
Offensive struggles plague Aggies in loss at Ole Miss, 61-50
---
In a basketball season plagued by offensive futility, the Aggies hit bottom.
At least they hope they did.
It's difficult to fathom that Texas A&M (7-6, 2-5) could fall much farther — especially on the offensive end — than they did in a 61-50 Southeastern Conference loss to Ole Miss in Oxford on Saturday.
Held to a season-low point total, the Aggies shot 39.2 percent while managing just two more field goals (20) than turnovers (18). Typically dependent on free throws, the Aggies only shot eight. They made five.
Conversely, Ole Miss (8-6, 3-4) converted 18 of 29 free throws and scored 25 points off A&M turnovers.
"We're just repeating the same mistakes over and over," said sophomore forward Emanuel Miller. "At some point we have to learn from our mistakes and get better. At this rate, we're not seeing progression in our team. Rather, we're declining. Turning the ball over killed us."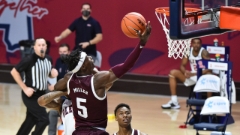 Justin Ford-USA TODAY Sports
Miller led the Aggies with 18 points and 11 rebounds but didn't get much help. He was A&M's only player to score in double figures. Center Kevin Marfo had eight points and guard Andre Gordon had seven.
Senior guards Savion Flagg, Jay Jay Chandler and Quenton Jackson were all scoreless.
Coach Buzz Williams searched his bench for offense and found at least a ray of hope in the shooting of freshmen Jaxon Robinson and Hayden Hefner. Robinson hit 2 of his 5 attempts from 3-point range. Hefner hit a trey.
"We're looking for anyone that can help us get the ball on the rim," Williams said. "And if they can get the ball through the net that's even better.
"I thought Jaxson was good. Hayden made the 3 when he came in in the second half. So, regardless of age and regardless of experience anybody that can help us score we're in need of, for sure."
The Aggies actually held a 26-19 advantage when Gordon dunked with 3:33 left in the first half. But A&M repeated a collapse from last week's 68-52 loss to Missouri in which a first-half lead was erased by a 21-5 run.
This time, Ole Miss outscored the Aggies 24-4 over an 11 minute-span to build a 43-30 decisive lead with just over 13 minutes to play.
Guard Jarkel Joiner finished with 21 points and guard Shuler Devontae Shuler had 17 to lead the way for Ole Miss.
Prior to the collapse, the Aggies were shooting nearly 50 percent and had committed just four turnovers. But they made just 1 of 3 shots and committed five turnovers against Ole Miss' 1-3-1 zone the remainder of the half. The Rebels capitalized to take a 31-28 lead into the break.
"The first 17 minutes was the lowest turnover rate we'd had all year long," Williams said. "It was good. You could almost feel the spirit of our team on the floor, in the huddles like: 'Wow, this is good. We're not giving the ball to the opponent.'
"We're getting stuck in a corner. We have to find some way to get out of that corner."
"Then the last two minutes that changed. I thought even the first several possessions of the second half when they continued to stay in the zone — which everybody knew they would — I thought our spirit was still frozen. We just didn't respond the appropriate way."
Miller stubbornly maintained the Aggies still can respond the right way. He compared their plight to a reeling prizefighter that's still punching.
"It's like a boxing match," Miller said. "We're getting stuck in a corner. We have to find some way to get out of that corner. Collectively, as a group, we're not there yet.
"But I have so much hope in this team. I feel like as this season progresses we're going to be way better at getting out of that corner, stopping the bleeding and putting that band-aid on."
Even Miller acknowledged they're running out of time.
"It has to happen now," he said. "We've got to do something now to stop the bleeding. If we keep on having these conversations, it's going to be a waste of a year. We just have to do better."
Never miss the latest news from TexAgs!
Join our free email list