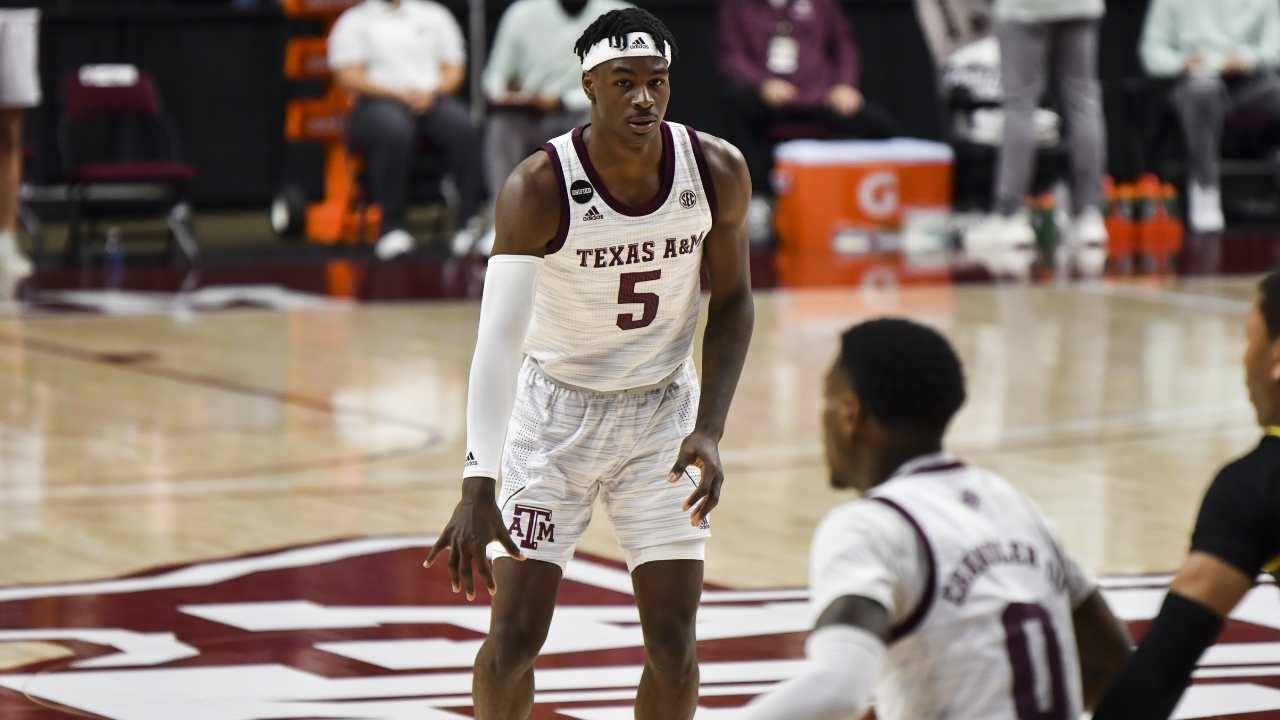 Photo by Jamie Maury, TexAgs
Texas A&M Basketball
John Thornton: Emanuel Miller still adjusting to being top of scouting report
---
Key notes from Dr. John Thornton interview
It's SEC policy that we call the road games remotely. Even though we can call the games in the arena while socially distancing at home, not everybody has those setups, so we do them remotely. Emotionally, it's different not being there. You don't get the feel and don't get to see the game live. We get to see the practices when they're here, but we can't when they're on the road, obviously. It's different preparation-wise, and I miss being courtside.

Top-to-bottom, you want depth and experience. That has been lacking right now. Players are showing glimpses of grasping it and coming into form. The 5-position with Jonathan Aku and Kevin Marfo is finally coming along, and you need them to be able to play through them. I love Hassan Diarra. Andre Gordon and Emanuel Miller have come a long way, and they might be as improved as anybody in the league. I'd like to see Savion Flagg come along, but he has traditionally been a late-bloomer regarding conference play.

We kind of have a 1-2 punch. Right now, you don't know where it's coming from offensively. We're going to cover defensively, but you don't know where that punch will come from offensively. Miller was great early on, and now he's at the top of scouting reports. Savion needs to come along. He can create some problems for defenses. I do think he is coming around.

Texas A&M forces itself into turnover-situations. I guess that's inexperience. The guys are learning. Andre Gordon has learned. Buzz talks about him playing off of two feet. He is becoming less prone to turnovers. Doesn't he have a beautiful looking shot? I love that he can stretch defenses that way because we know he can get in the lane and finish strong, but that 3-point shot is looking good right now.

This is painting with a broad brush, but as a coach, you want the point position to be a coach on the floor. They need to make people around them better. Andre is kind of getting it. He was a football guy and a 2-guard, but now he's running the point and getting it. Diarra is different, and he's growing up a little as well. When they get a true point guard like Wade Taylor in there, it's going to make a world of difference.

What you love about Emanuel Miller is he has a motor. At the top of the scout is keeping him off the backboard. He is now getting the other team's best guy to keep him off the rim now. He is capable of him shooting those mid-range jumpers. He can shoot the 8- to 10-foot jumpers really well. You might see them trying to get him in situations where he can face the basket. Look at his free-throw percentage right now. He is a go-to guy to get fouled. Miller needs to keep developing that inside game now that he's going to draw their best guys.

The confidence factor of being able to go a different route is key. You can't run a certain set every time to get a certain guy the ball. Other people have to be threats. Get shots instead of running into turnovers. The biggest flaw has been not getting shots after defensive stops because of bad judgment or whatever. Other people being threats are going to help Emanuel Miller, Savion Flagg, and those bigs inside.

Hayden Hefner and Jaxson Robinson are really good shooters, as is Cashius McNeilly. I'm anxious to watch Hefner and Robinson continue to mature because those guys can absolutely fill it up.
Never miss the latest news from TexAgs!
Join our free email list