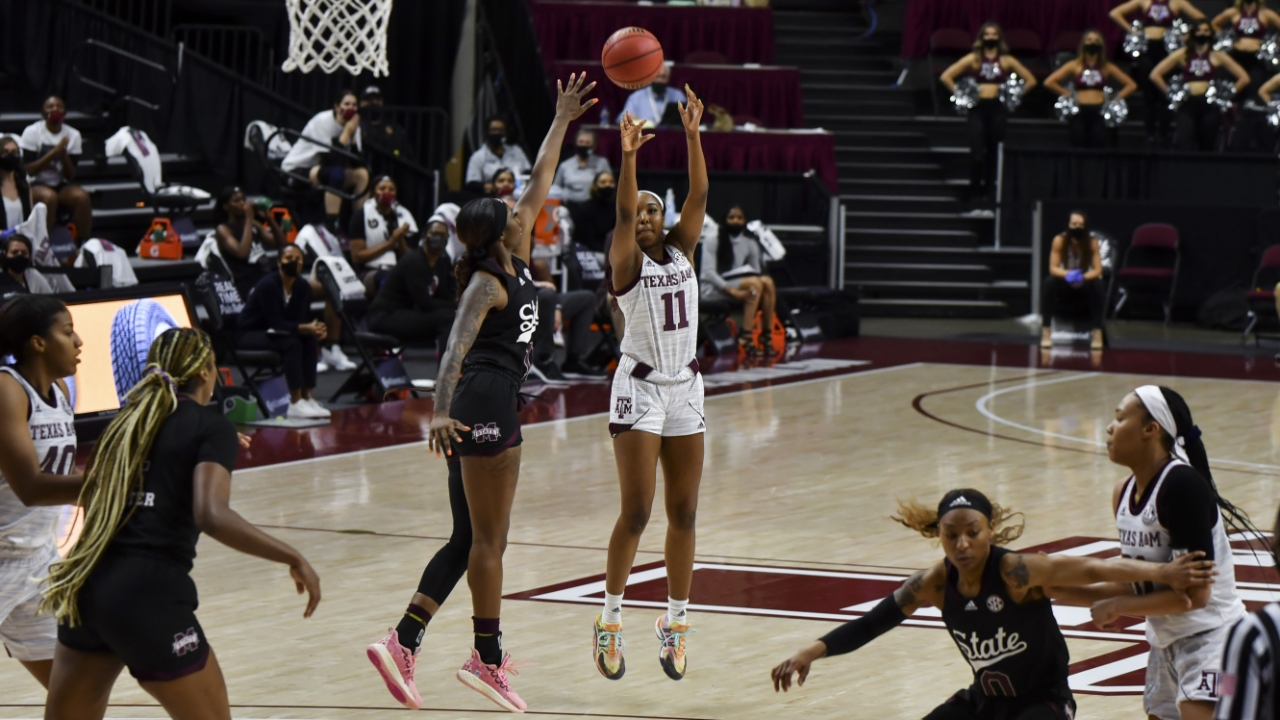 Gary Blair
Kayla Wells
Ciera Johnson
Texas A&M Women's Basketball
Wells scores 19 as No. 7 Aggies cruise past No. 14 Bulldogs, 69-41
---
No. 7 Texas A&M (13-1, 4-1 SEC) bounced back from a road loss to dominate a top-20 matchup against No. 14 Mississippi State (8-3, 3-3 SEC), 69-41, on Sunday afternoon.
The Aggies took control of the game from the tip and held the Bulldogs to three points in the first quarter (14-3). This marked the lowest points scored in a quarter in Mississippi State's history.
"We really stressed on stopping the transition, and when we got in half-court, we knew what we needed to do."
The Bulldogs never recovered from a slow start. The Aggies contained Mississippi State's Jessika Carter, who entered the contest averaging 16.8 points per game and 9.3 rebounds per game. Carter grabbed eight rebounds, but the Aggies held her to just two points.
Kayla Wells described the focus of the Aggies' defense as they stopped the Bulldogs early.
"We were very focused on stopping their inside game," said Wells. "We knew they wanted paint points and open threes. We really stressed on stopping the transition, and when we got in half-court, we knew what we needed to do. I felt like we had great intensity practice leading up to this game, and that's where it started."
Ciera Johnson came out hot and scored the first two buckets of the game. Her up-tempo start propelled her teammates through all four quarters as she registered a double-double with 14 points and 12 rebounds.
Wells powered the offense on Sunday, scoring 19 points. Wells drilled three 3-point goals, going 3-for-3 from behind the arc.
The Aggies saw three players score in double-figures. Wells led the way with 19, Aaliyah Wilson posted 15, and Johnson had 14. Jordan Nixon added nine, and N'dea Jones put up eight.
The Aggies demonstrated exceptional passing ability, as the Maroon & White finished with 18 assists. Nixon led the way, dishing out 6.
Johnson touched on the chemistry of this team and how well-rounded the roster is.
"We know any given night anybody can go off," said Johnson. "Our goal is if you have the hot hand, it's your night; we're going to try and get the ball to you. This team, nobody really cares about who's getting the most points and who's the best player. You have to defend everyone on our team."
The Aggies will travel to Colombia, Missouri, on Sunday, January 24, to face the Tigers at Mizzou Arena. Tip-off is scheduled for 4 p.m. CT. Junior Alexis Morris is expected to return to action for A&M.
MESSAGE FROM OUR SPONSOR
Special thanks to 12th Man Technology for their sponsorship of women's basketball postgame stories throughout the season at TexAgs! For the ninth consecutive year, WBB content will be available to you for free!
Never miss the latest news from TexAgs!
Join our free email list
PRESENTED BY