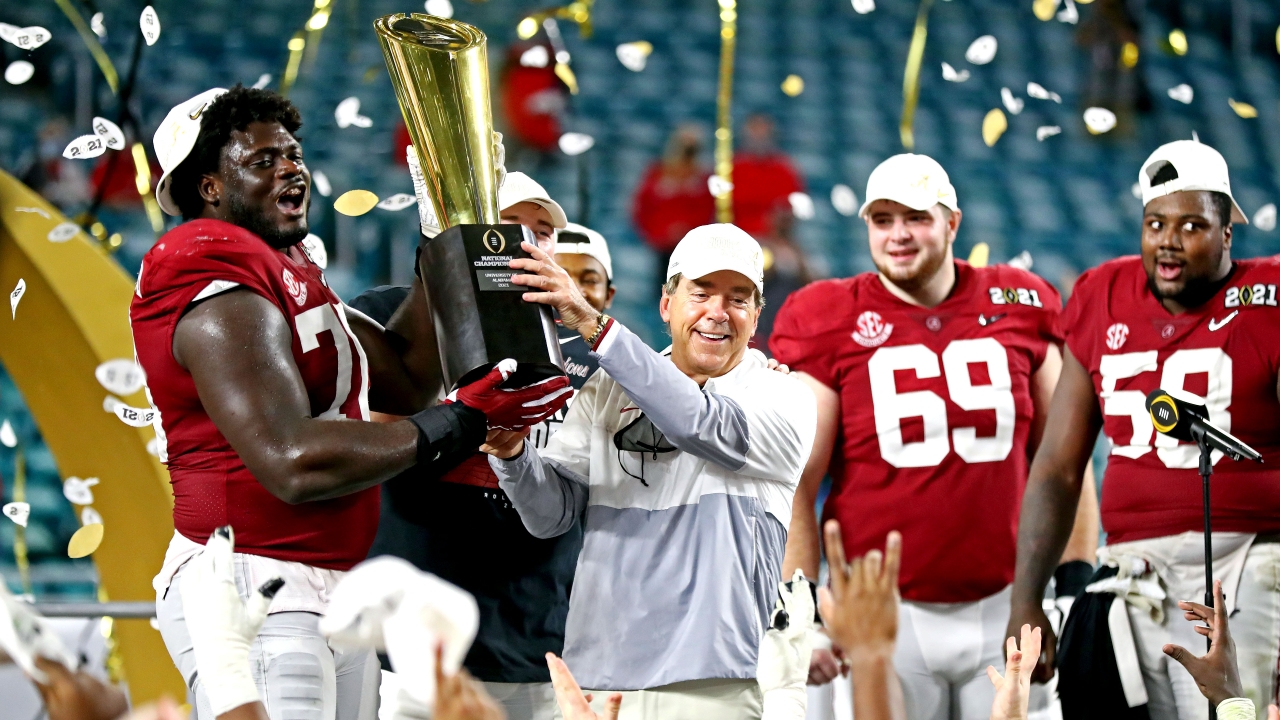 Photo by Mark J. Rebilas-USA TODAY Sports
Texas A&M Football
Cole Cubelic: Alabama was dominant in every facet during title run
---
Key notes from Cole Cubelic interview
Maybe the last two, even three, national champions could be discussed as perhaps the all-time greatest college football team. For the longest time, my standard was 1995 Nebraska. Based on what they accomplished, last year's LSU team deserves to be in that conversation. How many great SEC teams did Alabama beat this year? They beat Texas A&M and Georgia. Who else did they beat? Then they beat Notre Dame and Ohio State. They dominated every game. They did not trail an opponent after halftime of the Georgia game early in the season. This is unbelievable.

I question a lot of things that Ohio State did last night defensively. They didn't look good on offense either, but they likely had a lot built around Trey Sermon. Alabama was absolutely dominant last night.

When comparing LSU in 2019 to this Alabama team, it's about whoever has the football last. Legitimately. There's no way I could pick against either one of them. You could peel them back and pick them apart, but it's "pick your poison" with either team. It would be an interesting matchup. LSU's defense had a lot last year. That secondary could match up with Alabama's receiving corps. Then, look at what they gave up to a similar Alabama team from last year.

We've had this conversation with Billy when we asked about 2020 possibly being the best Texas A&M team ever. Many people throw out 2012 when talking about the Aggies, but when you see everything this 2020 team did, they're up there. There might not be as many NFL guys or first-rounders, but it's about being a team, winning in different ways, and overcoming adversity. That's why I don't think there has ever been a better team than last year's LSU team. Especially with what they did to Georgia and Oklahoma at the end of the year. Still, it's fair to talk about this Alabama team as one of the best to take the field.

Left to accomplish, there isn't really anything else Nick Saban could say, "this is my goal." He has 33 wins all-time as the AP No. 1 team. The next closest is 15. Saban has 256 wins right now. Some people say he could go five more years, and if he does, I'm not sure he's going to get to Bear Bryant at 323. He's certainly not going to catch Paterno or Bowden. Saban has won national titles in three different decades and has seven total, which puts him ahead of Bryant. Some people would tell you they just signed the best recruiting class in the history of recruiting. Why would you walk away from something that's so well maintained and in cruise control? I also don't even know what Saban would do. Could you create a commissioner of college football and have him be the first to fill the job? Does he join College Gameday? I'm not sure that would fit Nick Saban. I'm also not sure he's going to leave any time soon.

Last year's LSU team took home 16 national awards, and this Alabama team has 14 with more awards to come. With the Joe Moore Award, many voters had a ton of respect for Texas A&M, and in many years, they might have been the winners. This was just a different Alabama team. So many enjoyed watching the Aggies' offensive line, and they deserve a ton of respect. This could set the foundation for Jimbo moving forward. We could look back at this team as the one that got them going.
Never miss the latest news from TexAgs!
Join our free email list