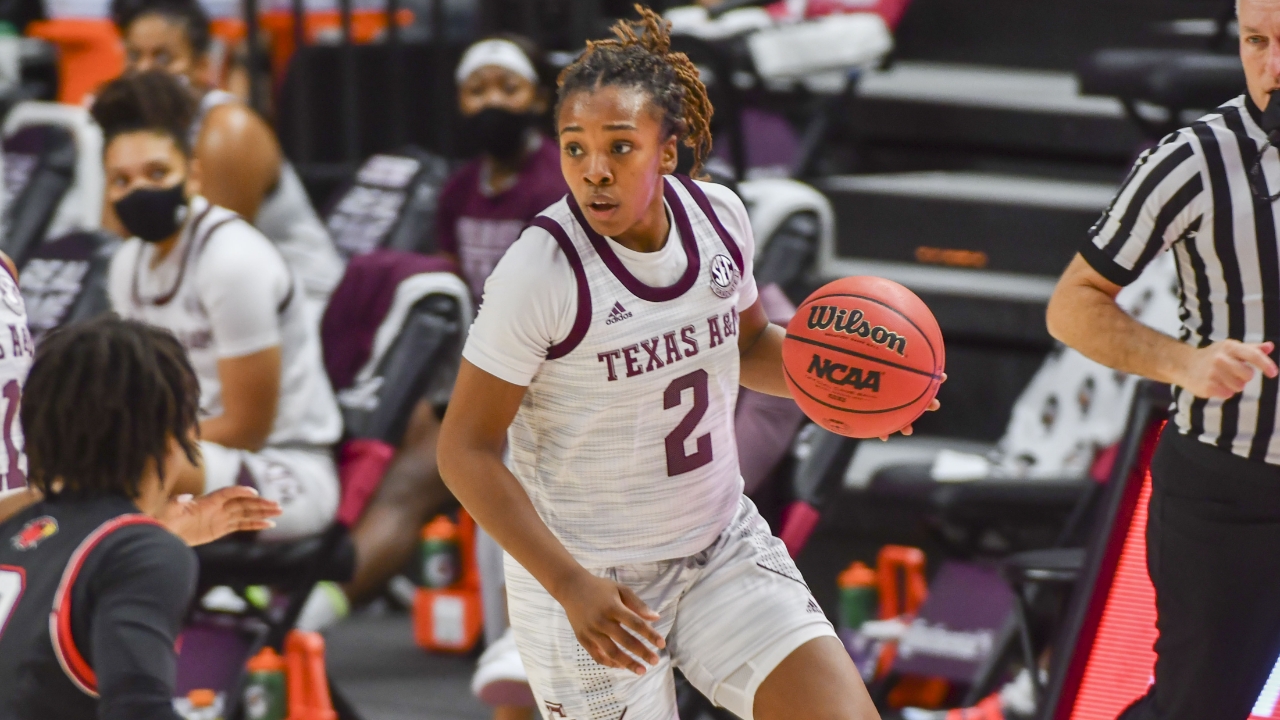 Photo by Lia Musgrave, TexAgs
Texas A&M Women's Basketball
Wilson pours in 27 in return to Arkansas as No. 8 Aggies win, 74-73
---
The Razorbacks were unable to weather the storm the Aggies brought with them from College Station. After rolling over No. 10 Kentucky, eighth-ranked Texas A&M picked up right where they left off to maintain an unblemished record, winning 74-73 in Fayetteville. The Aggies solidified another top-15 win over No. 13 Arkansas thanks to some late heroics from Jordan Nixon.
With the Razorbacks leading 73-69, Nixon stepped up and executed a three-point play at the end of the fourth quarter, narrowing the gap to one point. After an Arkansas turnover, Nixon followed with a clutch game-winning layup with less than a second remaining to clinch the win for the Aggies.
Texas A&M (12-0, 3-0 SEC) remains the only undefeated team in the Southeastern Conference after knocking off the Razorbacks (10-4, 1-3 SEC).
Texas A&M matches its longest win streak in program history at 12, a feat last achieved by the 2010-11 National Championship squad.
"I just want to win the next game," proclaimed Head Coach Gary Blair. "This is just the SEC. We're not trying to go undefeated this year; we're just trying to win the next ballgame every time."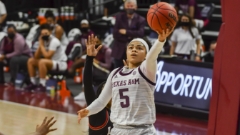 Lia Musgrave, TexAgs
Gary Blair's team searched for a hot hand early but came out cold against the Razorbacks' fast-paced offense. Halfway through the first quarter, the Aggies grabbed their first lead, 10-8, and things started to heat up in Bud Walton Arena.
This top-15 matchup showcased a back and forth aggressive fight, with the two teams tied five different times and trading leads a total of seven times, including the last change, which came with less than a second remaining.
The Aggies slowed down Arkansas' top scorer, the No. 2 shooter in the SEC, Chelsea Dungee, who averages 25 points a game, drawing three fouls against Dungee in the first half. Despite battling through foul trouble, Dungee still made her offensive presence known, leading the Razorbacks, scoring 21 points.
Arkansas Head Coach Mike Neighbors remarked on his top scorer's foul trouble.
"This limited her aggressiveness," Coach Neighbors said. "It impacted the game earlier on rather than late. I thought she had some really big shots for us to give us a chance at the end."
A&M's N'dea Jones made history as she clinched her 34th career double-double, posting 12 points and 14 rebounds. The senior forward now holds the record for most double-doubles in A&M program history.
There was a bit of rivalry on the court, as some of the Aggies hold ties to Fayetteville. Texas A&M's Coach Blair previously coached the Razorbacks from 1993-2003, and the Aggies' scoring leader on Sunday, Aaliyah Wilson, wore a Razorback jersey as a freshman. Wilson paced the Aggies with 27 points, a new career-high for the senior. She also grabbed 8 rebounds and had a huge defensive play in the final quarter.
Jordan Nixon spoke highly of her teammate's performance tonight.
"She played her heart out tonight," said Nixon. "I'm so proud of her. She was able to come back to Arkansas and do what she did. She was key."
While Wilson led the Aggies in scoring, it was Nixon who took the game in her hands late.
"We always want the best shot possible of course," said Nixon. "But the ball was in my hands and I just tried my best to make a play and that's what came out of it. I'm just so grateful. Arkansas is a good team. This is a huge win. We showed great mental toughness tonight."
The Aggies will visit the LSU Tigers in Baton Rouge on Thursday, January 14 at 6:00 p.m., and the game can be streamed on ESPN+ and heard on 1150 AM and 93.7 FM.
MESSAGE FROM OUR SPONSOR
Special thanks to 12th Man Technology for their sponsorship of women's basketball postgame stories throughout the season at TexAgs! For the ninth consecutive year, WBB content will be available to you for free!
Never miss the latest news from TexAgs!
Join our free email list
PRESENTED BY