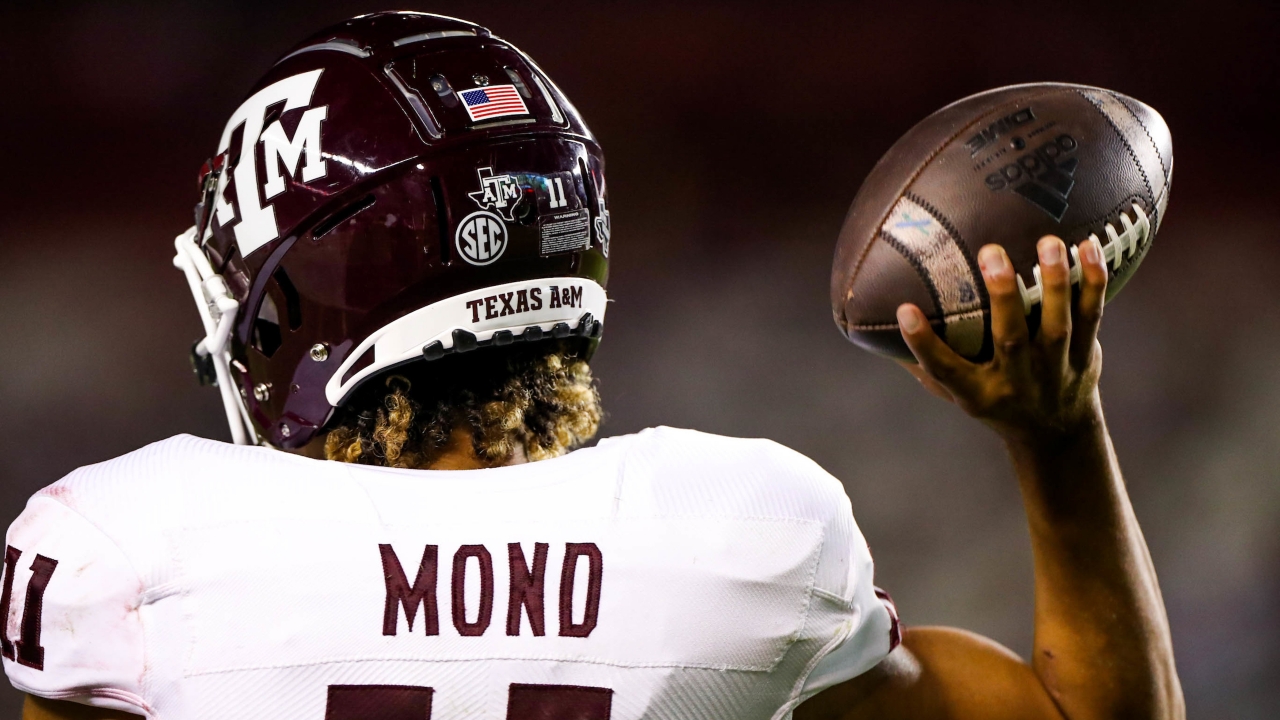 Photo by Craig Bisacre
Texas A&M Football
Completing the mission: A&M looks to finish strong vs. UNC in the Orange Bowl
---
The way quarterback Kellen Mond tells it, Texas A&M is on a mission despite the omission.
The No. 5 Aggies (8-1) were denied a place in the four-team College Football Playoff. Ohio State and Notre Dame were selected ahead of A&M, even though the Aggies arguably had a better resume.
That frustrating omission doesn't mean the Aggies won't play with championship intensity against No. 13 North Carolina (8-3) in the Orange Bowl at 7 p.m. on Saturday.
Since the inception of the College Football Playoff in 2014, teams ranked fifth have typically appeared disinterested in their New Year's Six bowl games. Consequently, those teams have lost four times in six years.
However, Mond said he's "100 percent" confident the Aggies are focused on North Carolina.
"We always want to have the same level of focus, no matter what game we're playing. No matter if it's Week One of the season or in the national championship."
"We always want to have the same level of focus, no matter what game we're playing," he said. "No matter if it's Week One of the season or in the national championship. Coach (Jimbo) Fisher always talks about building national championship habits, no matter what game we're playing. I think that's what's important. We want to be able to do that, whether we're No. 5 and got left out of the playoffs or not. We want to play the best we can."
If the Aggies are at their best, they would likely extend their current seven-game winning streak and could end the season with their highest final ranking since winning the 1939 national championship.
"You have to get in these situations and play these types of games to understand how to be the team you really want to be and win championships," coach Jimbo Fisher said on Friday. "This is a huge stage for us for what we've done and what the kids have done. Hopefully, we'll play well."
Playing well means controlling the line of scrimmage and avoiding turnovers.
Sophomore running back Isaiah Spiller has rushed for 986 yards. Operating behind one of the nation's elite offensive lines anchored by All-American guard Kenyon Green, Spiller has rushed for at least 82 yards in every A&M victory.
The Tar Heels have been vulnerable to the run, even when linebacker Chazz Surratt is in the lineup. North Carolina allowed 199 yards or more in four games. The Heels lost three of those games.
North Carolina coach Mack Brown is well aware of the Aggies' ability. His Tar Heels lost to Notre Dame, 31-17, on Nov. 27. They see A&M as at least the Irish's equal.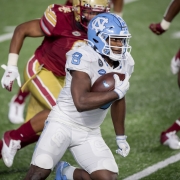 Adam Richins-USA TODAY Sports
Adding to their difficulty, four stars— running backs Michael Carter and Javonte Williams, receiver Dyami Brown and Surratt — have opted out of the Orange Bowl to begin preparing for the NFL draft.
The Tar Heels know they face an enormous task.
"They know that A&M is just as good as Notre Dame, and it (playoff selection) probably came down to a really hard discussion at the end at who should be No. 5," Brown said. "At some point, we'll probably expand the playoffs, and A&M would've been the first team in.
"(North Carolina players) understand the magnitude of the game. They know how good A&M is. They're very aware of the four guys we don't have playing. They know that not one person in America is going to pick us to win outside of our room. They're fully aware of the fun challenge — is what we call it — that's ahead of us."
Their most difficult challenge will be using backup running backs against the A&M defense, which is ranked second in the nation against the run.
"This is new for me because I've never had a guy not play in a bowl game," Brown said. "What we've done is we handled it like guys are injured. Next man up. You've got to do the best you can do.
"You take the other players like you would do on any week and try to figure out what you can do to be the best offense you can be with the players available and not talk about what you don't have."
The opt-outs figure to put even more emphasis on North Carolina sophomore quarterback Sam Howell, who is one of the best in the country. Howell has passed for 3,352 yards and 27 touchdowns with just six interceptions.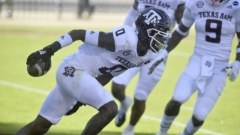 Matt Bush-USA TODAY Sports
His passing is a major concern for the A&M pass defense, which has been vulnerable to big plays. Also, the status of starting cornerback Myles Jones remains in question. Jones did not play in the regular season-closing 34-13 victory over Tennessee because of an ankle injury.
A&M could try to contain Howell with a strong pass rush. North Carolina's offensive line has allowed 30 sacks this year. The Aggies have recorded multiple sacks in six games.
With so many factors apparently tilting in A&M's favor, the Aggies figure to have an advantage unless they struggle with turnovers. Mond has thrown just three interceptions all season, which suggests that may not be an issue.
Also, Mond is looking to put a strong end to the best season of his career. He's thrown for 2,050 yards and 19 touchdowns while completing 63.5 percent of his passes.
In the last two games, Mond has completed 80 percent of his passes for 477 yards and three touchdowns. He has also rushed for 119 yards and two scores.
"He's such a dual-threat guy. His protection calls, his run checks … he can get you in and out of the right plays, reads," Fisher said." He can beat you with his arm. Throwing the ball excellently. And he can beat you with his legs. He can win the game in a lot of different ways."
The Aggies are hoping Mond can help win one more game and complete their mission.
Never miss the latest news from TexAgs!
Join our free email list