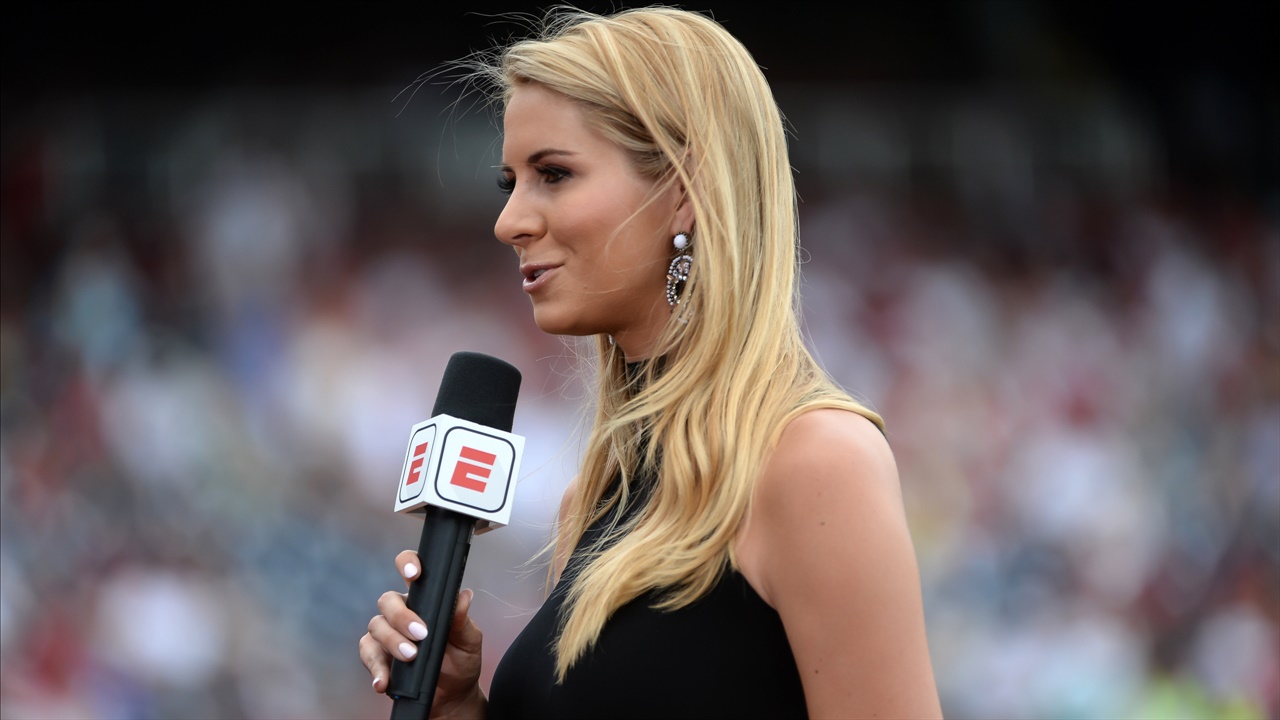 Photo by Steven Branscombe/USA TODAY Sports
Texas A&M Football
Rutledge: You never wanted to play at Kyle Field, now you don't want to play A&M
---
Key notes from Laura Rutledge interview
It's a lot doing stuff for both ESPN & the SEC Network. There are some days where I'm like, "What sport am I talking about?" For me, the SEC and college football are always going to be a big part of my life, so to be able to hold on to that while holding this NFL role is cool. It also ties together because so many of these NFL guys were great SEC players. I know them already, and I know their backstories. It's really cool and really beneficial. A few years ago, I thought that I probably wouldn't have handled this, but I'm very thankful for all of these opportunities.

When I was watching the selection show, and we were waiting for that fourth spot, I thought there was a world A&m would've gotten that fourth spot. In my opinion, they should've. I've been very vocal about that. Knowing the committee and how they watch the games, I thought they'd have to out A&M in. Watch the games. Ohio State did not look good against Northwestern. Then A&M possessed the ball for 44 minutes vs. Tennessee in a dominant performance. I thought they showed what they needed to in order to solidify that spot. I'm sure what came into play was the conference champion factor outweighed what the Aggies did.

What Jimbo Fisher and those players have done in such a wild year, to come out and still play well every week, I have been so impressed with the job Jimbo Fisher, and the Aggies have done.

This is a huge opportunity for the Aggies. The honor of being in a New Year's Six Bowl, a lot of teams we thought would be good this year faltered. A&M has a chance. North Carolina is a great team with a great coach and a great quarterback. I think the Aggies will still be a great team again next year. What Mike Elko has done defensively is so impressive. The physicality and everything they play with is amazing. It is a culture change under Elko.

Texas A&M was always a place you didn't want to play because of the atmosphere and the 12th Man, but now when you combine that with a team that people really don't want to play, the Aggies are going to be a force to be reckoned with.

The Peach Bowl is a scary game for Georgia because they have that narrative that they haven't been ready for their bowl games. Cincinnati is absolutely going to be ready for the Bulldogs now.

I love Iowa State. The job Matt Campbell has done has been exceptional. It's a game for a chance for Iowa State to make a statement now. I think they could be a team right on the cusp, and a dominating game could springboard them into next season.

I want to sit here and say Notre Dame will prove the narrative wrong, but Alabama is just so good. Seeing them in person in the SEC Championship game, I don't know how you stop them. They can play all kinds of football. I think it's Alabama by 100. I don't see any way that Notre Dame is competitive.

I think we'll see DeVonta Smith win the Heisman, but I think it'll be close, though. Mac Jones deserves to be right up there in the conversation. It's a cool story for him too.

I think Ohio State will be more competitive than people think because Ryan Day gets them ready for big games. I think the Buckeyes will play well, but I think we'll be seeing Clemson-Alabama again in the national championship.
Never miss the latest news from TexAgs!
Join our free email list