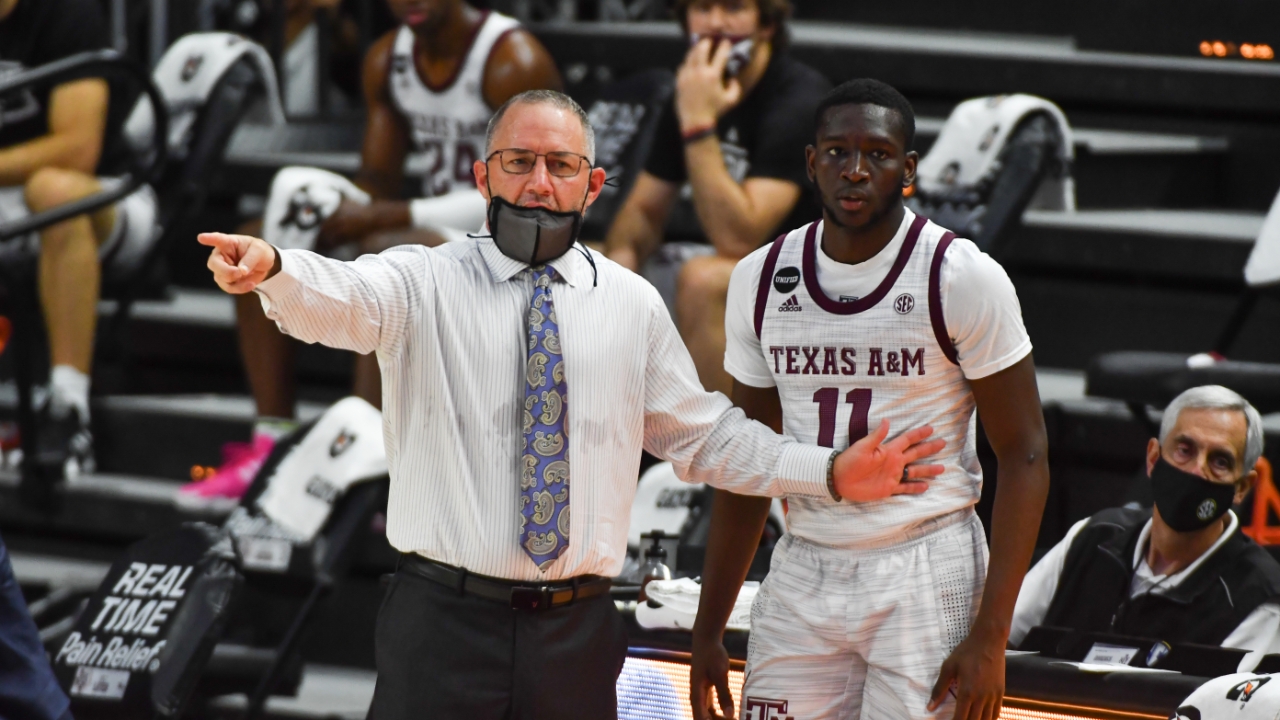 Photo by Lia Musgrave, TexAgs
Texas A&M Basketball
Aggies dig out of early hole, cruise to dominating victory over Wofford, 70-52
---
On the first day of winter, the Aggies were like a dependable old truck on a cold morning.
It took a while to warm up, but then they were virtually unstoppable in rambling to a 70-52 college basketball victory over Wofford on Monday afternoon at Reed Arena.
In their final tuneup before opening Southeastern Conference play, the Aggies (5-1) allowed five quick 3-point goals in the first four minutes as they fell behind 15-3.
They came out first media time out more energized on the defensive perimeter and in the offensive paint. Their only adjustments were of the attitude variety.
"We knew we had to respond. We just started fighting."
"In my opinion — not to the take away from the coaches have done to us — but our response over the last 35 minutes is what we've been lacking in our first five games and first five minutes of this game," A&M coach Buzz Williams said. "To have a chance (in the SEC), we have to compete with that kind of level of effort."
The Aggies' defensive effort forced 16 turnovers and limited Wofford (3-3) to 32.5 percent shooting after their first five baskets. The visiting Terriers didn't help themselves, either. They converted just four of 19 free throws for an embarrassing 21.1 percent.
"We knew we had to respond. We just started fighting," said senior guard Jay Jay Chandler, who had a bandage on his right cheek after the game.
The Aggies made a stringent effort to get the basketball inside on the offensive end. That resulted in 28 points in the paint. It also created the majority of 25 fouls called on Wofford. A&M parlayed those fouls into 23 points at the free-throw line.
Sophomore forward Emanuel Miller led the Aggies with 16 points, 10 of which came from the foul line.
Freshman guard Hassan Diarra tied a career-high with 14 points. Mostly working inside for short jumpers, Chandler had 10. Andre Gordon contributed nine, including a driving dunk that staked the Aggies to a 55-41 lead with 8:10 remaining.
Wofford was led by guard Max Klesmit, who hit four times from behind the arc and finished with 14 points.
After falling behind 15-3, A&M held Wofford scoreless for nearly 10 minutes. The Aggies eventually took a 29-28 halftime lead on Diarra's 3-pointer just before the buzzer. Overall, he hit twice from 3-point range and converted six of nine field-goal attempts.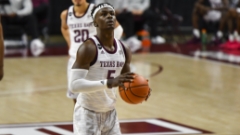 Jamie Maury, TexAgs
"I hit my first shot, but I'm a point guard, so I want to get my guys involved first," Diarra said. "I hit a couple of shots, so I just kept shooting."
The Aggies did, too. Especially from the foul line.
A&M outscored Wofford 12-5 to open the second half, and half of those points came via Miller free throws. Miller also had a layup, while Diarra scored a layup and a dunk.
That provided A&M a 41-33 lead. The Aggies' margin never again slipped below five points. The lead reached as many as 21 points, 67-46, on a pair of Quenton Jackson free throws with 4:08 to play.
SEC play opens on Dec. 29 at LSU, so Williams said the effort the Aggies gave was vital and encouraging. He didn't see a similar effort in A&M's disappointing 73-55 loss to TCU last week. When TCU took a big lead, the Aggies did not respond.
"We never changed. We never made an attempt at changing. A week ago, I don't think we had that level of response," Williams said. "We want to be proactive, not reactive. Today, our reaction was good. Now, we have got to be proactive."
Never miss the latest news from TexAgs!
Join our free email list
PRESENTED BY