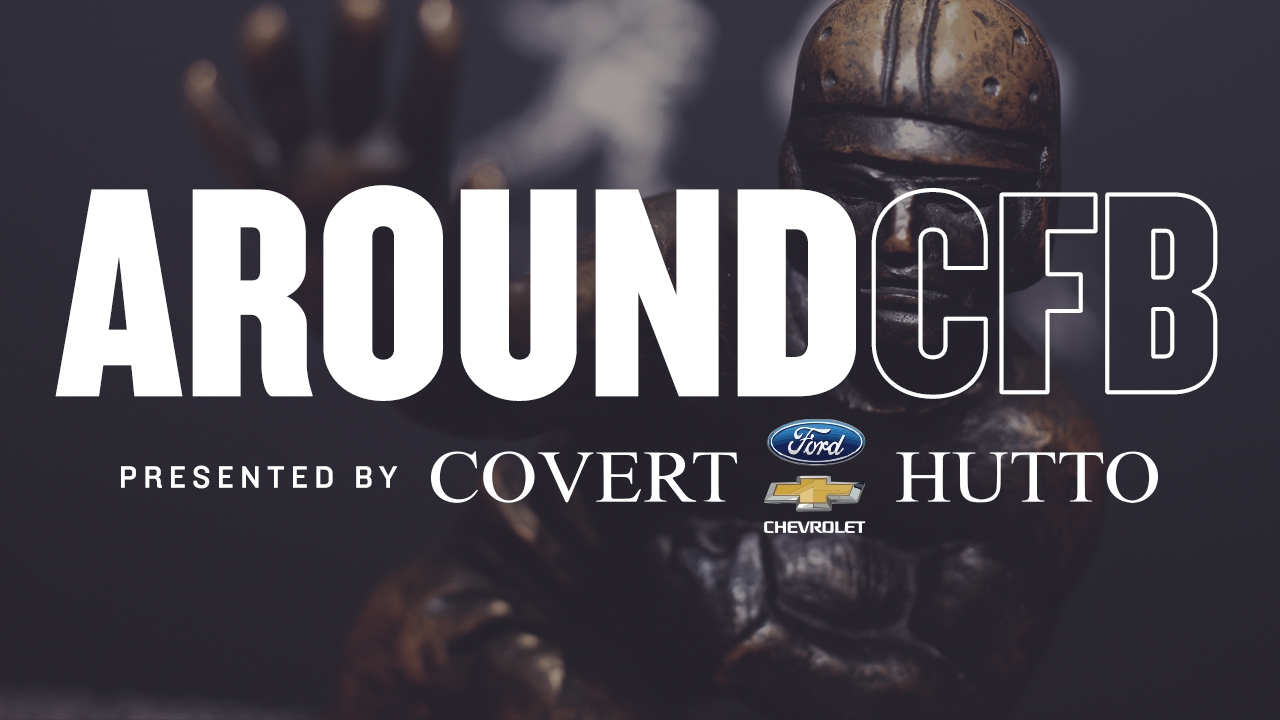 Photo by Brad Penner-USA TODAY Sports
Texas A&M Football
Around CFB: Talking heads doubling as lemon-selling used car salesmen
---
More and more critics in the college football national media appear to be destined for second careers as used car salesmen.
Each week they keep trying to sell a lemon. Actually, they're trying to sell an entire fleet of lemons. They keep hawking a flawed narrative that several teams are more deserving of College Football Playoff consideration than Texas A&M, which is seeking to close out an 8-1 regular season on Saturday at Tennessee.
Many in the national media dismiss Texas A&M's 7-1 record and No. 5 position in the CFP rankings. One dipstick even went as far this weekend as to suggest A&M has no impressive victories.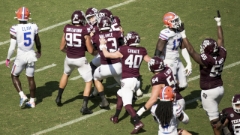 Braden Huggins/Texas A&M Athletics
Apparently, a 41-38 victory over Florida isn't impressive. You know, the same Florida the national media said was better than A&M despite losing to the Aggies.
That narrative died with Florida's loss to LSU. But even with that loss, A&M's victory over the Gators – still ranked 7th by the CFP committee – remains more impressive than any win posted by the teams than are propped up by the media.
For example, Indiana (6-1) is the only team with a winning record that Ohio State has beaten. But none of Indiana's other opponents have managed more than three wins.
Florida still has eight victories. And that includes a win over Georgia (7-2).
The critics also say A&M's victories aren't impressive enough, even though the Aggies have posted five consecutive SEC victories by double-digit margins.
Here's a breakdown of the lemons the national media is trying to sell:
Ohio State (5-0): The Buckeyes have played just five games. Aside from Indiana, their other four opponents are a combined 10-20. Also, the Buckeyes only beat Indiana by one touchdown, 42-35.
Indiana (6-1): The most successful teams Indiana has beaten are (3-5) Rutgers and (3-5) Penn State. They caught a break on a controversial call to beat Penn State.
USC (5-0): None of the Trojans' opponents have a winning record. USC beat Arizona State, 28-27, on a deflected pass with 1:20 to go. The Trojans beat winless Arizona, 34-30, on a touchdown with 25 seconds left. They scored with 16 seconds left to escape UCLA, 43-38. Their other two victories were over struggling Utah (2-2) and hapless Washington State (1-2).
Iowa State (8-2): One of the Cyclones' losses was to Sun Belt Conference member Louisiana-Lafayette … and it wasn't close.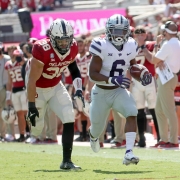 Kevin Jairaj-USA TODAY Sports
Oklahoma (7-2): One of the Sooners' losses was to Iowa State, the team that lost to Louisiana-Lafayette. Oklahoma also lost to Kansas State, which lost to Sun Belt member Arkansas State.
Cincinnati (8-0): The Bearcats are dominating the American Athletic Conference, for what that's worth. They're pointing to this week's game against Tulsa (6-1) to validate their playoff hopes. That Tulsa loss was to Oklahoma State (7-3).
Coastal Carolina (11-0): Last week the Chanticleers scored with 35 seconds remaining to defeat (5-6) Troy, 42-38.
Has the college football national media really deteriorated to the point where winning the Sun Belt is viewed as more impressive than going 8-1 in the SEC?
Not even the slimiest of used care salesmen could unload that lemon.
Heisman watch (If my ballot was due today)
1. Kyle Trask, Florida, QB: He threw a couple of interceptions in a 37-34 loss to LSU. However, Trask still passed for 474 yards and 2 touchdowns, while rushing for a pair. He also completed 3 passes for 42 yards in a span of 21 seconds to give Florida a chance to force overtime with a field goal. He can't be held responsible for the missed attempt. Overall, Trask leads the nation with 3,717 passing yards and 40 touchdowns. He's thrown 5 interceptions.
2. Mac Jones, Alabama, QB: Jones had a pedestrian 208-yard passing performance in a 52-3 victory over Arkansas. That doesn't diminish the overall season he's had. Jones has passed for 3,321 yards and 27 touchdowns and just 3 interceptions.
3. DeVonta Smith, Alabama, WR: A strong argument can be made that Smith is Alabama's best candidate. Even though he only had 3 catches for 22 yards in the victory over Arkansas, he compensated with an 84-yard punt return for a touchdown. Smith has 83 receptions for 1,327 yards and 15 touchdowns.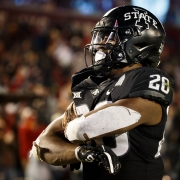 Brian Powers-USA TODAY Sports
4. Breece Hall, Iowa State, RB: The Cyclones were open last week, so Hall did not have the opportunity to add to his gaudy statistics. In 10 games, he's rushed for 1,357 yards and 17 touchdowns. He's caught 18 passes for 144 yards and 2 TDs.
5. Trevor Lawrence, Clemson, QB: The ACC's decision to give Notre Dame and Clemson byes last week hurt Lawrence's campaign. But at least he's played eight games — almost twice as many as Ohio State's Justin Fields. Lawrence has passed for 2,431 yards and 20 touchdowns with 3 interceptions. He's also rushed for 6 touchdowns.
Predicted playoff participants
1. Alabama: If LSU can light up Florida's defense, what is Alabama gonna do to the Gators? Answer: Whatever the Tide wants.
2. Clemson: Lawrence is in the lineup, so look for the Tigers to avenge an earlier loss and defeat Notre Dame in the ACC championship game.
3. Ohio State: It's not right, but the playoff committee isn't likely to penalize the Buckeyes for playing about half as many games as other playoff contenders. The Buckeyes will be 6-0 after beating Northwestern in the Big Ten championship game.
4. Notre Dame: The Fighting Irish is the ultimate brand name in college football. They will get in the field unless they lose by 20 points or more to Clemson. They'll probably get in even if they do lose that badly.
This week's games to watch
Clemson vs. Notre Dame: The first matchup went into overtime. This clash should be even more intense with an ACC championship and perhaps a playoff berth on the line.
Northwestern at Ohio State: The heavily-favored Buckeyes need to win the Big Ten championship to validate their playoff argument. If Northwestern manages an upset, the Big Ten likely will be left out of the playoff field.
Oklahoma vs. Iowa State: The unrealistic playoff hopes of two undeserving teams are at stake in the Big 12 championship game rematch. Iowa State prevailed 37-30 in the first game.
Alabama vs. Florida: Let's be honest here. Florida isn't beating Alabama … not with that horrid defense. However, the Heisman Trophy recipient could be determined between Florida's Kyle Trask and Alabama's Mac Jones and/or DeVonta Smith.
Tulsa at Cincinnati: Cincinnati is looking to close out an unbeaten regular season against one of the best teams on their schedule. That Tulsa is one of the best teams on the schedule sufficiently explains why Cincinnati won't be in the playoff field.
MESSAGE FROM OUR SPONSOR
Call or text Chad at Covert Ford in Hutto at 512-633-4819 For new Fords, Chevys, and over 900 pre-owned vehicles. Thanks and Gig 'em.
Never miss the latest news from TexAgs!
Join our free email list
PRESENTED BY