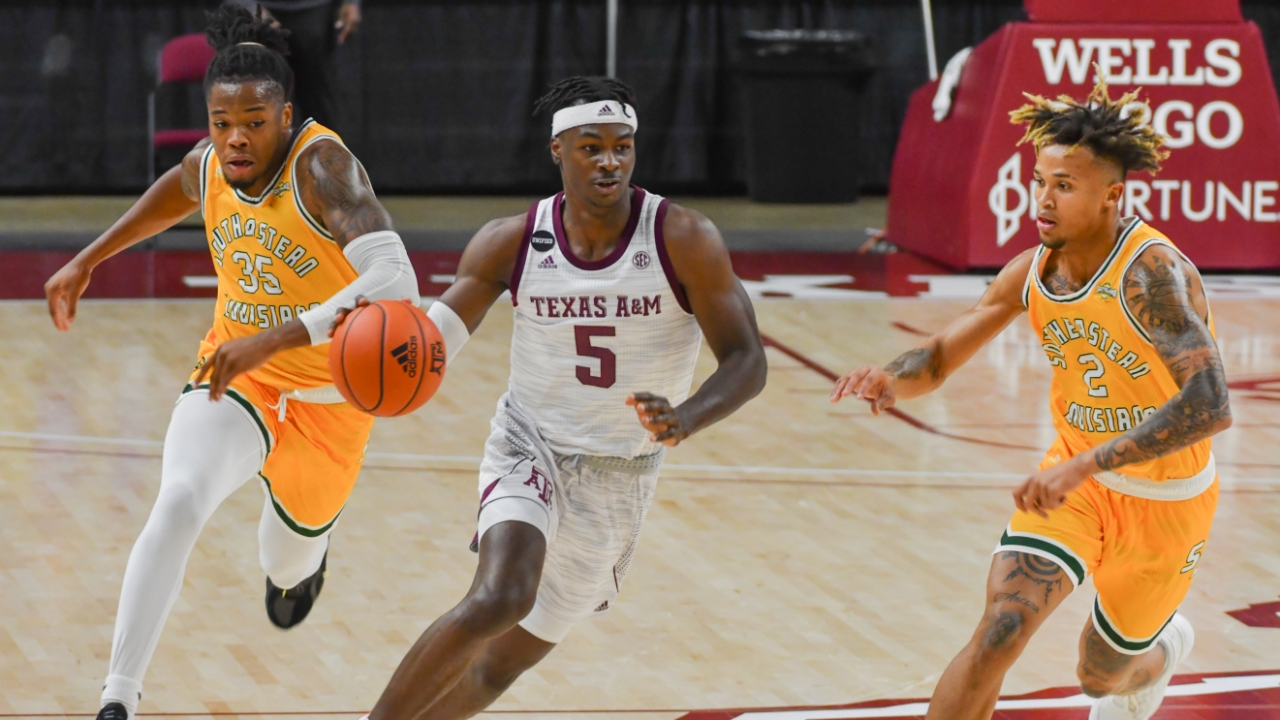 Buzz Williams
Emanuel Miller
Andre Gordon
Texas A&M Basketball
Aggies tame Lions behind another Emanuel Miller double-double
---
Following a loss on the road to the TCU Horned Frogs, Buzz Williams showed Reed Arena and the Aggie fan base a new starting lineup on Tuesday night at home against Southeastern Lousiana. There was also a new rotation off the bench.
"As you've seen, we're trying different groupings out of the first games," explained Buzz about the lineups on the court. "But we need to figure out which groupings work well together and how long they can work well together during games."
It was the same intensity. The same defensive pressure. And the same work ethic.
However, the new lineup began the game the same way, with two turnovers on the first two possessions.
But the Aggies quickly figured it out and jumped out to an early double-digit lead en route to a 69-52 win over the visiting Lions.
Savion Flagg scored nine of the Aggies' first 16 points, including two 3-pointers and a basket with the foul. Emanuel Miller paced A&M with 20 points and 10 boards, his third double-double in the last four games.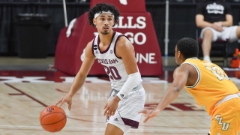 Lia Musgrave, TexAgs
Sophomore guard Andre Gordon didn't start as red hot as Flagg, but his confidence on the court continues to grow which has helped lead Williams' young A&M team.
And confidence is what the A&M head coach is hoping to have in his new players.
Freshmen LaDamien Bradford, Hassan Diarra and Jaxson Robinson all saw action early in the meaningful minutes of the game.
"There's evidence of steps forward, now there's plenty of room for growth," Buzz Williams said after the game. "But I thought we did take steps forward."
It wasn't just the freshmen who were looking to earn the head coach's confidence.
Graduate transfer Kevin Marfo had been less than stellar in the first four games but showed glimpses of why he was recruited in the off-season.
Williams added, "Marfo did play well. I think he had seven rebounds in 12 minutes."
No matter the rotation of players, or the time on the clock, Texas A&M was never in real danger of losing the game. Once going up by double digits just over halfway through the first period, Southeastern Louisiana was never able to come within 12 points.
The Aggies' lead grew to as many as 20 points before what was ultimately a 17-point victory over SLU.
Texas A&M's next opponent is Wofford on December 21 at Reed Arena. That game can be viewed on SEC Network at noon.
Never miss the latest news from TexAgs!
Join our free email list