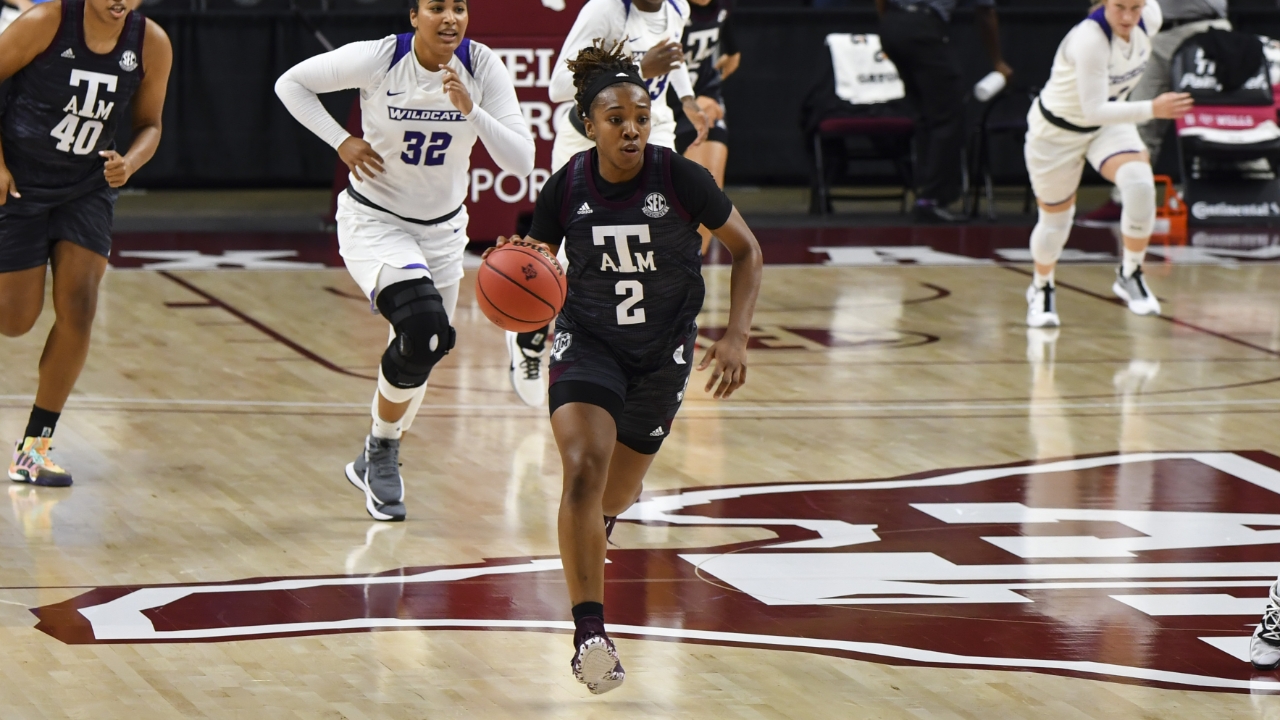 Gary Blair
N'dea Jones
Jordan Nixon
Julie Goodenough
Texas A&M Women's Basketball
Four Aggies score double-figures as No. 10 A&M beats ACU, 77-59
---
The No. 10 Texas A&M Aggies (6-0) handled yet another opponent from the Lone Star State as they crushed Abilene Christian's perfect record (5-1) with a 77-59 win. Coming off a successful road trip with wins over then-No. 25 Texas and Little Rock, Gary Blair's ball club was overflowing with confidence and momentum, and the result was complete domination on Sunday.
The Aggies showcased their skills, operating like a well-oiled machine in executing Blair's gameplan. N'dea Jones handles the rebounds, Aaliyah Wilson takes care of the steals, Ciera Johnson consistently dominates in the paint and there is no shortage of scoring threats on this squad.
Coach Blair praised his team for sharing the ball and selflessly working together.
"The one thing you learn when you come to Texas A&M, is you learn how to share. You learn how to share, how to be a good teammate," Blair said. "This isn't going to be a team where you can say, 'Hey I'm going to get 20 shots tonight.' We're just not built that way."
The Aggies came out hot and the Wildcats were unsuccessful in their attempts to try and cool them off. The search for the hot hand was answered by not one but four Aggies who reached double-digits in buckets. Texas A&M capitalized on lapses in the Wildcats' defense and dominated on their defensive end, finishing with 41 rebounds and 12 steals.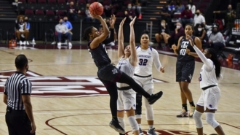 Jamie Maury, TexAgs
ACU head coach Julie Goodenough tried to slow down A&M's momentum by calling early timeouts but to no avail. The Wildcats saw a four-minute scoring drought halfway through the second quarter, and the Aggies took off, keeping the lead at 20 points or more for a majority of the rest of the game.
Senior Aaliyah Wilson led the way for A&M, pouring in 15 points and registering 4 steals. Alexis Morris was close behind, contributing 14 points. Jordan Nixon scored 11 and N'dea Jones put up 10 points and pulled down 14 rebounds.
Even when Blair emptied his bench, the second unit produced at a similar clip. Junior transfer Alexis Morris, who was granted immediate eligibility by the NCAA just last week, adding some new electricity for the Aggies, putting up her 14 points and two assists in 15 minutes of action.
N'dea Jones was often double-teamed but still managed to put up another double-double, her fifth this season and the 31st of her career. Jones noted that the pressure in the block is not new to her or teammate Ciera Johnson.
"We know with Ciera [Johnson] and I, we are more of a post threat down low," Jones said. "We also know teams are most definitely going to help. We work on the other team doubling and helping off of corners. I think our team does a good job at reading that and kicking it out through ball movement."
Blair was encouraged by the trajectory his program is taking with younger talent joining his experienced players.
"When I play fourteen players our score is going to stay down because it's sometimes difficult to get into the flow of the game," says Coach Blair. "These kids work hard every day in practice, and after the first quarter, we had decided to get Maliyah [Johnson] and Sahara [Jones] some playing time. Now, we move forward to our next game against Sam Houston State."
Looking forward, the Aggies will maintain a home-court advantage at Reed Arena as they host another in-state opponent, Sam Houston. Tipoff is this Tuesday, December 15 at 2:00 p.m., and the game can be streamed on ESPN+ and heard on 1150AM/93.7FM.
MESSAGE FROM OUR SPONSOR
Special thanks to 12th Man Technology for their sponsorship of women's basketball postgame stories throughout the season at TexAgs! For the ninth consecutive year, WBB content will be available to you for free!
Never miss the latest news from TexAgs!
Join our free email list
PRESENTED BY