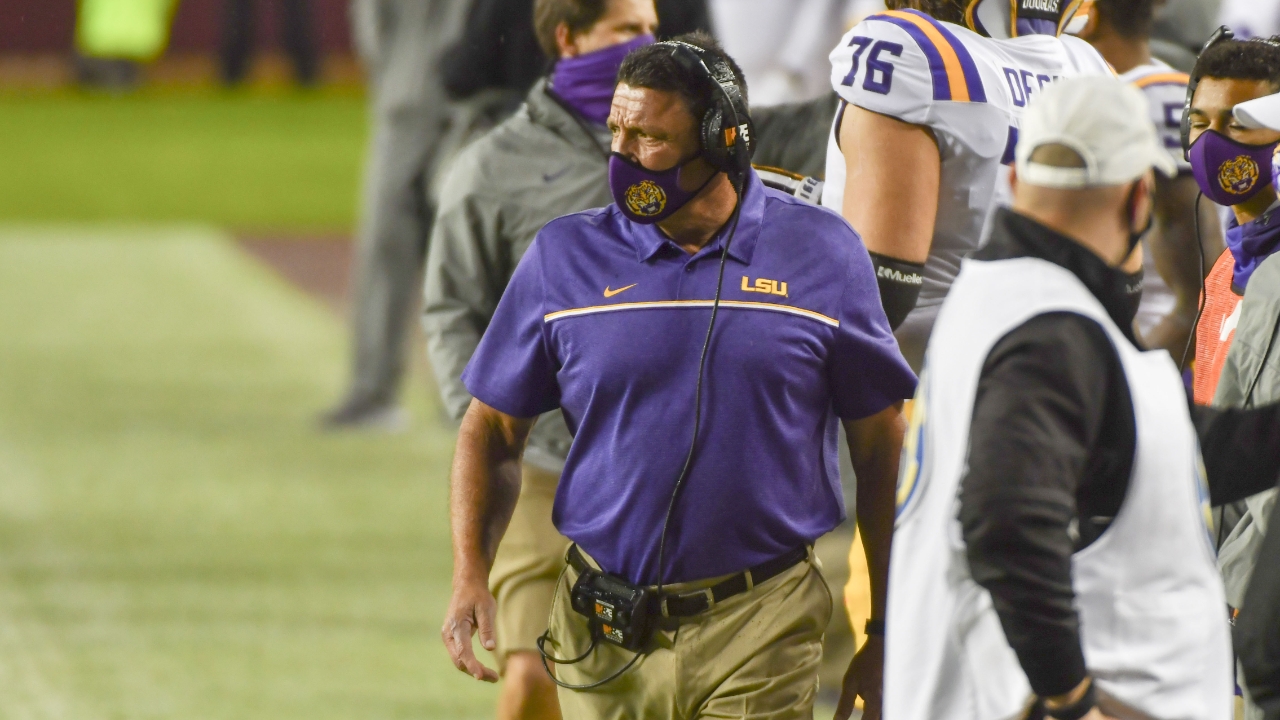 Photo by Lia Musgrave, TexAgs
Texas A&M Football
SEC Round-Up: Self-imposed bowl ban latest example of LSU's tailspin
---
Remember when Auburn fired Gene Chizik two years after winning a football national championship?
Folks in Baton Rouge might say, "Hold my Abita."
Coach Ed Orgeron suddenly may be in deep trouble despite LSU rolling to the national championship last season.
The Tigers' 3-5 record is bad and figures to get worse with Florida and Ole Miss coming up. It's so bad that LSU officials took the "high road" on Wednesday by instituting a self-imposed 2020 bowl ban for various infractions, some of which occurred before Orgeron became head coach.
"I respect the university's decision to proactively address NCAA issues from the past," Orgeron said in a statement. "I share the disappointment of our student-athletes who will not be able to compete this season in a bowl game. I am especially proud of our players' dedication to the program during these unprecedented times in our country. Their pride in LSU will be the driving force as we continue to build a championship program."
"I respect the university's decision to proactively address NCAA issues from the past. I share the disappointment of our student-athletes who will not be able to compete this season in a bowl game."
LSU's self-imposed ban is almost comedic.
With a potential 3-7 finish and several bowl games canceled due to COVID-19, the Tigers might not have been invited to a bowl anyway.
Four of LSU's losses have been by double figures. Cynics might contend by sacrificing a bowl game, LSU is just avoiding another beat down.
The Tigers are also getting weaker by the week.
Star receiver Terrace Marshall opted out last week following a 20-7 loss to Texas A&M.
Earlier this week, freshman tight end Arik Gilbert, the top prospect in LSU's 2020 recruiting class, announced he was opting out. Rumors are swirling that he's leaving the program.
And then there is the report which surfaced last month that in Orgeron's four-year tenure at least nine football players have been reported to police for sexual misconduct and dating violence.
Former star running back Derrius Guice is among the players who were accused, but he continued to play and reportedly faced no disciplinary action.
After the reports, Orgeron defended his response for the allegations and made a statement in support of victims.
"We need to support and protect victims of violence, sexual abuse of any kind," he said. "There's no place in our society nor on this campus or on our football program for any behavior of this type.
"When accusations are made, we have a legal and moral obligation to report every allegation to the university's Title IX office so due process can be implemented," Orgeron said. "I have in the past and will continue to take appropriate action and comply with reporting protocols."
That might be too little, too late.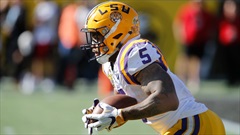 Reinhold Matay/USA Today Sports Images
Orgeron's program seems to be unraveling amid the accusations, sanctions, moribund season and exit of star players.
Is that enough for LSU to part ways with a coach one year removed from a national championship?
Probably not.
However, Orgeron will be on the hottest of hot seats in 2021.
After a national title, one poor season is acceptable. Two isn't.
Ask Chizik.
Around the SEC
This week's games: No. 1 Alabama at Arkansas; No. 9 Georgia at No. 25 Missouri; Tennessee at Vanderbilt; LSU at No. 6 Florida; Auburn at Mississippi State
Who's hot: This is getting repetitive. Alabama receiver DeVonta Smith is on a roll that is borderline absurd. Over the last four games, he's caught 35 passes for 749 yards and 11 touchdowns.
Who's not: Not that it matters, but South Carolina's season mercifully came to an end with a 41-18 loss to Kentucky. The Gamecocks had a ton of problems, but none worse than their imploded rush defense. Kentucky ran for 291 yards and five touchdowns. The previous game, Georgia rushed for 332 yards and four touchdowns. That's 623 rushing yards and nine touchdowns in two games. The Gamecocks allowed an average of 6.8 yards per carry in those games.
Keep an eye on: Nashville is an attractive tourist destination, but probably nobody is looking forward to a visit there more than Tennessee running back Eric Gray. Last season, Gray rushed for 246 yards in a 28-10 victory over Vanderbilt. He scored touchdowns on runs of 4, 56 and 94 yards. He's exceeded 100 rushing yards in four games this season. Look for him to have another big game. Vanderbilt's defense is weak against the run. Last week, Missouri's Larry Rountree rushed for 185 yards and three touchdowns against the Commodores.
Pressure in on: It's well-known that Auburn quarterback Bo Nix struggles on the road. He is completing just 58.7 percent of his passes for an average of 228.5 yards with two touchdowns and seven interceptions in his four road games. It's also well-known that he's protected with an injury-riddled offensive line. He's on the road to face Mississippi State, which has a formidable pass rush.
Best matchup: They won't play each other. They're not even in the same game. Heck, they won't even be in the same time zone. Still, Florida quarterback Kyle Trask and Alabama quarterback Mac Jones will be indirectly competing against each other. They're serious contenders for the Heisman Trophy. Both project to have huge performances. Trask faces LSU, which is ranked 14th (last) in the SEC in pass defense and has allowed 19 touchdown passes. Jones faces Arkansas, which has allowed 18 touchdown passes and ranks ninth in pass defense. The quarterback with the best showing very well could emerge as the leading candidate.
Never miss the latest news from TexAgs!
Join our free email list