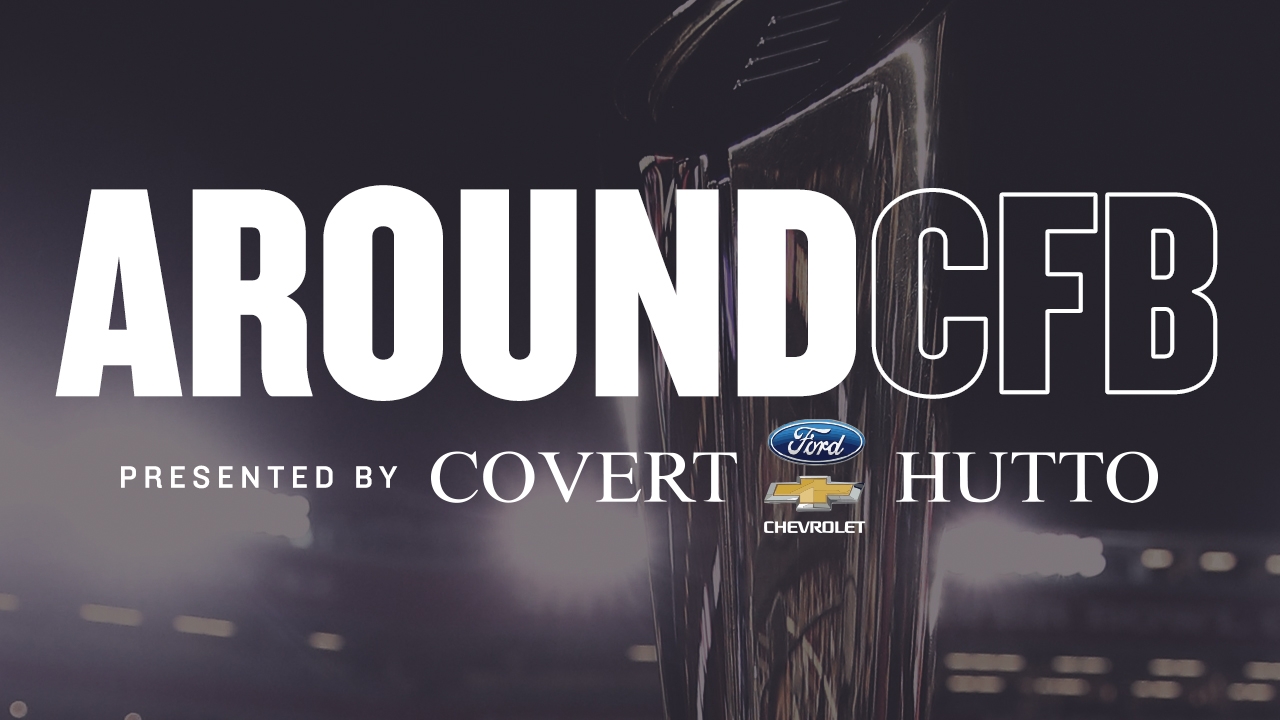 Photo by Mark Rebilas-USA TODAY Sports
Texas A&M Football
Around CFB: Reliance on the eye test is blinding the committee's judgement
---
The eye test now appears the preeminent method of determining college football's elite teams.
The problem with that is, when appraising Ohio State, the committee seems to be headed by Louis Braille, Helen Keller and the three blind mice.
Ohio State (5-0) remains No. 4 in the College Football Playoff rankings despite a flimsy resume.
The Buckeyes' best win was a 42-35 victory over No. 12 Indiana. Of course, Indiana needed a controversial, advantageous and … OK … erroneous officials' call to defeat Penn State (2-5), 36-35.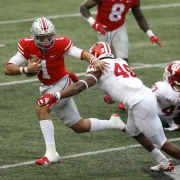 Joseph Maiorana-USA TODAY Sports
Indeed, Penn State is one of four Ohio State opponents to have managed only two victories in the lackluster Big Ten. Nebraska is 2-4, Rutgers is 2-5 and Michigan State is 2-4.
Proponents argue that Ohio State blew out those teams. True. However, so did Iowa, which defeated Michigan State by a wider margin (42 points, 49-7) than Ohio State did (40 points, 52-12).
The CFP committee was apparently more impressed with the Buckeyes' win over Michigan State than A&M's 31-20 victory over Auburn.
Last week, CFP Chair Gary Barta indicated the committee seriously considered moving Texas A&M into the No. 4 spot but did not because the Aggies' 20-7 win over LSU wasn't sufficiently "convincing."
"I clearly shared that the committee believes that Ohio State last week belonged in the No. 4 spot," Barta said after Tuesday night's CFP rankings update. "It was important for the committee to see Ohio State play again, and the more we can see Ohio State play, the better because they've played now five games. But when we get ready to rank, there's not a variance — we don't have a degree of variance between 1, 2, 3, 4, 5, 6 and beyond, so for this week, the committee felt confident putting Ohio State at 4."
By anybody's measure, A&M's 41-38 victory over No. 6 Florida (8-1) is better than Ohio State's win over Indiana. Also, Auburn (5-4) has doubled the win total of each of the Buckeyes' other opponents.
The committee obviously isn't influenced by A&M's more challenging schedule. Again, the argument is that A&M's wins aren't sufficiently "convincing."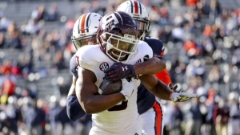 Craig Bisacre/Texas A&M Athletics
"SEC wins are very convincing. I promise you that," A&M coach Jimbo Fisher said earlier this week. "Anytime you win in the SEC West, it's very convincing. (It's the) Best league in ball. The best players in ball. They're all very convincing."
So why isn't the committee convinced? Oh yeah, the "eye test." Facts and statistics are unnecessary. Just by watching, they can identify superior teams.
In 2018, the "eye test" said No. 2 Ohio State was far superior to Purdue. That is until Purdue spanked the Buckeyes, 49-20.
The previous year, the "eye test" said the No. 6 Buckeyes were much better than Iowa. That is until Iowa blasted them, 55-24.
This year, the Buckeyes have avoided similar missteps for two reasons: Their opponents are weak, and there are fewer of them.
The Big Ten's decision to get a late start to the season combined with COVID-19 issues has limited the Buckeyes to five games. Potential injuries and potential upsets haven't been as big of a concern for Ohio State as they would be for teams in the SEC, ACC and Big 12.
In fact, the only real concern is whether or not the Buckeyes would play the six-games required by the Big Ten to qualify for the conference championship game.
Not to worry. The Big Ten appears ready to change its own policy and allow the Buckeyes to play for the conference championship.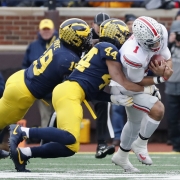 Rick Osentoski-USA TODAY Sports
"We've seen Ohio State play five games," Barta said. "Based on that performance, we put them in the fourth spot, and we'll just wait and see. Next week is another ranking opportunity, and then we'll have that final ranking opportunity."
Of course, the Buckeyes' game against Michigan this week has been canceled. Then, they would face Northwestern for the conference championship. Northwestern managed narrow victories over two-win Purdue and two-win Nebraska by one touchdown. The Wildcats also lost to Michigan State.
Still, a win over Northwestern would probably look good in the eyes of the committee.
See how they run. See how they run.
Heisman watch (If my ballot was due today)
1. Kyle Trask, Florida, QB: Trask is the first quarterback in Southeastern Conference history to throw at least three touchdown passes in nine consecutive games. He threw for 433 yards and four touchdowns in a 31-19 victory over Tennessee. Trask has passed for 3,243 yards and 38 touchdowns with three interceptions.
2. Mac Jones, Alabama, QB: He passed for 385 yards and four touchdowns in a 52-17 blowout of LSU. Jones has now thrown for 3,113 yards and 27 touchdowns with three interceptions.
3. Justin Fields, Ohio State, QB: Fields accounted for four touchdowns in a 52-12 rout of Michigan State. He passed for 199 yards and two touchdowns and rushed for two touchdowns. Overall, Fields has thrown for 1,407 yards and 15 touchdowns with three interceptions. He's rushed for 239 yards and five touchdowns.
4. DeVonta Smith, Alabama, WR: Smith has been excellent all season, but he's been absolutely amazing since Halloween. In the last four games, he has had 35 catches for 749 yards and 11 touchdowns. That includes his performance against LSU, in which he had eight catches for 231 yards and three touchdowns. Overall, Smith is ranked second in the nation in receiving with 80 catches for 1,305 yards and 15 touchdowns.
5. Breece Hall, Iowa State, RB: Hall rushed for 97 yards and a touchdown in a 42-6 victory over West Virginia. He also had three catches for 56 yards and a touchdown. Overall, Hall has rushed for 1,357 yards and 17 touchdowns and has caught 18 passes for 144 yards and two touchdowns.
Predicted playoff participants
1. Alabama: The Crimson Tide have scored at least 38 points in every game and have won every game by at least 15 points.
2. Clemson: Expect the Tigers to defeat Notre Dame in the ACC rematch.
3. Ohio State: There are no other really good teams in the Big Ten. Therefore, expect the conference to change its policy and make moves to ensure the Buckeyes play at least six games.
4. Notre Dame: Face it. Barring a blowout loss to Clemson, the Irish will get in. The brand is too big. The committee will give the Irish credit for their regular-season win over Clemson even though the Tigers were without quarterback Trevor Lawrence and a couple of defensive starters
MESSAGE FROM OUR SPONSOR
Call or text Chad at Covert Ford in Hutto at 512-633-4819 For new Fords, Chevys, and over 900 pre-owned vehicles. Thanks and Gig 'em.
Never miss the latest news from TexAgs!
Join our free email list
PRESENTED BY