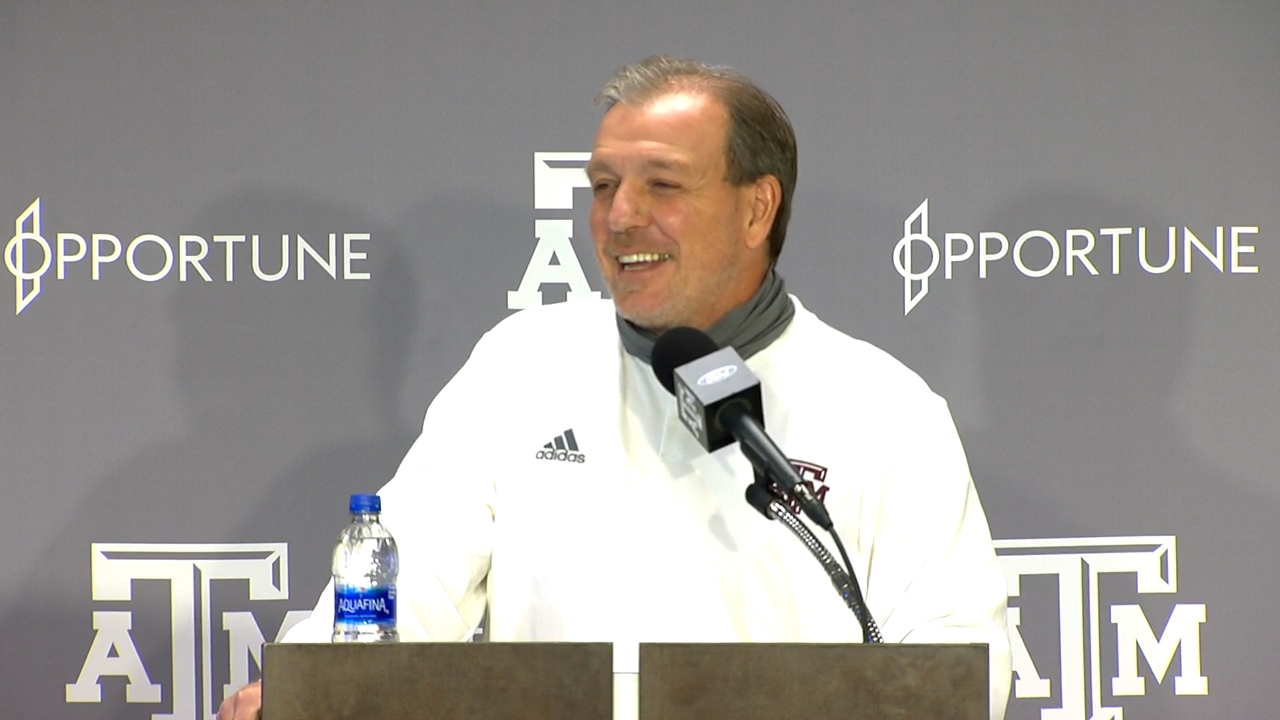 Jimbo Fisher
Buddy Johnson
Tyree Johnson
Ryan McCollum
Texas A&M Football
Press Conference: Texas A&M preparing for road trip to The Plains
---
Texas A&M will look to push their winning streak to six games when they face the Auburn Tigers on Saturday. Ahead of the Aggies' road trip, Jimbo Fisher, Buddy Johnson, Tyre Johnson and Ryan McCollum spoke to the media.
NOTE: The interviews are currently-audio only. Video will be added when it becomes available.
---
The following are live, paraphrased notes from head coach Jimbo Fisher's media availability on Monday.
I'm late because Elmendorf was telling me a story about the Rams. I stopped and listened.

I was proud of our team, and it was great to play after three weeks. We got a victory against a very good opponent in LSU. It's a conference win and a divisional win. I call those double-whammies. I thought our defense was outstanding. We got pressure on the quarterback and blitzed well. We got two critical turnovers. Offensively, we were inconsistent. We got big runs at times, but across the board - everybody took turns - we were inconsistent. We did not do what we had to do. The effort and tenacity were there, but the execution was not there. Isaiah got some good runs, and we had good plays at times. We did a good job getting a field goal before the end of the first half. Third down has to be better. We've been outstanding at that this season, but we were inconsistent this week. They're all fixable things, and we'll get them fixed up and move on. On special teams, our punter did a great job, and our coverage teams were good. Seth Small was good kicking field goals. We had some penalties on punt returns that I want to look back on. It was a solid game, but we've got to get better. We're in a good position together, and we're learning to play well. I'm happy that we're learning how to win and play off each other. The good thing is that there is still a lot of room for improvement. They're playing hard, tough and physical. We'll get better.

As I look at that game, Kellen Mond did not play his best game, and we did not play well around him. He got rid of the football well and didn't take sacks. He got hit some. He'll adjust and move on like he has all year and his entire career. We have to play better around him, make some plays. I expect him to come back and play really well.

Chase Lane should be practicing this week. He got a bruise and should be ready to go. As of now, I believe Demond Demas will be available this week.

Buddy Johnson is a senior linebacker making the calls. The unit has been great. He's done a tremendous job making calls and being a leader. He's playing great. The way he and Hansford complement each other has been great.

With Hansford, to persevere and not leave and eventually find success has been fantastic. He still has a ton of untapped potential, so that's exciting.

If you don't understand how to play close games in this league, you're in trouble. Hopefully, this game won't be close, but who knows. Any of these final games can be close; that's what this league is about. I believe in our team 100% that way, for sure.

You have to be disciplined against the running quarterbacks. Bo Nix is a tremendous player, just like his dad was. You have to take away lanes, and in coverage, you have to trust that the lanes are taken care of. It's a very challenging thing. Guys always say they hate playing guys who can scramble. You cannot let up on defense when you play a guy like that. On every play, the way you play him is important.

I recruited Seth Williams out of high school. He's a big, fast receiver. Those guys are all tough to play against. Tank Bigsby is a fantastic back as well, but I know he got nicked up. Nix has a lot of talented guys around him.

Experience and Terry Price's coaching has helped our defensive line. It's not always about getting free, but sometimes it's more important to collapse the pocket. The experience and understanding are key.

We'll try and take some more protocols and precautions this week. We'll try to stay spaced out and safe. We'll mix and match guys on the plane to do as much as possible.

With Gus, I like him and think he's a great guy. I have a lot of respect for him. He's a great offensive mind who does some unorthodox things that cause problems. You love studying unique guys like that. I think he's a heck of a football coach, and he has been a tough guy to compete against, that's for sure.

We had a couple of receivers opt out that had been playing. I don't have any problem putting other young guys in there. We're having success doing what we're doing. I have no problem playing six or seven, and I have no problem playing three or four.

Against Arkansas, we struggled back there. In the last couple of weeks, the secondary has played well. Jaylon Jones has played well. The nickels have played well. Myles Jones has been outstanding. Sometimes, you're going to struggle back there. They have to have a short memory. I'm very proud of their development. Very proud.

I'm hoping that we understand how we played vs. LSU. We struggled in some areas, but we still fought. The defense kept rising higher and higher. There have been games where the defense has struggled, but the offense has picked it up. When you play a team sport, you can't be pointing fingers. You have to do your job. It's kept us as a tight-knit group, and I'm very proud of our entire organization.

You have good memories of your time of anywhere you've been until they start yelling that they're going to beat you. I have a lot of respect for Auburn and still have some friends there.

All of those guys at receiver need to get back to what we were doing. We did miss some reads that could've gotten the ball. It's about consistency. They've been good all year. They need to bounce back. When someone takes a turn at making a mistake, you get behind the sticks and don't pick up first downs. You fight for the inches, and we have to do that again. Get back to our fundamentals and play well.

Buddy Johnson's off-field leadership and his discipline have been outstanding. He did a great job in our offseason program, and our kids have tremendous respect for him. It's not surprising what he does on the field because he does them off the field too.

The way DeMarvin Leal plays, you can tell he's at home on the football field. He loves practices, and he loves lifting weights. When you love all of the things that have to go with playing well, it's very exciting. His leadership is outstanding. He is never quiet, and that's a good thing. He has no problem with challenging an offensive guy to play better. He has a natural joy of being a football player. I am very proud he is on our football team. Not only is he playing well, but everyone else around him is as well.
Never miss the latest news from TexAgs!
Join our free email list