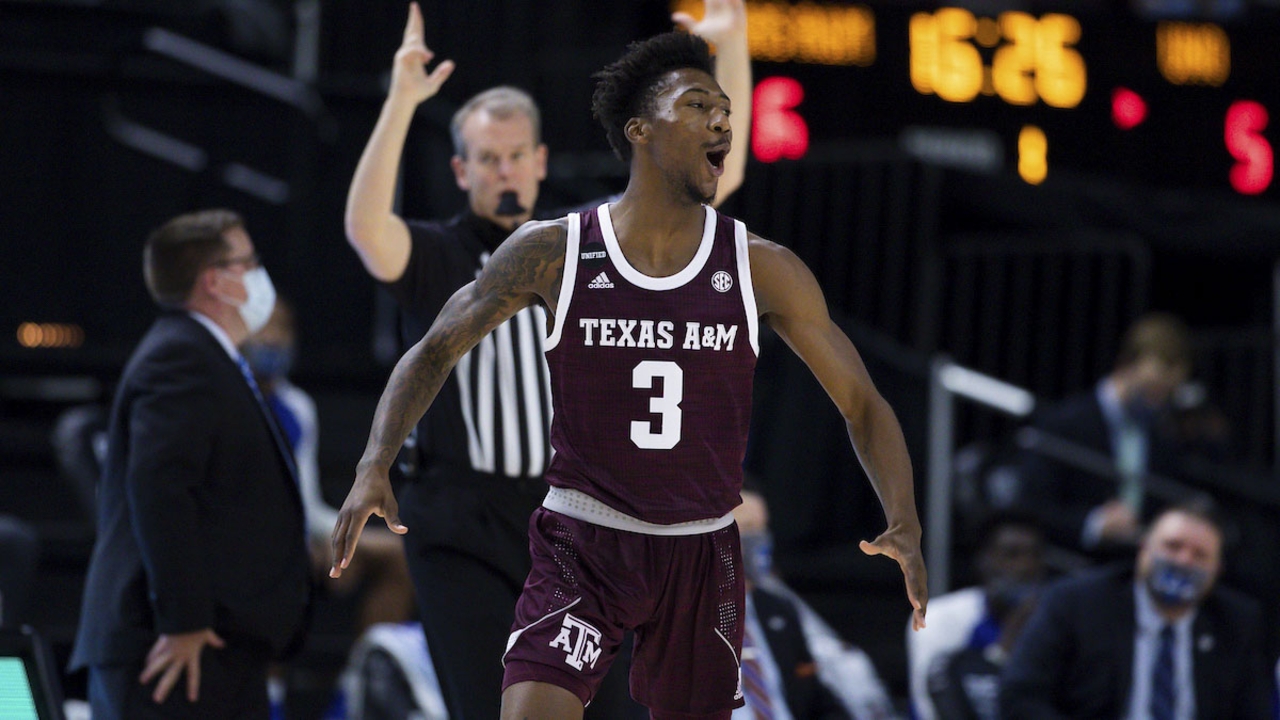 Buzz Williams
Quenton Jackson
Andre Gordon
Texas A&M Basketball
Hot shooting, Jackson's career day lead Aggies to 29-point win over New Orleans
---
A first glance doesn't always provide an accurate big picture.
But if Texas A&M's basketball season-opening 82-53 blowout of New Orleans (0-2) is an indication of what's to come, look for senior Quenton Jackson to lead a high-scoring, guard-oriented offense that's proficient from 3-point range.
Jackson scored 28 points, and the Aggies knocked down a dozen three-point goals while hitting 44.4 percent from 3-point behind the arc.
That's a significant reversal from a year ago when the Aggies ranked 334th in the nation with a 29.4 shooting percentage from 3-point range. The 12 treys were more than A&M totaled in any regulation game last season.
"This year, we'll be a lot better. We have a lot more shooters."
"This year, we'll be a lot better," Jackson said. "We have a lot more shooters."
The difference, at least in part, could be traced back to the COVID-19 pandemic. Sophomore Andre Gordon, who hit a trio of treys, said there wasn't much opportunity in the offseason to do much other than honing his game.
"We were in the gym all summer," Gordon said. "All we had to do was work on our games and improve our shot."
Few could've improved like Jackson, who easily exceeded his previous career-high of 20 points, set in a 74-68 victory over Alabama last season.
Jackson remains a high-flying dunk artist. He had a couple of spectacular jams against New Orleans. Still, last year, he hit just 19 goals from 3-point range while converting 24.4 percent. He drilled four out five on Sunday.
"I don't know if it was just one of those days, but (the offseason work) paid off," Jackson said. "I feel that was one of the things I needed to work on. Last year, I shot like 28 percent."
Coach Buzz Williams suggested better shot selection was also a factor in Jackson making 11 of 13 attempts from the field. He also suggested that the fast start could be a precursor to a strong season for Jackson.
"I think Q has been diligent in how he has handled the last eight months when he was away from us," Williams said. "I think since he has been back, he has been diligent in his time on the floor alone and in his individual skill work.
"I do think he has to be a catalyst for us. So much of Q's offense is derived from is his energy level and his discipline defensively. When he does what he is supposed to do defensively, I think it translates into his offensive game. When he doesn't force up shots that we would consider bad, he is going to be even more efficient than he was last year."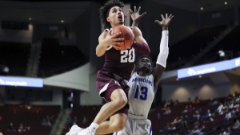 Texas A&M Athletics
Jackson wasn't the lone threat by any means. Gordon netted 15 points, and freshman point guard Hassan Diarra had 14 points, six steals and four assists. Senior Savion Flagg posted nine points, six assists and 11 rebounds, while freshman Hayden Hefner had nine points — all on three-point shots.
Despite that production, the Aggies started rather slow and trailed 15-14 going into the eight-minute media time out.
However, Jackson quickly dunked an alley-oop lob pass from Diarra to launch a 16-3 run that propelled the Aggies to a 30-18 lead with 3:29 left in the first half.
They went on to close the half with three consecutive 3-pointers — one from Hefner, two from Gordon — to take a 41-24 lead at the break.
"When we went small, the game began to change," Williams said. "(Forward Kevin) Marfo had two fouls and (forward Jonathan) Aku had one. Right before the scheduled media timeout, I wanted to see how this (smaller) group would work."
The Aggies didn't slow down in the second half and eventually extended their lead to as much as 25 points.
It wasn't a perfect showing by the Aggies, though. They committed 19 turnovers and struggled to score in the low post. Aku scored just six points, and forward Marfo was scoreless. The Aggies were without sophomore forward Emanuel Miller, who sat out with a non-COVID-19 related illness.
Although A&M was excellent from the perimeter, that likely won't be enough when the caliber of competition improves. The Aggies must be better inside to complete the big picture.
Never miss the latest news from TexAgs!
Join our free email list