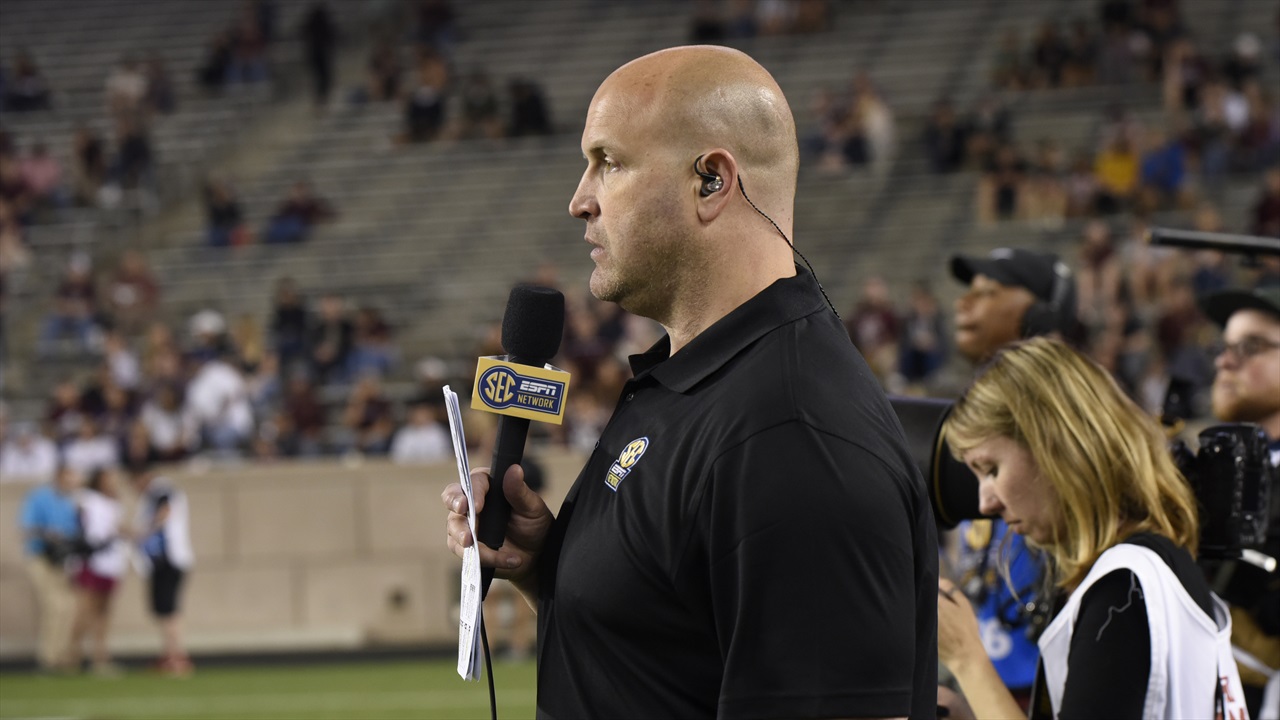 Photo by Dalton Hughes, TexAgs
Texas A&M Football
Cole Cubelic previews this weekend's slate of rivalry games around the SEC
---
Key notes from Cole Cubelic interview
We are headed to Oxford this week. I'm excited. I've never done an Egg Bowl before, so I'll be able to knock that out this year. Obviously, these two teams don't have great records right now, but the future is exciting for both of these programs. Our entire broadcast crew will be down there together, so that's going to be very cool.

I think Mississippi State has to find a way to get a couple of stops. Marquiss Spencer doesn't get enough recognition for how good of a year he has had. If they can be disruptive and slow down the run, they can force some turnovers. Coach Arnett has to limit the amount of time he plays high-risk football. When they did that against Georgia, that's when JT Daniels hit some things downfield. Mississippi State can't play a bunch of single safety vs. Ole Miss, or they're going to be in trouble.

The offense is starting to look the way it's supposed to for Mississippi State. They have a quarterback who is finally starting to understand the timing and distribution of it. They could have success because Ole Miss' defense is so bad.

I do not vote for the Joe Moore Award. I am the chairman of the voting committee, and I am one of the founding members. Aaron Taylor deserves all the credit for the creation of the award, and Joe Moore was his coach. Aaron brought me on a little later. I am honored to be a part of it, but I do not vote. I have more of an administrative and organizational role with the Joe Moore Award.

I think the Aggies could win the Joe Moore Award. There aren't one or two teams that are just way above everybody else. Alabama would be the leader in the clubhouse, from what I've seen, but I don't think you're on that list if you don't have a chance to win. The way Texas A&M has moved people, protected and everything, they absolutely have a chance to win that award. If they continue the trend and this upward momentum, the Aggies will absolutely be in the mix.

The key for LSU is finding a way to play sound defense. I won't say get two or three turnovers or five or six sacks because I'm not sure that's even possible. Just don't turn guys loose. Don't let guys run free down the field. The missed coverage and lack of contain are just giving people yards. It's making life too easy. With A&M, they have too much firepower on offense to be giving them yards.

For A&M, be who you are. Lean on your running game. Let that defensive line be disruptive. Let that freshman quarterback make his mistakes. If the run isn't there, that's when you've seen LSU's offense press this year. If A&M comes out and plays a clean game, there won't be too much to worry about. This is a game that Texas A&M should win, and a workman-like performance would be beneficial and successful. If A&M handles their business, I would not expect LSU to be in the game late.

Key? As in one for Auburn? Remember those janitors with a key ring with like 700 keys on it? They'll need that set of keys to beat Alabama this weekend. They beat a Tennessee team that had talent last week, but there are times where the Vols were just gashing that defensive line. All I was thinking about was who was next. You can't do that against Alabama. This is the ultimate test, and they'll need some mistakes. They'll probably need defensive or special teams scores. Tank Bigsby has to be healthy. If he's not, I don't see a way that Auburn can win this football game.
Never miss the latest news from TexAgs!
Join our free email list