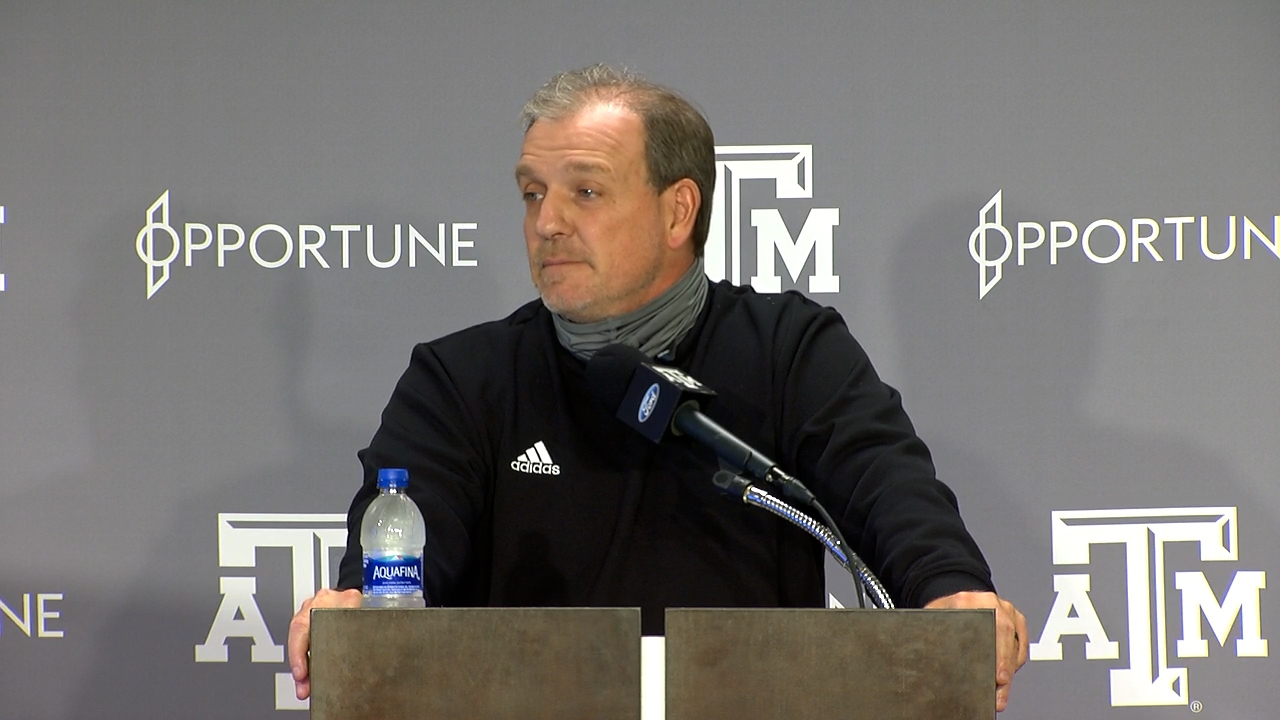 Jimbo Fisher
Isaiah Spiller
Ainias Smith
Jayden Peevy
Texas A&M Football
Press Conference: No. 5 A&M returns to gridiron this week against LSU
---
After COVID-19 cases within the program forced a two-week stoppage, the Aggies will finally play another game as they host LSU at Kyle Field. Ahead of the Saturday showdown, Jimbo Fisher, Isaiah Spiller, Ainias Smith and Jayden Peevy spoke to the media about the contest.
Video courtesy of Texas A&M Athletics.
---
The following are live, paraphrased notes from head coach Jimbo Fisher's media availability on Monday.
We're glad to be back in game week. Excited to be playing. The guys who could practice did a good job, and I thought we had good practices. The guys in quarantine got in some good condition. We did the best we could, and I thought we did well. Guys are excited to play. We've got a good LSU team coming in. They're athletic. They're big and athletic in the secondary and at linebacker. They run well. They won a tough game on Saturday vs. Arkansas. It's a very talented football team, and we'll have to play a heck of a football game.

No more COVID-19 positives on our team. Our guys should all be there on Saturday.

I worry that we could've kept that roll going. Sometimes you play so well that guys get lazy. I do not anticipate them coming back anything other than full speed. We'll have to practice well. I'd be worried about us whether we had played for two weeks or not played for two weeks.

With the kids we have, we have resilient and good football players. They're doing well, and the coaches have developed them well. We have faced a lot of adversity, but 2020 is an adverse year. That's a good sign for where we're going as a program. We will always have attrition, but we've adapted and handled it well. That's going to be a good sign for things to come.

TJ Finley can get the ball all over the field. I saw him when he was in high school. He's impressive with his size and his length. You can see that the sky is the limit for him.

Kam Brown is a great young man, and I wish him nothing but the best. I'm happy for him, and I hate losing him. He was great for us.

I think LSU's overall athleticism and how they can run and play with that many big bodies. They all do athletic things, and there are a lot of draft picks on that roster. There isn't one position that jumps out at you, but you can see that athleticism as a team.

Until you are there and know what's going on, I can't say what LSU's issues have been. They have experience and inexperience, so sometimes there are issues. They have a new coordinator on defense, so there's that. Bo Pelini is a tremendous coordinator. They're a talented team, and we'll have to play a heck of a football game.

I don't think like to this is a "Revenge" game. I don't like that word. I think revenge clouds your thinking. You want to have success because they beat you, yes, but that's just human nature. It's a different year with a different team, and you have to take it one year at a time.

Tomorrow will be a Tuesday evening. I will be watching film. I won't have time to look at the TV and the College Football Playoff rankings. Sure, you want to be mentioned, and you want to be up there because that's the ultimate goal. Whatever they rank us isn't going to help us win games, and we can't let that cloud our heads.

It's hard to stay focused and repeat as champions. There are so many people that respond to it, and it's clutter. People want to be around winners, and there is nothing wrong with that. You have to stay hungry and can't think you'll win just because you've done it before. It's challenging as a coach and a player. You want to accommodate people and be nice, but you don't have enough time in the day. You don't want to feel like you're ignoring people, but you have to keep the main thing as the main thing.

We'll have a normal Monday practice just like a typical bye week. We're trying to keep them on the same schedule.

Rivalry games usually happen when both teams win, and the games are important for the conference. Whether this is a rivalry game, I don't know. It's a very important football game; I know that. Whether it's a rivalry game, that's for other people to decide.

I think we prioritize third-down conversions. When you call plays on first and second down, you have to keep third down in mind. We've done a good job of limited negative plays and things that set you behind the chains. We've done a good job of executing and doing what we do well. I think it's a cumulative thing that has led to this success rather than just one individual thing.

You have to protect well with the line and the tight ends and receivers. You get more man coverage on third downs. There are a lot of things that go into third-down conversions.

I think you have to take steps to where you want to go. To get to the top of the mountain, you have to go one step at a time. Winning this game is the next step. We're still learning how to prepare and playing better football games. You're in the best league in ball, and you're in the best division in ball. It gives the kids confidence. We have the capability of standing up and playing well here, so hopefully, that gives them the encouragement to keep playing better.

We had a lot of close games in 2013 and 2014. It was challenging because people knew who you were. You are the standard, and people are trying to knock you off. Everyone wants to win and be considered the best, so when you play a champion, it measures you. We got everybody's best shot in 2014. We played a lot of nail-biters. The culture of the organization came through and helped win those games.

LSU is an important game, and it will always get your attention because of who they are and what they've accomplished. Getting LSU off of this break makes it better and easier to get going.

I haven't had time to think about the committee because I'm trying to win football games. They'll do a great job. They have a very diverse committee of experts. It will be fair. We have to trust those folks, and we'll live by what they say.

I do not know anything about the possible adjusting of the schedules. Six days before, they will give you the game time. I know what everybody else knows.

Separating from an opponent is something we don't talk about. We talk about stats, but we don't talk about when they come enough. It's usually a good sign of a football team that is understanding how to win. Playing well and winning are completely different. You can play well and not win, but you can also win and not play well. It's an educating process. Controlling those momentum swings and knowing when to turn it up is pivotal. At critical points in the game, our team is doing a great job of that. Hopefully, we can continue.

I think the game is so diverse these days. With our running backs, it's a personnel matchup. It's a lot like the game of basketball. Those things matter. How you're trying to execute and how you're doing it is important. Those guys are all doing their jobs. Isaiah's ability to catch the ball as a big guy helps as well. Our guys all have unique skill sets, and they're very diverse.

Most of our guys were in practice all of last week. We were good-on-good all week. We faced the best we could face, and we do that every week. We got to keep that edge, and right now, our offense was facing the top-rated defense in the SEC, and the defense was facing a good rushing attack, so hopefully, they'll stay sharp.

Spiller is learning how to take a one or two-yard run and making it a three or four-yard run. He's not looking to break on every play. He keeps bouncing things. His pass-blocking has gotten better, so had his overall knowledge of being a complete back. He's increasing his physicality and understanding. He has matured very well.

Y'all have a happy Thanksgiving.
Never miss the latest news from TexAgs!
Join our free email list