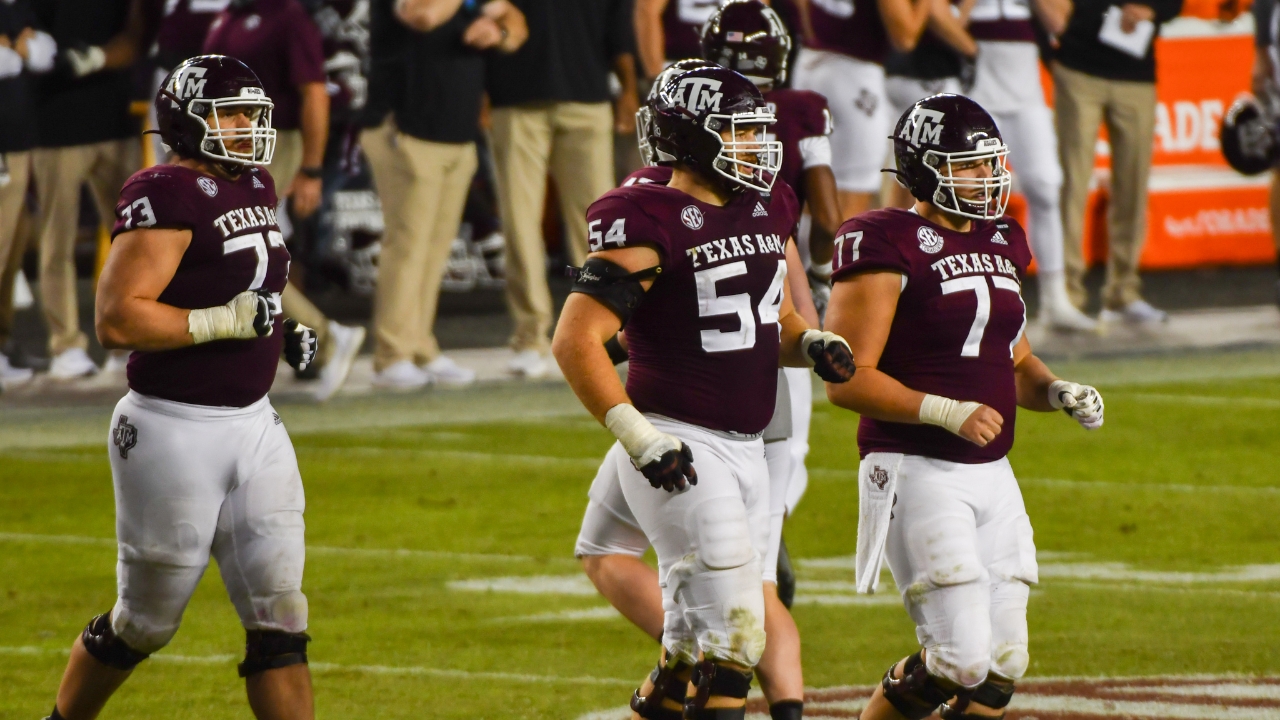 Photo by Lia Musgrave, TexAgs
Texas A&M Football
Despite second postponement, A&M on track to resume play on Nov. 28
---
Texas A&M coach Jimbo Fisher on Monday indicated the Aggies are on track to resume their football season against LSU on Nov. 28.
Earlier on Monday, the Southeastern Conference announced A&M's game against Ole Miss scheduled for this weekend was postponed because of COVID-19 issues.
However, Fisher said only one player currently has tested positive for the virus. That would indicate about a dozen players who have in a 14-day contact tracing quarantine should be available to return to competition next week.
"We have one (positive) coming back," Fisher said during his weekly press conference via Zoom. "As far as active players, it would be one. One came off. It doesn't change the quarantine."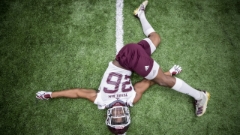 Texas A&M Athletics
Sophomore safety Demani Richardson tested positive before the Aggies traveled for a 48-3 victory over South Carolina on Nov. 7.
Another player tested positive upon returning to College Station. About a dozen others were then isolated for contact tracing, meaning they were determined to have been within six feet for at least 15 minutes with someone who had tested positive.
That forced the postponement of a game at Tennessee last week.
SEC rules require a player to isolate for 14 days before being eligible to return to action. The quarantine for A&M players in contact tracing would end on Sunday, Nov. 22. If those players test negative, they could return to practice to prepare for the scheduled game against LSU.
"They will be back next Sunday," Fisher said. "The majority of them come off (quarantine) next Sunday."
Fisher also said he doubted the two-week hiatus will have a significant impact.
"Some of the guys in practice will have to get back used to contact," he said. "That won't be hard for veterans and people who are in that situation."
The two-week interruption came at a most inopportune time for the Aggies. A&M had posted four consecutive victories and was playing at a high level.
At the same time, Tennessee was struggling, and Ole Miss, while formidable offensively, is struggling on defense. The Rebels allowed 318 rushing yards and 548 total yards in a 59-42 victory over South Carolina last week.
Meanwhile, A&M is ranked third in the SEC in rushing offense. The Aggies have accumulated at least 182 rushing yards in each of their last four games.
Senior tackle Carson Green is optimistic the Aggies can pick up where they left off when the season resumes.
"We're all playing very well, you know, the whole team is right now. Now, we're just focused on getting better today at practice. The guys that can be out there."
"We're all playing very well, you know, the whole team is right now," Green said. "Now, we're just focused on getting better today at practice. The guys that can be out there.
"That's the main thing. You know, we get our minds right... I think we're gonna do a lot of just kind of almost like a bye week practice, where we're going to focus on our little things: technique and also doing some good-on-good, so we can get back into shape."
Fisher seemed to suggest coming back strong from a two-week break will be more of a psychological matter than a physical one.
"We do regular Zoom meetings with them, just like position meetings," Fisher said. "We do studies. We do breakdowns of what you've done well all year and what you haven't done well. We're improving those things.
"Keeping their minds in the game. Keeping them fresh. Keep the physical workouts that way. Then, you'll have time to get back and get prepared for a game. You've still got the same guys. So, hopefully, they can still play as well. That's the challenge each and every week, whether you're on a roll or not on a roll."
Fisher said he remained optimistic that the Ole Miss game will be rescheduled and A&M will play a full 10-game slate.
Ole Miss coach Lane Kiffin had indicated he thought the A&M game would be canceled. The SEC has altered its rules to allow games to be rescheduled on Dec. 19 — the day of the SEC Championship game.
"We've (SEC) added two weeks," Fisher said. There was a built-it (makeup date) week, and they've opened up the 19th now. So, that would be two weeks. I would fully expect to make those games up for sure.
"If the SEC moves games around, we still have four weeks to play four games. Whatever they do, we'll definitely adhere to."
Never miss the latest news from TexAgs!
Join our free email list
SPONSORED BY