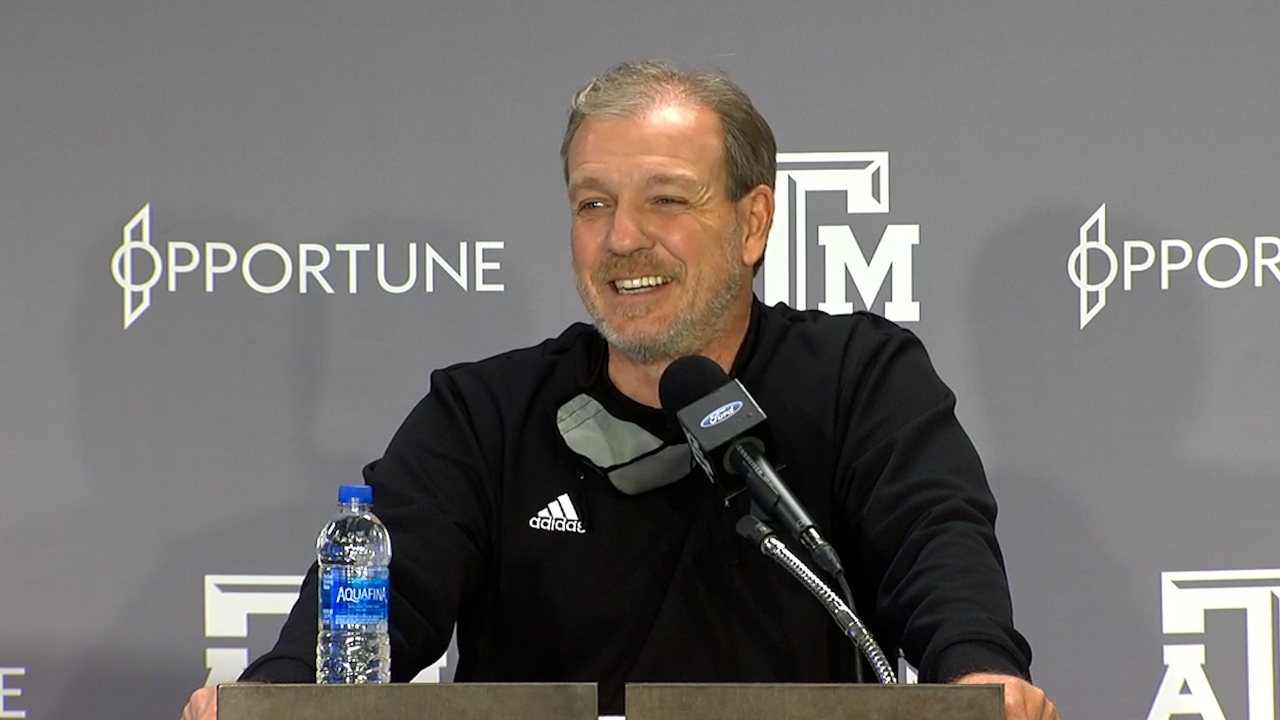 Jimbo Fisher
Carson Green
Texas A&M Football
Press Conference: Aggies dealing with unexpected break in 2020 campaign
---
Due to COVID-10 protocols, Texas A&M is now in their second week without games following positive tests within the Aggie program. On Monday, Jimbo Fisher and Carson Green spoke to the media about how the team is handling this unexpected halt to the season.
NOTE: The interviews are currently audio-only. Video will be added once it becomes available.
---
The following are live, paraphrased notes from head coach Jimbo Fisher's media availability on Monday.
After an off week, I thought our guys have done well doing the stuff they need to do. We've focused on our academics. We've been on the field with the limited guys we've had available. We will continue to do so in whatever limited capacity we can. We'll keep working and moving forward.

You have to turn this all into a positive. You get to heal up a little bit. Everybody wants to get into the playoff, but right now, we're trying to stay in the moment we're at. If that's there at the end, great. We're focused on now.

The quarantine guys can come over here and work out in distanced workouts. There is spacing between them. It's very limited as to what they can do.

Our numbers were in the mid to high 40s as far as players who could practice this week.

We have Zoom meetings like we have position meetings. We're doing breakdowns. We're keeping their minds busy and fresh. That's the challenge every week, regardless if you're on a roll or not. There are still things that can be done and taken care of.

We only had two positive cases, and one is coming back. As far as players, only one of our guys is positive. It hasn't changed the quarantine situation, though.

I would support the NFL's testing out positive, but they have a more extensive testing policy in general. They test daily. I'm all for anything that would make it better, but I think what they do is more consistent. I'm for whatever makes it safe for the players, coaches, and everybody else.

We'll be back on the players' tails like we were before this situation, and I think they will too. Guys like to push each other when things are going well. Life is about adapting, and this is a great lesson for them in life. It doesn't hurt that we have a veteran team, that's for sure.

All the quarantined players can do is running and conditioning. Hopefully, they'll be back next Sunday. That's when most of them come off the quarantine.

I think the team can be great. They're running hard. Some of the guys will get back into contact practices, but that won't be hard for those veterans.

We're doing film evaluation of individuals. We're working on things we've done well and haven't done well. We're breaking down film on our opponents. We're having meetings with players via Zoom as we would. We're also recruiting. As far as time on the field goes, that's changed, but we're finding ways to fill those hours up.

We'll keep which position groups hardest private. Some were hit harder than others.

We'll judge how hard these workouts have been, but we should be able to get back into a normal routine in a short amount of time.

I do expect to play Ole Miss because we had two weeks at the end of the season. They opened up the December 19 date, so I would expect to play those games. We have four weeks to play four games, so whatever the SEC does, we'll adhere to it.

If you look at Terry Price, the guys he's coached, and the success they had, that is definitely a plus for us. Myles Garrett is leading the league in sacks, and he was the fastest player ever to 40 sacks in their career. Price knows how to get guys there.

I don't listen to anyone when it comes to ranking A&M and Florida. Everyone is entitled to their opinion. We'll control what we can control. If people want to rank them ahead of us, that's their business. I can only control what we do on the field.

I reached out to Will Muschamp. He's a classy guy. He's a good guy. He's done some good things there. I hate to see that he got fired. He's a tremendous guy and as good of a guy as there is in this business. He'll land on his feet. You hope the best for him and his family.

I don't know if Muschamp is interested in being an analyst for us, but if he ever had a chance to join our program, I would absolutely embrace that.

Instead of having bowl practices, we should be able to prepare for games. We'll be in game shape. Practicing later into the year is a silver lining. Anytime you get to play is a silver lining. We didn't even know if we would have football this year, so getting to play is great.
Never miss the latest news from TexAgs!
Join our free email list