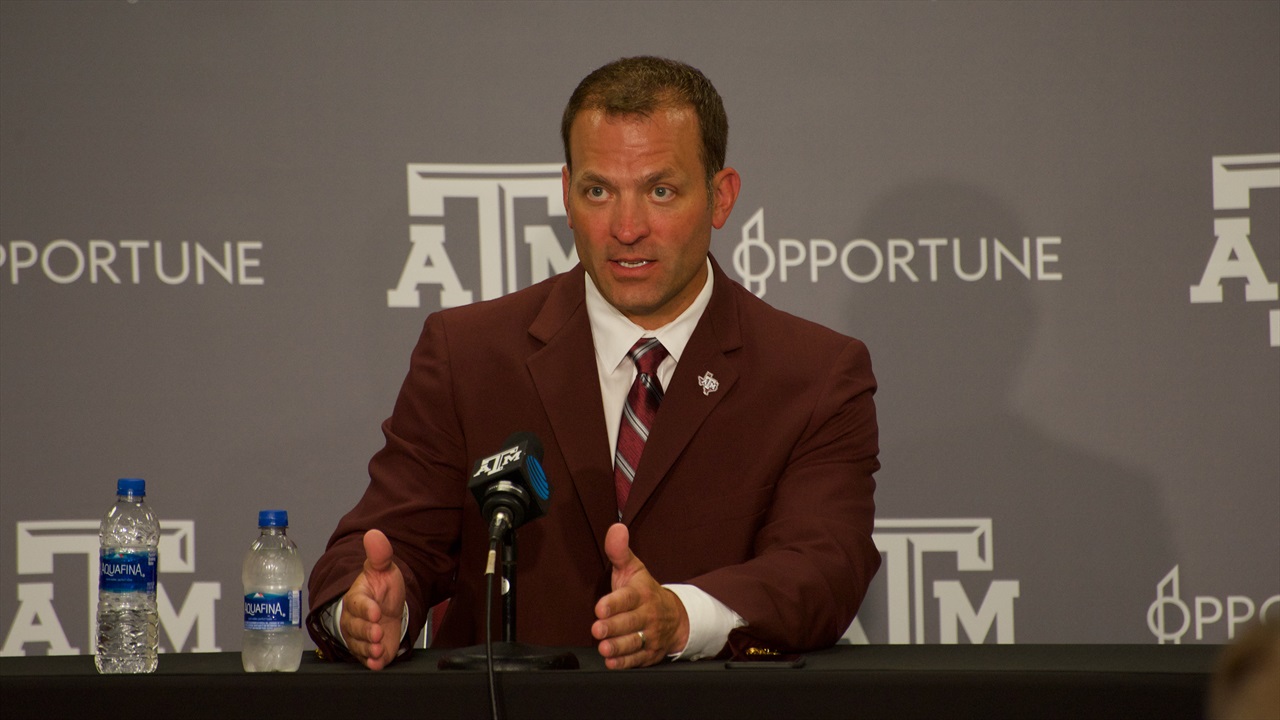 Photo by Lia Musgrave, TexAgs
Texas A&M Football
Ross Bjork discusses rescheduling Tennessee, plans for Ole Miss
---
Key notes from Ross Bjork interview
It's been a little crazy. I have my "BTHO Coronavirus" beard coming back in November. It might also be a winning streak bread as well. At some point in time, Billy, you need to get a haircut. I have a set of clippers at the house, so let me know. We can make it happen. I cut a few teammates' hair back in the day to earn a little spending money back in college.

First of all — our players, staff, and coaches — everyone has done a great job going all the way back to may when these protocols began. It's time-consuming and a little aggravating, but everyone has done a great job with it. We all anticipated that something might happen. Hitting the pause button was not unexpected.

We do not have an outbreak. We have three cases within our program, and it's now a contact tracing issue.

We have a ton of momentum on and off the field right now, but we have to look at the big picture. The momentum will continue regardless of how the season ends. We know the recruiting will continue, and the development will continue. Obviously, we want to win these final four games if we can get them in, but the pause button has been hit. Keeping our players and staff safe and healthy is the most important thing right now.

The first thing is the weekly and daily pressure of testing. We are living test by test and have been since the beginning of the season. You kind of hold your breath. Our trainer, Dan Jacobi, is probably tired of me texting him on Monday, Wednesday, and Friday mornings and asking where we are. It's nerve-wracking for sure, but we knew it would be this way.

As far as contact tracing, it's about being within six feet for 15 minutes or longer. If we had played a home game last week, things would have been much different. We were on a plane, visiting locker rooms and hotels, so it becomes almost impossible to distance correctly. It comes down to a numbers game and a location on the plane. One person in a middle seat knocked out 16 people just from being on the plane. We also have a chip that we wear that tracks us. You can't find a way out of the protocols or short circuit them. We have to be safe and follow them. This contact tracing comes from the CDC guidelines, not the SEC.

The way this works, it's not just a singular voice that can postpone the game. We have to work with the SEC and our opponent. It's really too early to talk about the Ole Miss game.

We have six Saturdays. We have added December 19 as a playing date, so the commissioner has that to work with now. Some teams have four games left. Some have three. We will go through the processes and see how the SEC looks at the entire schedule. They'll play the games this weekend that are still scheduled. It's more about the order of the games rather than who and when you play.

Our focus is on containing this and following the protocols. There is no way to test out of the quarantine. The SEC has been working with the CDC and the NCAA to find a way to test out of quarantine, but it's still not there yet.

Practice may look different for the next couple of days. We took Monday, Tuesday, and Wednesday off. Jimbo Fisher is working on the outlook for the future of practice. We will evaluate who is available, so it might not be a full workout or practice. The key is safety. We got our tests back from yesterday, and we'll take one on Thursday. Everything will be really fluid.

Let's finish strong and go 4-0 down the stretch to finish 9-1. It'll be fascinating from around college football. How does the committee factor in those extra games on Championship Weekend? If the eye-test is going to be the key this year and you're playing well, you absolutely put yourself in position.

It's bad when an athletic director speculates, so I'll let you guys do that. The fun and the intrigue and the entertainment value, momentum within the program are all things we want to keep up. If because it's 2020 and everything is wild and crazy so it leads to something unexpected, we will capitalize on it.

Despite losing the Alabama game, we saw things in that game that are telling us if we put the pieces together and continue to improve, this could be a special team. That's what we've done on both sides of the ball and special teams. This team has gotten better, and that's what you want. The players came out of that Alabama game with a lot of confidence. Now you want to finish. The sign of a great program is improvement every week.

Who do you guard right now? Wydermyer? Spiller? Ainias? Kellen in the running game? There are so many options right now, and it's fun.

When Jimbo was hired, this was a long-term commitment. You knew it would be a process to get where we wanted to go, and we're still not there yet. Jimbo talks about that. His relationship with players and trust, camaraderie is what it boils down to. He will hold them at a high level of accountability on and off the field, but they know that he cares. That's what's exciting. This isn't just a one-year deal; it's going to be a long-term thing. After the Florida game, we saw Jimbo's emotion, but I also sensed a shift. We lifted the lid off, so now let's go, develop, recruit, and win a lot of games. That's why he's here, and I can't wait to help him build this thing.

When we put December 19th on the table, I spoke to Jimbo about signing day being right there. The momentum is there, and we're in a good spot in recruiting. With Zoom, you can see the recruits a lot, even though it's not in-person. You're likely going to have to continue operating this way into the first of the year, so that's why keeping the momentum is important with recruiting.

The biggest challenge is understanding that everything is important. Finances, scheduling, and protocols are all important. Name-Image-Likeness legislation from the NCAA is coming soon, and that is important. How do we start basketball season? Everything is on our plate right now. We know we have to stay diligent — all of it. We're focused on everything right now. We cannot take our eye off the ball, but we know that Texas A&M will come out of this thing stronger than before.
Never miss the latest news from TexAgs!
Join our free email list