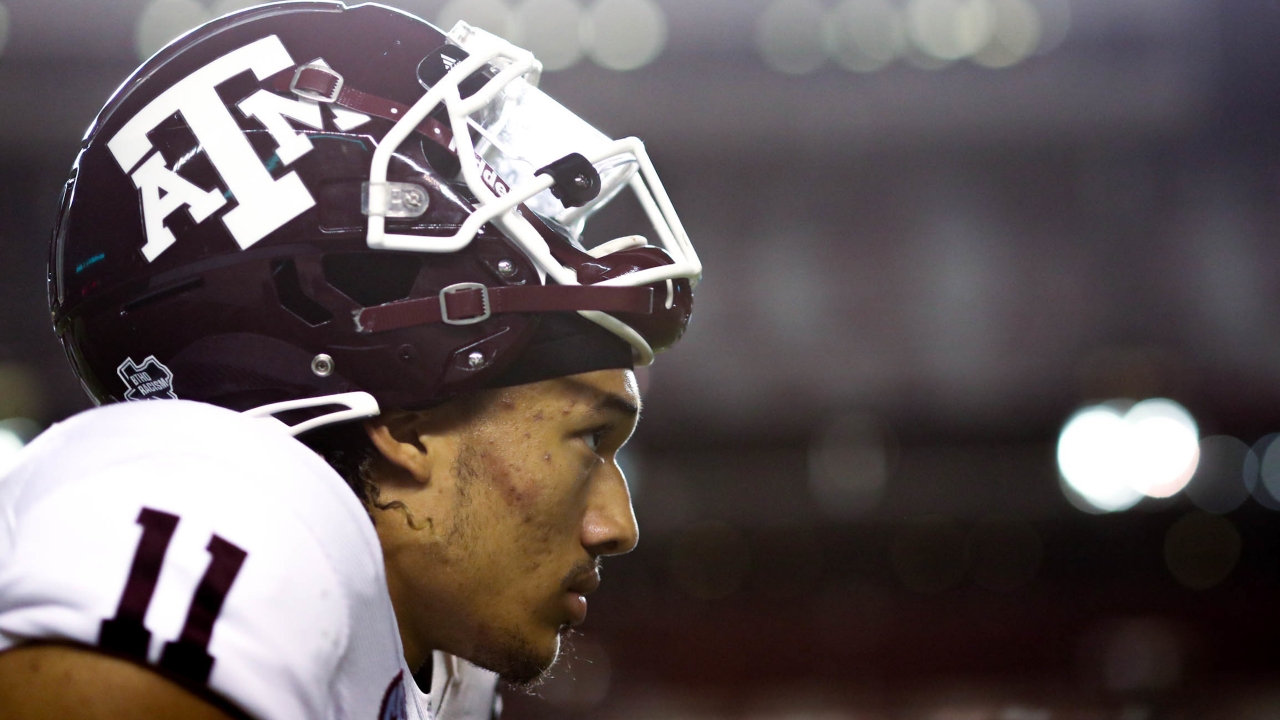 Photo by Craig Bisacre
Texas A&M Football
2020 is like an 8-track tape: A&M's groove is paused, but it will return
---
COVID has turned 2020 into the 8-track tape of Texas A&M football seasons.
Perhaps only those over 50 years of age would understand that analogy. For the younger and perplexed, let me explain:
Before cassettes and compact discs and WAY before Pandora and Apple Music, the 8-track tape deck was the state of the art form of car audio systems.
But it was not without issues. Songs were interrupted for a second or two to switch from one track and continue on another.
I'd be cruising in my silver '77 Nova — manufactured without seatbelts — learning the subject of "Super Freak" has incense, wine and …
Pause. … candles. It's such a freaky scene."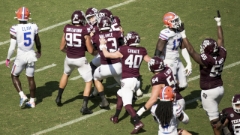 Braden Huggins/Texas A&M Athletics
The Aggies' season is getting pretty freaky, too.
The once familiar November fade has given way to the October surge and beyond. Five weeks ago, the Aggies were ranked 21st and falling.
Then they beat Florida, 41-38. They followed that up by exorcising their demons in Starkville with a solid 28-14 victory over Mississippi State. After an open week, the Aggies finally posted a comfortable victory over Arkansas, 42-31. Then last week, they went on the road to annihilate South Carolina, 48-3.
In the process, the Aggies have climbed to No. 5 in the national rankings. They're in the discussion for the College Football Playoff. They're surging in all the key aspects that typically lead to victories.
During their four-game streak, the Aggies have committed just two turnovers while forcing five.
They've scored on 18 of 19 trips into the red zone. Of those, 16 were touchdowns. One of the field goals was on the final-play, game-winner against Florida.
They're making big plays. In 13 games last season, A&M managed 10 passing of 30 yards or more. They have 11 through six games this season.
The Aggies' pass rush has posted 13 sacks in the last four games.
The running game has accounted for at least 182 yards in each game of that span. In the second half of those last four wins, they've averaged at least 4.8 yards rushing per carry and have scored five rushing touchdowns.
The Aggies have made key plays near the end of the second quarter of each game to take momentum into halftime.
They're riding high. They're eight-point favorites going into a clash with struggling Tennessee. They …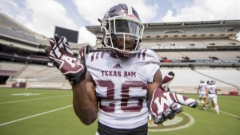 Texas A&M Athletics
Pause. The track is changing.
Starting safety Demani Richardson tested positive for COVID-19 and missed the South Carolina game. Another player and a staff member tested positive after the Aggies returned from Columbia.
Ross Bjork says the number of positive cases remains at three, but a number of players are in contact tracing — meaning they've been in close contact with someone who has tested positive.
Southeastern Conference policy requires a player that tests positive to sit out 10 days and then test negative twice before returning to action. Those in contact tracing must wait 14 days and then test negative twice.
The Tennessee game has been postponed until Dec. 12. Next week's scheduled game against Ole Miss also figures to be postponed until Dec. 19. That is, if it's not canceled.
Just when the Aggies were in a groove, they probably won't play again until LSU is scheduled to visit Kyle Field on Nov. 28. That's three weeks away.
It could be worse. LSU is having even worse coronavirus issues. The Tigers haven't played since getting blowout by Auburn, 48-11, on Oct. 31.
Their game against Alabama on Saturday figures to be postponed. Their game against Arkansas the following week is also in jeopardy. They may be idle a month before facing A&M.
But who cares about LSU? Its season is spiraling downward like water in a toilet.
A&M is soaring.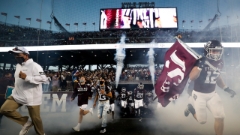 Bailey Orr/Texas A&M Athletics
A pause now is imminently frustrating. Battered Aggie Syndrome may soon rear its ugly head — if it hasn't already. Listen closely, and you can probably hear the laments of stopping the season when A&M is surging.
Worry not, Aggies. Instead, count your blessings.
A few months ago, we were told there might not be college football at all. We've gotten six games. The last four have been glorious.
Sure, it's an abbreviated season, but look at it this way: If the Aggies could get to 10 games — and that includes a bowl appearance — that would mean they played just three fewer games than was originally anticipated.
Because the SEC went to an all-conference schedule, that means the games A&M will have missed were against Abilene Christian, North Texas and Fresno State. Those wouldn't have been competitive, anyway.
Besides, other teams around the SEC and the country have had to endure pauses. Florida was idle for two weeks and then returned to pummel Missouri, 41-17.
Expect the same from A&M.
It's like the 8-track tape. The pause was annoying, but the groove resumed.
Never miss the latest news from TexAgs!
Join our free email list
SPONSORED BY