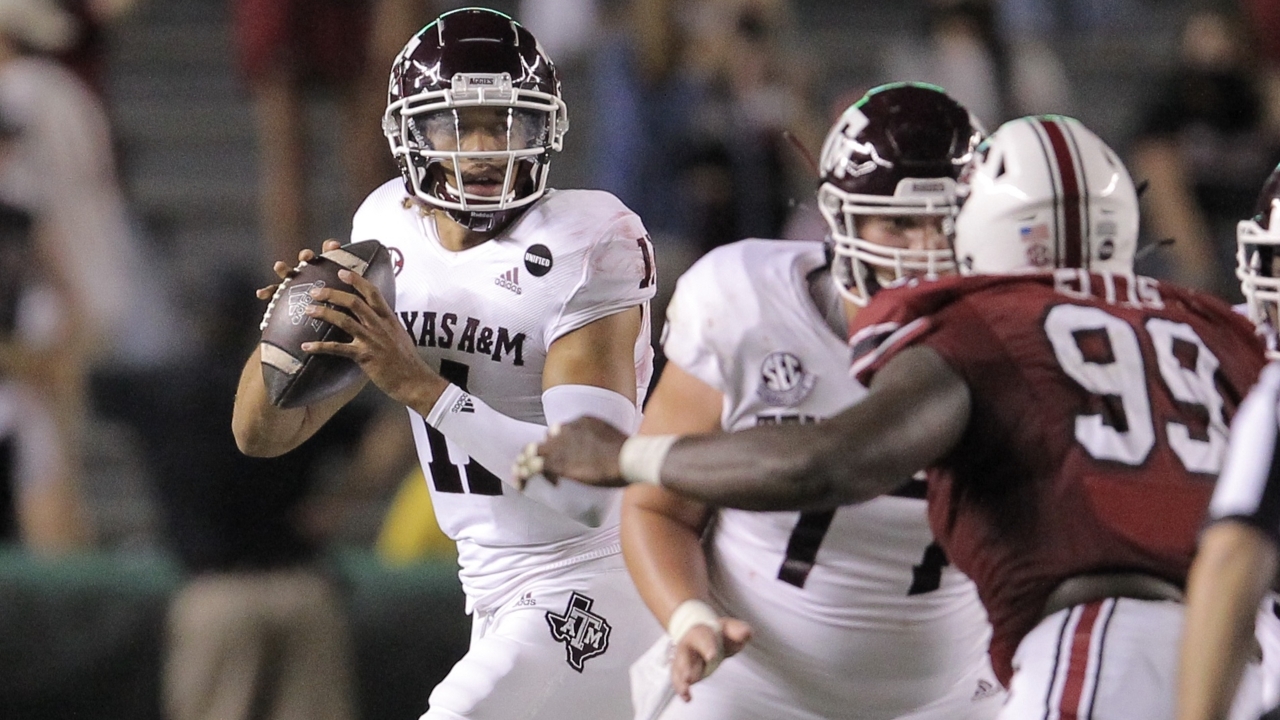 Photo by Travis Bell
Texas A&M Football
Learned, Loved, Loathed: Texas A&M 48, South Carolina 3
---
Kellen Mond looked right at home on the road. Isaiah Spiller looked unstoppable until stopped by an injury. The defense looked like the Wrecking Crew.
Texas A&M looked the part of a College Football Playoff in a 48-3 victory at South Carolina on Saturday night.
No doubt, there was indeed a lot to look at and a lot to like as the No. 7 Aggies improved to 5-1. There was also a lot to learn and love. There were even a few issues to loathe.
What we learned
Worries about the A&M defense were unnecessary: Admit it. There was some uneasiness about the defense after allowing 222 rushing yards and 461 total yards in a 42-31 victory over Arkansas last week. Instead of uneasiness, the defense helped the Aggies cruise to an easy 48-3 victory. A&M's run defense did allow South Carolina's Kevin Harris a 28-yard run. However, Harris, who entered the game as the SEC's second-leading rusher, managed 11 yards on 12 other carries to finish with 39 yards. The Gamecocks rushed for just 50 yards. They passed for 100 for a total offensive output of 150 yards. That was their lowest total since 1998. The Aggies had 2 sacks, 2 interceptions and 10 tackles for loss. South Carolina ran 53 offensive plays. Of those, 27 resulted in no gain or lost yardage.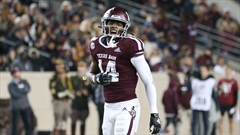 Matt Sachs, TexAgs
Keldrick Carper will respond when needed: Carper was thrust into the starting lineup to replace Demani Richardson, who tested positive for COVID-19. Carper, a steady senior, showed he can handle the job until Richardson is back in the lineup. He posted 4 tackles, one for a loss, and made an excellent play on deep help to intercept a pass in the second quarter.
Kellen Mond can excel on the road, too: The senior quarterback has been nothing short of spectacular in home victories over Florida and Arkansas. However, throughout his career he's often been shaky on the road. That wasn't the case in Columbia. Mond again was spectacular. He passed for 224 yards and 4 touchdowns and ran 15 yards for another score before giving way to freshman Haynes King in the fourth quarter.
What I loved
The offensive line: The Maroon Goons extended their streak of games without allowing a sack to five. They've allowed just two all season. They also paved the way for the Aggies to rush for season-high 264 yards on 45 attempts. That's 5.8 yards per carry. That allowed the Aggies to completely control the pace of the game. A&M held the football for 38 minutes and 21 seconds.
Mond's patience: Perhaps because he has gained so much confidence in that line, Mond calmly waited for receivers to break open on 3 of his touchdown passes. On the first, he had to wait for the play to develop to throw a 4-yard scoring pass to Ainias Smith. On the next two to tight end Jalen Wydermyer, Mond showed even more patience. He waited and waited and waited. Then, just before the pass rush reached him, Mond passed across the field to a wide-open Wydermyer for a 15-yard touchdown. Mond again showed patience waiting for Wydermyer, who had lined up on the right side of the line, to drag across the field. Just as the defense started to bear down Mond delivered the pass to Wydermyer for a 7-yard touchdown.
Mond again was spectacular. He passed for 224 yards and 4 touchdowns and ran 15 yards for another score before giving way to freshman Haynes King in the fourth quarter.
The reduction in penalties: The Aggies are one of the most penalized teams in the SEC. Just last week against Arkansas they were flagged 9 times for 100 yards. They cleaned up that mess. The Aggies were penalized just twice for 25 yards. One of those penalties was a very debatable pass interference call.
What I loathed
South Carolina's meaningless fourth quarter field goal: The Aggies had a chance to notch their first shutout since blanking Prairie View A&M 67-0 in 2016 and their first SEC shutout since beating Vanderbilt 25-0 in 2015. It was not to be. Trailing 41-0 late in the fourth quarter, South Carolina coach Will Muschamp called on Parker White to kick a 48-yard field goal.
Early scares on deep passes: "Loathe" maybe too strong of a word here, but there was certainly some angst when A&M's secondary was beaten on some deep passes early in the game. South Carolina's Jalen Brooks got behind the secondary for a potential 63-yard touchdown on the game's fourth play. Collin Hill's pass was just a little too long and deflected off Brooks' outstretched hands. Later in the quarter, the Gamecocks' Shi Smith got open for a possible 60-yard score, but Hill overthrew him. To be fair, the Aggies seemed to adjust their coverage and kept the Gamecocks under wraps.
Injuries and illness: The COVID-19 threat finally reached the Aggies. Demani Richardson was unavailable after testing positive on Friday. Then, during the game, running back Isaiah Spiller and guard Jared Hocker suffered injuries and did not return. Spiller had rushed for 131 yards and 2 catches for 46 yards when he exited in the first minute of the second half. Hocker was having a dominant performance before leaving in the second half. There is good news, though. Coach Jimbo Fisher announced the injuries weren't serious. Richardson is likely to return to the lineup in a week or two.
Never miss the latest news from TexAgs!
Join our free email list