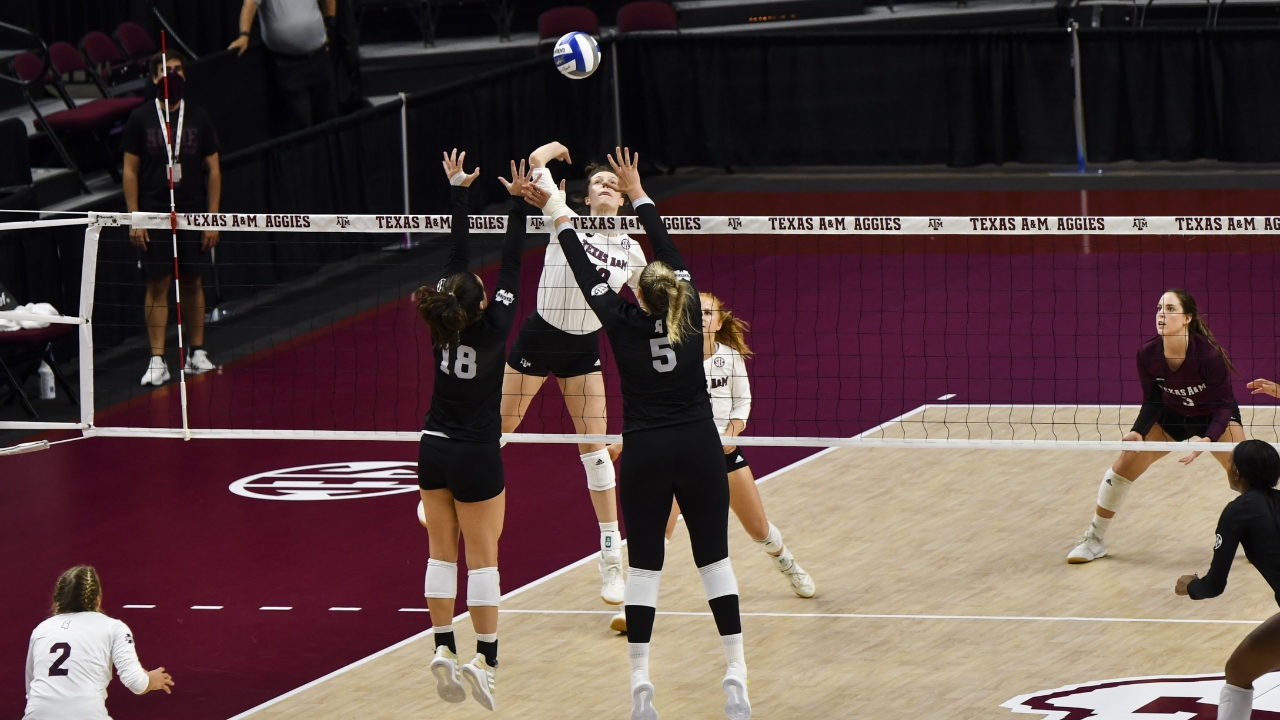 Bird Kuhn
Treyaunna Rush
Taylor Voss
Texas A&M Volleyball
Aggie Volleyball drops second straight match to Mississippi State
---
The 4-1 Aggies dropped their first match of the season on Wednesday night, losing to Mississippi State in four sets. On Thursday, the Aggies were looking for redemption against the Bulldogs but couldn't find it, losing the match in five sets (25-14, 21-25, 25-18, 22-25, 13-15) and dropping both games of the series at home.
Four different Aggies recorded double-digit kills, as Treyaunna Rush recorded a team-high 14, while Mallory Talbert and Morgan Davis both registered 13 on the night. Camryn Ennis rounded out the group with 10. Senior setter Camille Conner also record 49 assists in the match.
Set One: Texas A&M 25-14
The first set started out as a back and forth affair, and a block by Morgan Davis gave A&M a 7-5 lead early in the set. Back-to-back attack errors by Mississippi State ended up giving A&M a 9-5 lead before Mississippi State took their first timeout.
A few serves later, Lauren Davis collected a kill to give A&M an 11-8 lead. Back to back kills by Mallory Talbert and Camryn Ennis gave A&M a seven-point advantage, followed by an ace by Taylor Voss to bring the score to 18-10.
A&M continued to pile on, eventually extending its lead to ten by a score of 21-11. Mallory Talbert continued her dominant set by registering her third kill of the set, and shortly after A&M took the set thanks to a set-ending kill from Morgan Davis.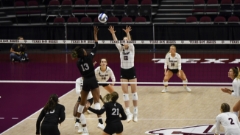 Jamie Maury, TexAgs
Set Two: Mississippi State 25-21
Mississippi State jumped out to a 4-1 lead after a long video review, but A&M climbed back with four straight points of their own to take the lead. The two teams alternated leads for an extended time of play, with neither able to take a two-lead until an ace by Mississippi State made the score 14-12.
A&M tied the game back up when senior Morgan Davis notched back to back kills to bring the score to 17-17. After two quick points from the Bulldogs, back-to-back kills from Treyaunna Rush cut the deficit to one again. Mississippi State took a 20-23 advantage from there, forcing A&M to call a timeout. It wouldn't slow down the visitors, as just three serves later the Bulldogs took the second set 25-21.
Set Three: Texas A&M 25-18
Mallory Talbert started the third set off with a kill before Mississippi State rattled off three straight points. Lauren Davis broke up the short rally with a kill of her own, sparking a four-point rally for A&M. The Aggies rode the momentum from the rally to a 10-5 lead after a kill from Camryn Ennis. Two consecutive Mississippi State service errors gave A&M a 15-10 advantage into the floor timeout.
The Bulldogs recorded three swift points before back to back kills from Treyaunna Rush brought A&M's lead back to four. A key block by Treyaunna Rush a few serves later made the score 19-14 in favor of the Aggies. An errant serve and attack error from Mississippi State extended A&M's lead to seven, and shortly thereafter Morgan Davis registered a kill to finish off the set by a score of 25-18.
Set Four: Mississippi State 25-22
Mississippi State lept out to a quick 5-2 lead, but A&M quickly answered back with three straight points to even the score. The Aggies took their first lead of the set after an attack error on Mississippi State to bring the score to 9-8. It wouldn't be long before the Bulldogs regained the lead and score three in a row to take a 15-12 lead on A&M, forcing Aggies head coach Bird Kuhn to call a timeout.
Mississippi State extended its lead to four before A&M began to chip away. A double block by Talbert and Rush brought the Aggies within two by a score of 18-16 before the Bulldogs called a timeout. Mississippi State answered back with two quick points to restore their lead to four. A&M would be unable to cut their deficit past two points, as the Bulldogs forced a decisive fifth set by way of a 25-22 set win.
"We had an opportunity both nights to play like Texas A&M knows how to play and we weren't consistent and disciplined, so the outcome wasn't what we wanted,"
Set Five: Mississippi State 15-13
The Aggies started off the definitive fifth set with three straight kills. Back-to-back blocks from Morgan and Lauren Davis extended the lead to 5-1. Mississippi State chipped away at the deficit, tying the game at 6-6 before Treyaunna Rush gave the lead back to A&M. A quick ace from Taylor Voss prompted a timeout from the Bulldogs.
Mississippi State went on to take their first lead of the set 10-9, raising its lead to two before the Aggies took a timeout to slow the momentum. A&M called its last timeout after Mississippi State took a 14-12 lead, facing match-point. A&M received a quick kill by Morgan Davis to get within one, but Mississippi State would win match-point on the following serve on a kill by Gabby Waden.
Postgame Thoughts:
"We battled." Head Coach Bird Kuhn said, "We knew it was going to be a battle again tonight, but we needed to execute our game plan. But then it's also just knowing where we are, and finishing points when we have the opportunities. I think we need to be more consistent. That's what it comes down to."
Despite leading the team in kills, Treyaunna Rush knows the Aggies could have done more damage. "We had an opportunity both nights to play like Texas A&M knows how to play and we weren't consistent and disciplined, so the outcome wasn't what we wanted," Rush said.
Junior libero Taylor Voss knows A&M's upcoming series with Arkansas can be big for the team in turning it around. "This is a huge opportunity to find out who we are and how we're going to respond and put identity into who Aggie volleyball is. So I think for this next week, we're really going to focus on ourselves and get ready to beat the hell out of Arkansas," Voss said.
Up Next:
The Aggies will start their final two-game stretch of the fall season next week on the road against the Arkansas Razorbacks. First serve begins November 13th, 7:00 p.m. on ESPNU.
Never miss the latest news from TexAgs!
Join our free email list