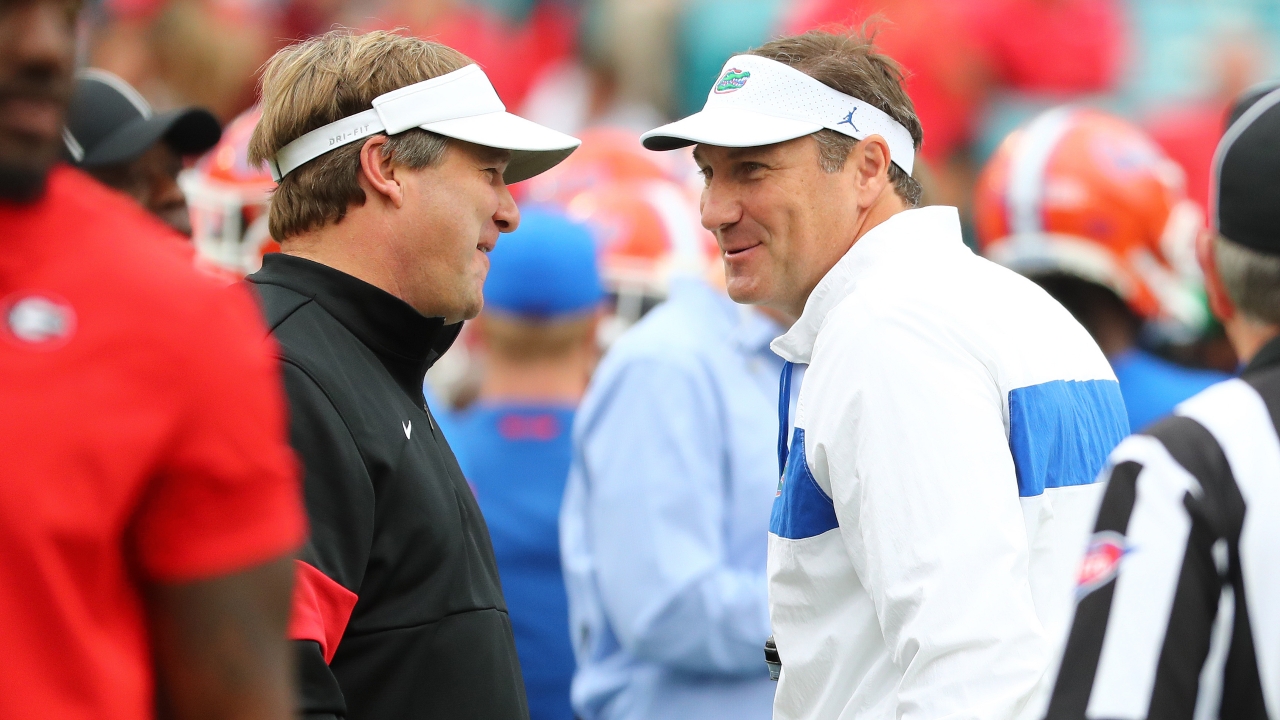 Photo by Kim Klement-USA TODAY Sports
Texas A&M Football
SEC Round-Up: Gators, Dawgs not only teams with stake in Florida-Georgia game
---
There is always much at stake in the World's Largest Outdoor Cocktail Party — as the annual Florida vs. Georgia football game is unofficially known.
It's a storied rivalry among border-state rivals. It's often a de facto Southeastern Conference East Division championship game. Either Georgia or Florida has won the East in each of the last five seasons. Each year, the "Cocktail Party" winner finished atop the East standings.
That figures to be the case again this season as both the No. 5 Bulldogs and No. 8 Gators enter the game ranked among the nation's top ten.
There's an extra prize at stake, too. And not just for those two teams.
"Obviously, our goal is to win a championship. The winner of this game is going to be in the driver's seat to be that SEC East Champion. It certainly does that."
"You know, it doesn't clinch it or seal anything," Florida coach Dan Mullen said on Tuesday. "But it's certainly, whoever wins this game is putting themselves in the driver's seat to get to Atlanta (for the SEC Championship Game). You're two games up on this team, and you're really two games up on everybody else in the league at that point. So, it makes it a big game. But you know, it's always been a big game for a long time.
"Obviously, our goal is to win a championship. The winner of this game is going to be in the driver's seat to be that SEC East Champion. It certainly does that."
There is even more at stake, and not just for Georgia and Florida, who are both 4-1.
The victor remains in the College Football Playoff picture. But a Florida victory would also enhance Texas A&M's playoff resumé — that is assuming the 4-1 Aggies avoid an upset in the second half of the season.
A&M beat Florida, so no matter how high the Gators climb, the Aggies figure to remain ahead of them in polls and rankings as the season progresses.
In fact, of the three, Texas A&M has the best chance to finish with just one loss.
Obviously, the victor of the "Cocktail Party" would potentially advance to the SEC Championship Game to face No. 2 Alabama, which has already beaten Georgia and A&M.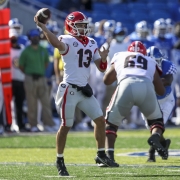 Katie Stratman-USA TODAY Sports
A one-loss East Division winner's chances of getting into the CFP could depend on defeating Alabama in Atlanta.
That reality is absolutely no reason to party, but it would certainly be a reason to have a cocktail.
Around the SEC
This week's games: No. 7 Texas A&M at South Carolina; No. 8 Florida vs. No. 5 Georgia; Vanderbilt at Mississippi State; Tennessee at Arkansas
Who's hot: The Texas A&M offensive line has not allowed a sack in four consecutive games. They might be hard-pressed to continue that streak of excellence against South Carolina, which has posted 10 sacks this season. The Gamecocks sacked A&M quarterback Kellen Mond twice last season. However, Florida has a more potent pass rush than South Carolina, and the A&M line didn't allow a sack to the Gators.
Who's not: Mississippi State's offense is abysmal. The Bulldogs were shutout by Alabama last week. Indeed, Mississippi State has managed just one offensive touchdown in its last 13 quarters of football. Perhaps most damning, MSU's defense has outscored its offense over the last three games, 9-7.
Keep an eye on: Arkansas quarterback Feleipe Franks has not lost in two games against Tennessee. Of course, he was with Florida in his two previous victories over the Volunteers. He passed for 172 yards and three touchdowns in a 47-21 victory in 2018. He passed for 212 yards and two touchdowns in a 26-20 victory in 2017. Franks could be on a path for the best season of his career with 1,213 passing yards and 11 touchdowns thus far. If he outplays erratic Tennessee quarterback Jarrett Guarantano, the Razorbacks will probably prevail.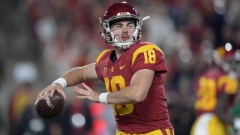 Kirby Lee-USA TODAY Sports
The pressure is on: Georgia quarterback Stetson Bennett got off to a nice start but has cooled off of late. In the last two games against Alabama and Kentucky, he's thrown twp touchdown passes and five interceptions while completing just 51 percent of his passing attempts. There have been calls in Athens for him to be replaced in the starting lineup by USC transfer J.T. Daniels. If that's not enough, he'll also be under pressure against Florida's pass rush, which has produced a dozen sacks. He'll be under more pressure to keep up with Florida's offense, which averages 42 points per game.
Best matchup: Florida's receiving corps, which includes All-SEC tight end Kyle Pitts, is uber-productive. The Gators rank second in the SEC in passing offense. Pitts, Kadarius Toney and Trevon Grimes all have caught at least two touchdown passes. But Georgia's secondary is arguably the SEC's best. Only Alabama has passed for more than 215 yards against the Bulldogs. However, Georgia is without All-SEC safety Richard LeCounte, who was involved in a motorcycle accident last week.
Never miss the latest news from TexAgs!
Join our free email list