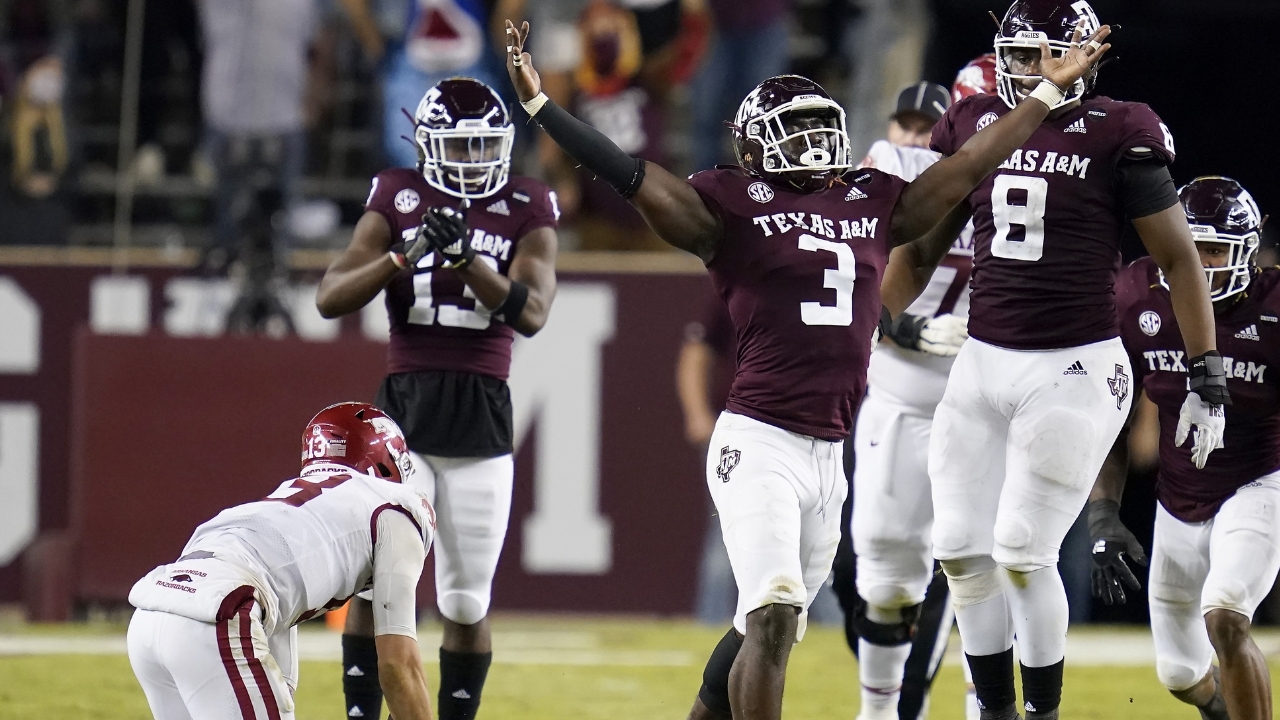 Photo by Sam Craft, USA Today
Texas A&M Football
Sack Producers: Aggie pass rush a true team effort in 2020
---
For decades, Aggies have celebrated the joys of sacks.
From the Blitz Brothers to Von Miller to DaMonster to Myles Garrett, a strong pass rush has given Aggies … well, a strong rush.
Not surprisingly, a strong pass rush has often coincided with a strong season.
The Aggies posted 10 wins and a Southwest Conference championship in 1987 when the Blitz Brothers — John Roper and Aaron Wallace — were terrorizing quarterbacks.
A&M was 9-4 and finished tied for first with Miller leading the charge in 2010.
With Damontre Moore posting 12.5 sacks, A&M finished ranked in the top five of the national polls in 2012.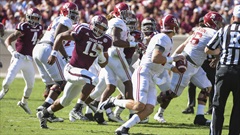 Alex Parker, TexAgs
Garrett helped the Aggies attain a No. 4 spot in the initial College Football Playoff rankings in 2016 … and then the Aggies went to Starkville.
But this year, they went to Starkville and accumulated six sacks in a 28-14 victory over Mississippi State. The Aggies followed that up with four sacks in a 42-31 win over Arkansas.
The seventh-ranked Aggies have sacks appeal again this season. The 10 sacks in two games have raised A&M's total to 14, which ties for the second-highest total in the Southeastern Conference. But unlike the previously mentioned A&M teams that rely heavily on one or two individuals to provide pressure, this Aggie pass rush is coming from different directions.
Defensive end Micheal Clemons leads A&M with four sacks. Bobby Brown and Tyree Johnson both have two. Six others have been in on sacks. Andre White hasn't managed a sack — yet — but he's been credited for two of the 16 times opposing quarterbacks have been hurried.
Think of A&M's pass rush like a basketball team with five or six players averaging in double figures. Opponents aren't sure which threat they should attempt to contain.
Tyree Johnson, who has been credited with 1.5 sacks and a pressure that resulted in an interception against Alabama, offered a clue about who leads the A&M pass rush.
"I want to give credit to all the guys. I don't want to take nothing away from them," Johnson said. "We've all been working really hard. That's all we do. We put our mindset to work towards hard work.
"But, it's me."
Clemons might argue. Leal, too. He's notched one sack and four quarterback hurries. Brown, Jayden Peevy and McKinnley Jackson have provided a strong interior push, too.
"The whole summer, we just worked, and all we did was talk about sacks and what can happen on Saturdays. That's all we talk about. Once you keep working hard at it, you get what you want."
It really doesn't matter. What matters is these guys are getting home. Last season, A&M managed only 29 sacks in 13 games. They're already halfway to that total.
"There wasn't good very good production last season for us, in terms of sacks," Johnson said. "The whole summer, we just worked, and all we did was talk about sacks and what can happen on Saturdays. That's all we talk about. Once you keep working hard at it, you get what you want."
Trends suggest the Aggies will get even more in the second half of the season.
Other than A&M, Florida has allowed the fewest number of sacks among SEC teams. The Aggies got one against the Gators. A&M also picked up a sack against Alabama, which has perhaps the nation's premier offensive line. Georgia and Missouri ranked third and fourth in the SEC in fewest sacks allowed. A&M faces neither.
The Aggies remaining opponents — South Carolina, Tennessee, Ole Miss, LSU and Auburn — have struggled with pass protection. All have allowed at least 11 sacks thus far.
South Carolina, which A&M faces on Saturday night, has allowed 16 sacks. That's the same number as Mississippi State — which, of course, surrendered a half dozen sacks to A&M.
South Carolina allowed four sacks in losses to Florida and Tennessee. In their most recent game, Gamecocks quarterback Collin Hill was sacked five times for 26 yards in losses in a 52-24 loss to LSU.
The Aggies could be a sacks machine. They could get four, five, six or more. You can never get enough sacks.
Never miss the latest news from TexAgs!
Join our free email list
PRESENTED BY