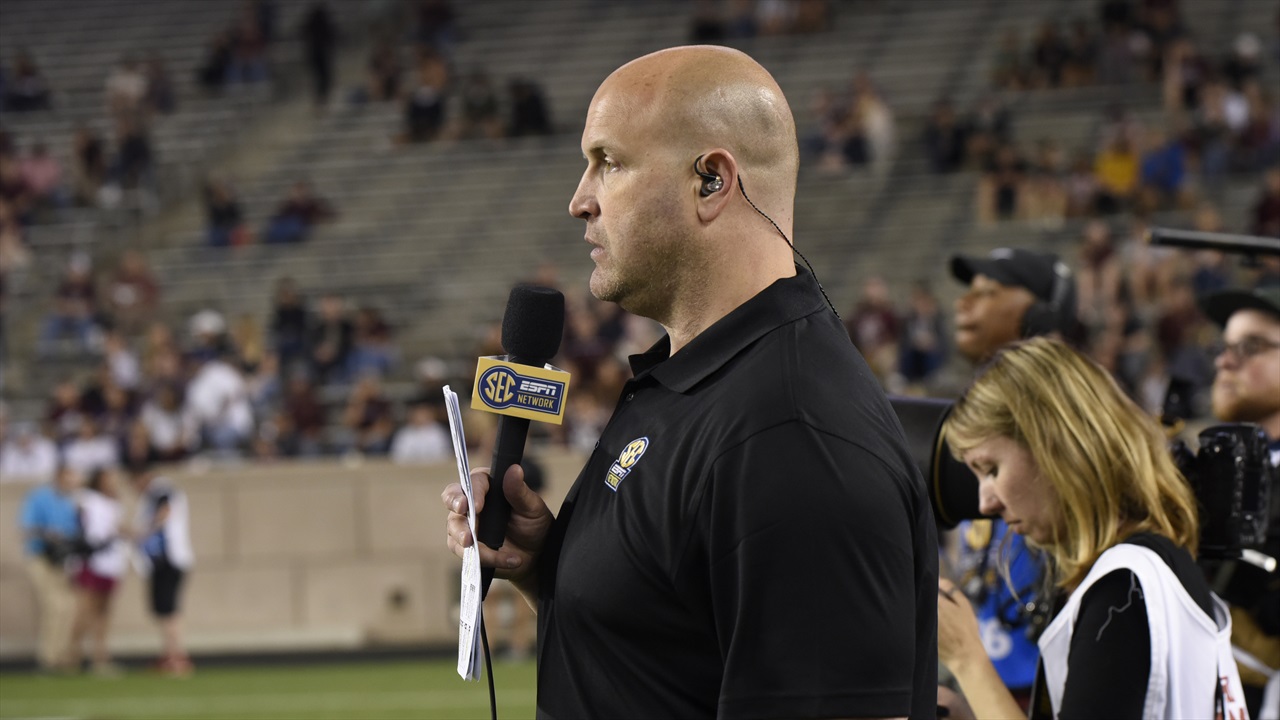 Photo by Dalton Hughes, TexAgs
Texas A&M Football
Cole Cubelic offers his thoughts on A&M-Arkansas, top teams in the SEC
---
Key notes from Cole Cubelic interview
It was funny, and Jordan Rodgers made a great point during our Georgia-Kentucky game on Saturday: We had the fastest first 55 minutes of a game and the slowest final five minutes of that game. There were some flags and injuries. I was going to make the 4 o'clock flight, but Delta moved up my flight. I got lucky and made the flight. I got home and did some trick-or-treating with the kids.

I like the most about Texas A&M because it feels like Kellen Mond doesn't have to go out and do too much. I've felt like that a lot in the past like he has had to make the big play. I don't see that this year. I see a guy who is comfortable with the guys around him. It's paying off, and you have to give Jimbo Fisher and the guys around him — Jalen Wydermyer, Isaiah Spiller, and others — a lot of credit. The game he had against Arkansas was about perfect. That's his sweet spot. Suppose he extends and goes further, great. But with this offense, he doesn't have to go much further.

Defensively, A&M was OK. They limited a lot of big explosive plays. They got one turnover. The front seven is continuing to come along. Buddy Johnson had a nice game. Perhaps the defensive line wasn't as disruptive as it has been, but Micheal Clemons and Bobby Brown still made a few plays.

I'm not going to put A&M's offensive line ahead of Alabama or Georgia, but they could legitimately be next. Tennessee hasn't lived up to their expectations, and they haven't been consistent. Both South Carolina and Ole Miss have been a surprise group, but I wouldn't put them ahead of A&M. I think Kentucky and A&M are close at No. 3 in the SEC, and you could flip either one of them. Kentucky might be better, but they don't have the other pieces that A&M does that allows them to operate.

Texas A&M has been able to run the ball so well on first down. That's the difference for me. That sets up everything else for you offensively when you can successfully run the ball on first down.

I don't think Auburn will beat Alabama, but I think they'll probably beat both Mississippi State and Tennessee. They just played their best game of the year. They'll likely give State some headaches. It'll be interesting to see what Tennessee does, and I'll get to see the Vols this week. If Auburn can win their next two — even if they lose to Alabama — that Auburn-A&M game could be huge. It might be bigger for Texas A&M.

If you lined up Florida, Georgia, and Texas A&M right now and had to bet on one to make the playoff, I'm taking the Aggies. Texas A&M doesn't have to play Alabama, Florida, or Georgia again on this schedule. That's huge. Their only loss is to the best team in college football.

The most dangerous game left for Jimbo Fisher & Co. is the Ole Miss game because the Rebels can score points. It might force this offense to operate differently than we first described, and I'm not sure they're comfortable there.

LSU's defense is worse than their offense right now. Some guys don't even look like they want to play football right now. There are communication and effort issues with that defensive unit. The offensive issues are understandable. They've had to mix and match, and they're playing some true freshmen. That's a young, young offense. The defense is inexplicable, though. The scary part about this is they have so much talent on that defense. It's bizarre.

There are many Georgia players who won't be playing in this game, so I'm going to take that Florida offense that just came off of a 21-day break and looked great. The big news for Florida is their interior defensive line looked better. If they put up a fight against Georgia's offensive line, it could be trouble. Because of the injuries to Georgia's defense, I'm going to take Dan Mullen to get it done this weekend.
Never miss the latest news from TexAgs!
Join our free email list