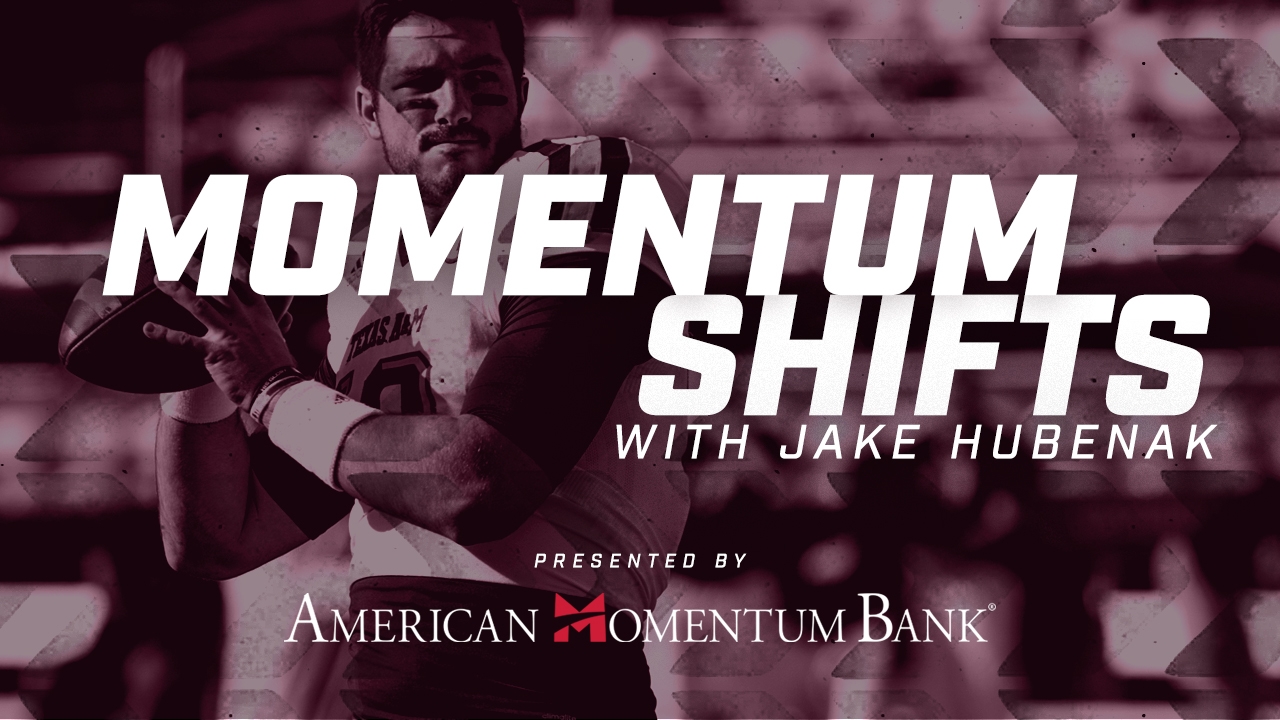 Texas A&M Football
Momentum Shifts: Finishing is the key for Texas A&M vs. Hogs, moving forward
---
Bye weeks are always interesting to me.
Every year, they come at a different time against a different opponent. For some teams, it may halt your momentum. For some, it is a chance to reset and focus on yourself and how you can improve as a team.
You could be coming off a huge win or a heartbreaking loss, but I think it's important that the focus always becomes internal.
When you have that much time between games, it's hard to spend the whole time preparing for one team, and it's also hard to take any momentum from the last game. It's a great time to take a step back and really look at your team and think about what you're good at and figure out what needs to be fixed.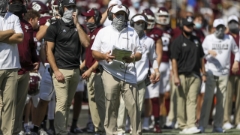 Craig Bisacre/Texas A&M Athletics
If I had to guess, Jimbo probably picked a couple of things that he thinks will be the difference between being a championship/high-level team or just another A&M team that we were hoping for more from. These are the keys to gaining momentum for the rest of the season.
The first (and I think the most important) thing has nothing to do with practice or really even football, but it's working on our family atmosphere.
I love when I hear Jimbo's speeches to the team, and he'll say, "Love is the reason for the fight." He knows that if these guys don't care for each other enough to fight when adversity hits, we will never reach our potential. This is a resilient group that has bought into their coaching staff and to each other. We might be lacking in some areas, but if we can overcome that with effort and passion, there's no telling where this team could go.
Whether you played sports in middle school or all the way up to the pro level, if you were ever part of a locker room, you can't deny how important team chemistry is (there's a team about a hundred miles away that's currently dealing with this issue). There's still a lot of football left to play for this team, and every goal they want is still out in front of them. They have to know that they will stand side by side no matter what comes their way.
My second key would be depth. Bye weeks are a great time to get guys up to speed that haven't played much or helping guys recover from injuries.
I really look forward to seeing some more guys take the field this week and going forward because you never know when you're going to need someone. The best teams can always plug somebody in when a key guy goes down and not miss a beat. If there is a big drop off from your top guy to your number two, then that will most likely get exposed and possibly cost you a game.
Next would be physicality.
It has been exciting to watch us punish people in the run game the last couple of weeks. There's nothing that takes a toll on a team more than getting the ball run down their throat for an entire game. Not only does it drain the defense, but it keeps the opposing offense off the field and gets them out of a rhythm.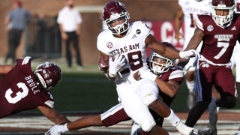 Mississippi State Athletics
To take the next step, I think we have to impose our will as a defense. We saw flashes of it against Mississippi State, and it's time to see that week in and week out, series in and series out. If you can get hits on the quarterback and shut down the run game, you can completely demoralize an offense. I loved Elko's blitz package that he used against Mississippi State, and I hope to keep seeing that moving forward. K.J. Costello started dropping snaps and was extremely flustered as the game went on because he didn't know where it was coming from and wanted no part of it.
Sam Pittman and Arkansas pride themselves on toughness, so we must make sure to set the tone early in the game.
Last, we have to finish. Finish plays, finish drives, finish games, and finish the season.
I think anyone that watched the Mississippi State game, including the players, would say that we should have won that game by a lot more. We would drive the ball down the field and not finish with a score, or the one time they scored, we couldn't finish on third downs. As a whole, those things added up, and we ended up not finishing the game as we had hoped. I think that will leave a sour taste in our guy's mouths, and they will understand that they have to do a better job of stepping on someone's throat when they have the opportunity to.
If we are truly going to be a top team in the country, we can't let teams stick around in a game they don't belong in. I have a lot of respect for what Arkansas is currently doing, but we are the better team. There will come a time in the game when we have an opportunity to put them away, and we have to take advantage of it. There are typically about five plays per game that can be the turning point, and you never know which ones they'll be. We have to make sure that they finish in our favor.
Arkansas has still never beaten us since we've been in the SEC, and I'm sure they'll be fired up to come into Kyle Field and try to steal one against a top ten team. I look forward to seeing our guys come together and send their asses back to Fayetteville.
MESSAGE FROM OUR SPONSOR
American Momentum Bank, with total assets of $2.7 billion, is an independently owned bank headquartered in B/CS. It has 31 full-service banking centers in Texas and Florida. Mr. Donald Adam, CEO, is A&M class of '57 and Market President Frank Varisco is class of '82.
Never miss the latest news from TexAgs!
Join our free email list
PRESENTED BY