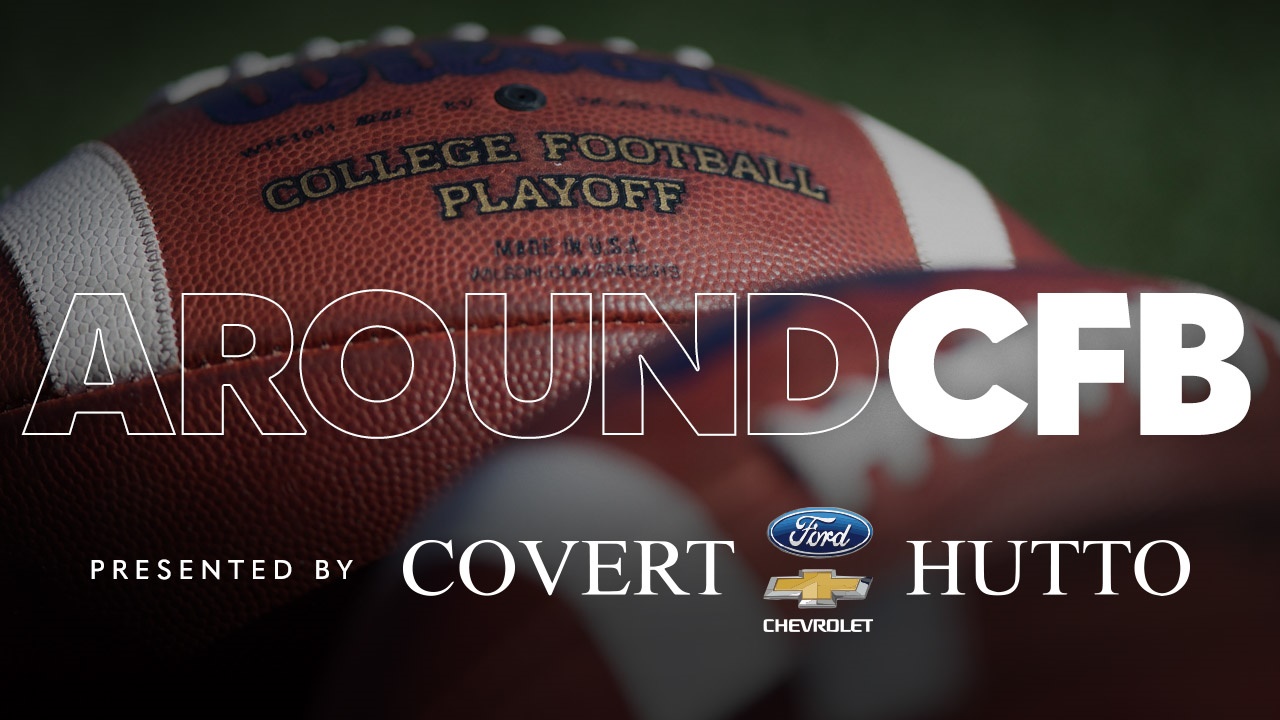 Photo by Jeff Hanisch-USA TODAY Sports
Texas A&M Football
Around CFB: Following tumultuous offseason, Big Ten football returns
---
On Friday night, the lowly Illinois Fighting Illini clash with the powerful Wisconsin Badgers in a game that — in a typical college football season — would be almost meaningless.
Last season, Illinois converted a last-play field goal to end a nine-game losing streak to the Badgers. It didn't matter. As usual, Wisconsin still won the Big Ten West Division. As usual, Illinois finished with a losing season.
But this matchup is meaningful because it ushers in the Big Ten's perhaps grudgingly return to football.
Recall, Big Ten commissioner Kevin Warren announced on Aug. 11 that it was canceling football season because of the COVID-19 pandemic threat. The Big Ten expected the rest of college football to follow its lead.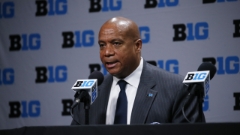 Brian Spurlock-USA TODAY Sports
Instead, the ACC, SEC and Big 12 insisted on playing. Then two days later, Nebraska said it would consider other options to play this season.
That seemed to start a revolt.
Parents of players from Iowa, Ohio State and Penn State wrote letters to Warren protesting his decision. Ohio State quarterback Justin Fields started an on-line petition to play that quickly drew more than 300,000 signatures.
On Aug. 21, parents of players protested outside the Big Ten's headquarters in Indianapolis. A week later, eight Nebraska players filed a lawsuit to sue the Big Ten for damages.
Michigan parents and coach Jim Harbaugh marched in protest on Sept. 5. Five days later, Ohio State coach Ryan Day issued a statement against the Big Ten decision. The next day, the Nebraska Attorney General sent a letter to Warren, questioning the legality of the postponement.
A week later, Warren announced the Big Ten would start a nine-game, all-conference season on Oct. 23.
That's when Illinois and Wisconsin will kick off at Camp Randall Stadium. It's the latest start to a Wisconsin football season since 1918. That season was delayed until Oct. 26 because of the Spanish flu pandemic.
Now, all are happy.
Big Ten teams will play every opponent in its division as well as two inter-divisional regular-season games. On Dec. 19, a final week will feature interdivisional games matching teams by how they finished in their division. The first-place teams will play for the conference championship, the second-place teams play, the third-place teams play, etc.
Everybody in Big Ten country seems happy, but Warren did exact a small measure of revenge for the rebellion.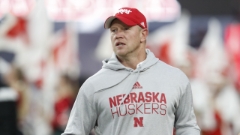 Bruce Thorson-USA TODAY Sports
Nebraska, which started the rebellion, opens on Saturday against No. 5 Ohio State. Last year, the Buckeyes beat the Cornhuskers, 48-7. This year, it could be worse.
"I don't think it was a coincidence," Nebraska coach Scott Frost said when he saw the schedule.
But Frost said a likely beatdown was a better option than opting out.
"We fought because we thought it was the right thing to do … to have football," Frost said. "Our kids wanted to play, and we thought we could do it in a safe manner."
The Big Ten is arriving late to the college football party, but that's better than not arriving at all.
Heisman watch (If my ballot was due today)
1. Trevor Lawrence, Clemson, QB: The Heisman front runner passed for 404 yards and four touchdowns in a 73-7 demolition of Georgia Tech. Lawrence has thrown for 1,544 yards while completing 73 percent of his passes this season. He's thrown 15 touchdown passes and has only one interception. Just for good measure, he's also rushed for four touchdowns.
2. Mac Jones, Alabama, QB: True, he probably has the nation's best supporting cast. Jones is protected by a stellar offensive line and has a myriad of big-play threats at his disposal. But he's getting the football where it needs to go. He's second in the nation in passing with 1,518 yards. While completing nearly 80 percent of his passes, Jones has accumulated 12 touchdown passes and just two interceptions. He passed for 417 yards and four touchdowns against Georgia's strong defense in a 41-24 victory.
3. Kyle Trask, Florida, QB: COVID-19 forced the postponement of the Florida-LSU game last week, so Trask was denied the opportunity to increase his statistics against the struggling Tigers secondary. His time is coming. Thus far, he's completing almost 72 percent of his attempts for 996 yards and 14 touchdowns with just one interception. That's in three games.
4. Najee Harris, Alabama, RB: The SEC's leading rusher has gained 499 yards and has scored 11 rushing touchdowns. He's also caught eight passes for 86 yards. Harris rushed for 152 yards and scored a touchdown in the Crimson Tide's victory over Georgia.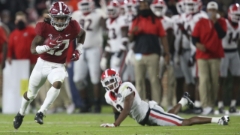 The Tuscaloosa News-USA TODAY Sports
5. Jaylen Waddle, Alabama, WR: The nation's premier big-play threat is averaging a whopping 22.2-yards per catch. He's had 25 receptions for 557 yards and four touchdowns. That includes a 90-yard touchdown catch against Georgia. He had six catches for 161 yards in that game. Waddle has had at least 120 receiving yards in every game. He has four catches of at least 40 yards and two of at least 80 yards.
Predicted playoff participants
1. Clemson: Among their remaining opponents, only Notre Dame has the defense to possibly slow down Clemson. But the Irish don't have the offense to keep up.
2. Alabama: Only mediocre opponents remain.
3. Ohio State: The return of Big Ten to competition means the return of Ohio State to contention.
4. Texas A&M: Why not? The Aggies have a legitimate shot at finishing 9-1 with a win over Florida and only a road loss to Alabama. Tough to match that resumé.
This week's games to watch
No. 18 Michigan at No. 21 Minnesota: Wolverines can re-assert themselves as a Big Ten power. Gophers are out to show they're not a flash in the pan.
No. 23 NC State and No. 14 North Carolina: Anybody can trip once like North Carolina did last week. Local rival NC State can eliminate the Tar Heels from the playoff discussion.
No. 17 Iowa State at No. 6 Oklahoma State: As crazy as it seems, these could be the two best teams in the Big 12.
No. 9 Cincinnati at No. 16 SMU: A collision of Top 20 teams. Who knew? The last two matchups between these teams both went into overtime. Cincinnati is getting hype as a Playoff crasher.
Auburn at Ole Miss: Fact is, train wrecks are compelling. Plagues of interceptions caused both to lose last week. Are the quarterbacks going to get better? If Auburn loses, could its next coach be on the Ole Miss sideline? It has happened before.
MESSAGE FROM OUR SPONSOR
Call or text Chad at Covert Ford in Hutto at 512-633-4819 For new Fords, Chevys, and over 900 pre-owned vehicles. Thanks and Gig 'em.
Never miss the latest news from TexAgs!
Join our free email list
SPONSORED BY