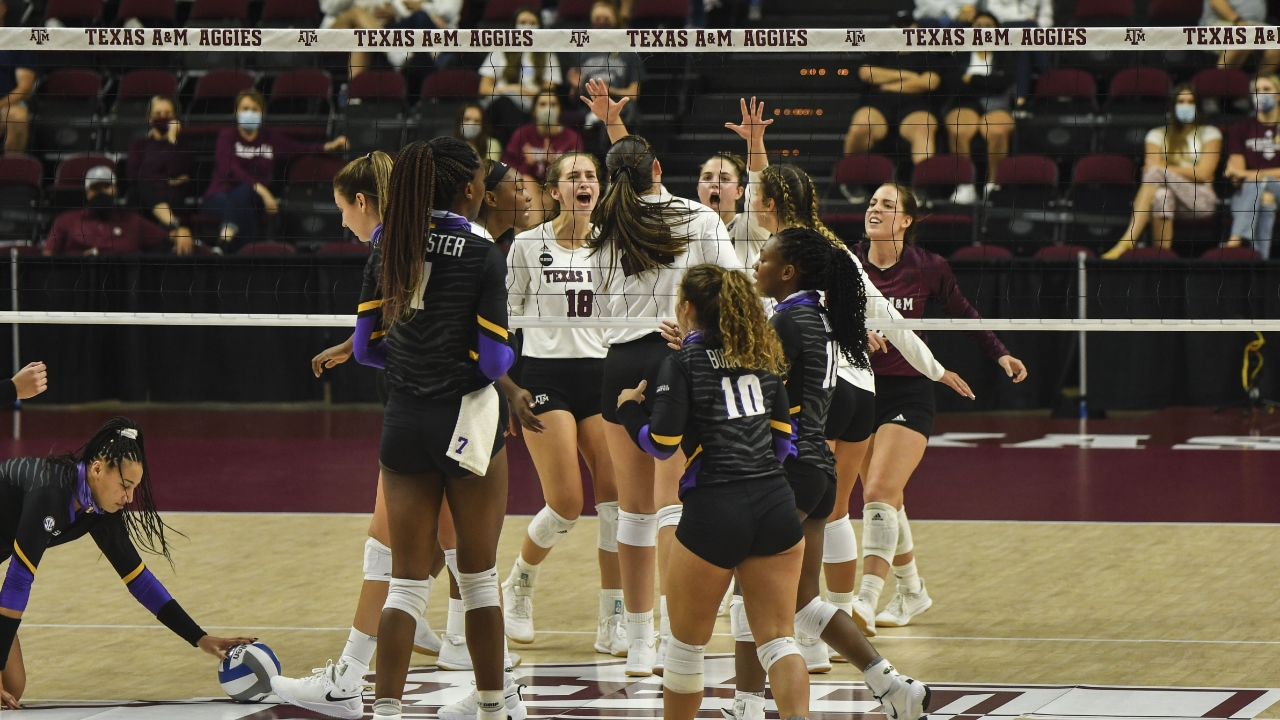 Bird Kuhn
Camille Conner
Camryn Ennis
Texas A&M Volleyball
No. 8 Texas A&M volleyball opens 2020 season with sweep over LSU
---
SEC volleyball returned this weekend, and emotions were high as No. 8 Texas A&M Volleyball (1-0, 1-0) defeated No. 15 LSU (0-1, 0-1) in their first match in 10 months.
Without any competition during the delayed season, Texas A&M was hungry for a victory against the Tigers, and they made it look easy in this three-set domination. The Aggies demonstrated their resilience in the beginning as they fought tooth and nail to secure the wins in the first two sets. Along the way, A&M found their momentum and let it ride out through the third and final set, where they cruised past the Tigers.
Set One: Texas A&M 25-21
Set one started as an intense roller-coaster match.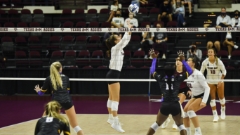 Jamie Maury, TexAgs
LSU put up a fight, tying the score nine times. Both teams rallied back and forth until the Aggies found their rhythm late in the set. Camille Conner recorded an ace, which solidified a four-point lead at 19-15. After the Tigers took a timeout to adjust, they rallied to tighten the score with four kills, 20-19, with Texas A&M still in the lead. The Aggies responded with three kills, and the Tigers committed an error, solidifying their first win of the race to 25.
Offensively, the Aggies gave a complete team effort, distributing 13 kills between Treyaunna Rush (3), Camryn Ennis (3), Morgan Davis (3), Camille Conner (2), Mallory Talbert (1) and Lauren Davis (1).
Set Two: Texas A&M 25-22
The Aggies came out swinging in set two, launching a 9-4 lead and forcing an early timeout from LSU.
However, the Tigers bounced back and tied the score four different times throughout the set.
LSU's Taylor Bannister proved to be the biggest threat to the Aggies this entire game. In set two alone, Banister registered eight kills.
The Aggies fought hard to maintain control and used a timeout when LSU was up 22-21. Lauren Davis and Mallory Talbert defended their territory with a double-block for Texas A&M to forge a tie, 22-22. Mallory Talbert answered back and aced her serve, 23-22.
LSU then took a timeout, but the Aggies only gained more traction. Bannister committed an error, and Morgan Davis scored for the Aggies to control set two, 25-22.
Set Three: Texas A&M 25-14
The score in set three speaks for itself as Texas A&M dominated on both offensive and defensive fronts. The Aggies came out with an electric performance and easily handled the Tigers for this final set, as LSU could not close the gap, 25-14.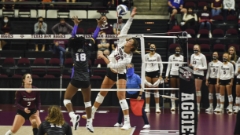 Jamie Maury, TexAgs
Conner and Ennis played lights out, carrying the Aggies to the finish line.
Conner clinched the 28th double-double of her career with 29 assists and 13 digs, not to mention her five kills and .364 hitting percentage. Ennis recorded 11 kills and 12 digs for the Aggies. Maintaining control of the scoreboard, Allison Fields contributed with flare, recording two aces for this final set of complete domination.
Postgame Thoughts:
Senior setter Camille Conner described what she saw from her team today.
"I think this team can battle, and I do think there were some nerves at the beginning of the match, but we were able to settle in and stay focused on our game plan," Conner said. "We were able to make them feel it and execute."
"We'd rather learn by winning, but we have to continue to play to our level," said Texas A&M head coach Bird Kuhn. "And that's how you train every day, and it's just the execution game plan, it was pretty good. But offensively, I mean, they know, our attackers know, our offense knows what they need to do so, it's every, every match is a clean slate."
"I would say there was just so much excitement and eagerness to get on the court," said junior outside hitter/setter Camryn Ennis. "We talked before the game about our need to find the fire we were missing while not playing and being together. We thought back to those moments, and that is something that drove our energy today.
"Today's win was great, but as coach said earlier, we have an hour or two to celebrate. It's all about recovery now since we are doing doubleheaders and get ready for tomorrow."
Up Next: The Aggies will be back in action tomorrow for another fierce match vs. the LSU Tigers. First serve is set for 3:00 p.m. in Reed Arena.
Never miss the latest news from TexAgs!
Join our free email list