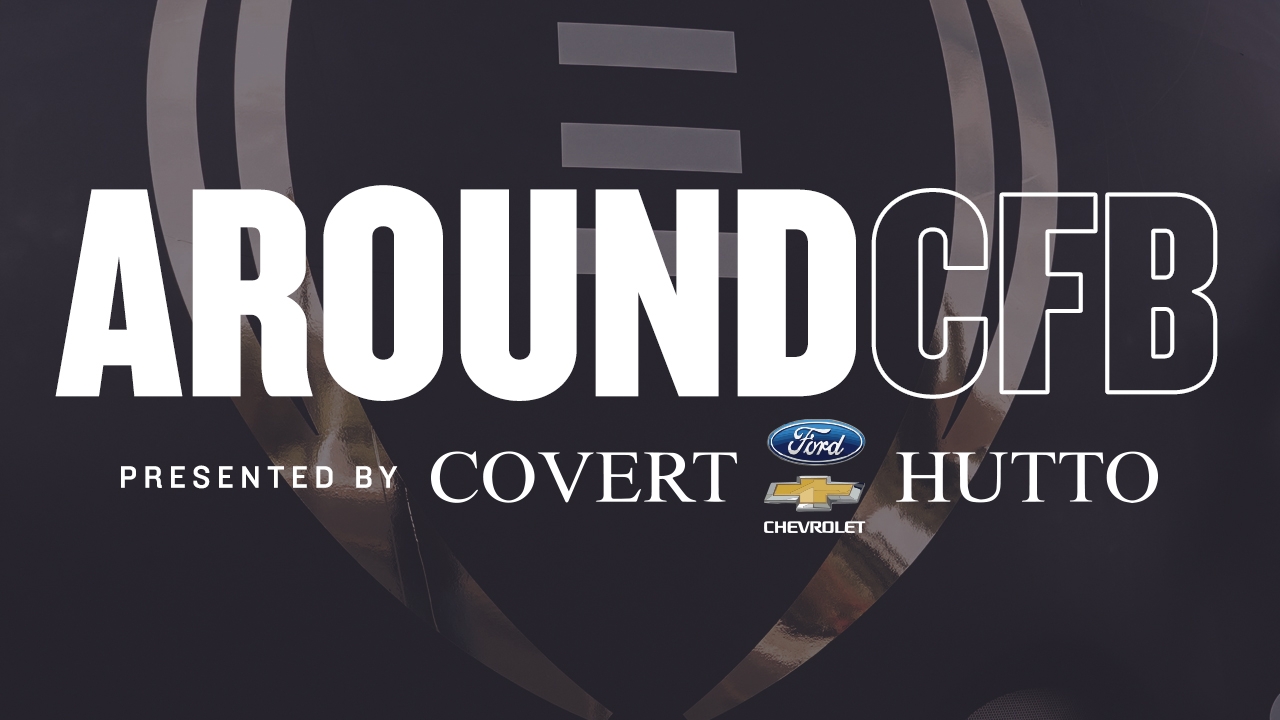 Photo by Kyle Terada-USA TODAY Sports
Texas A&M Football
Around CFB: Even after big win over Gators, Fisher feels no need for vindication
---
A national championship and more than 100 victories should more than validate Jimbo Fisher's coaching prowess.
Yet, some in the national media were still questioning him as recently as last week.
The rap was that Fisher had yet to beat a top-five ranked opponent at Texas A&M. The national narrative was Fisher's program in Aggieland was no better than that of his predecessor Kevin Sumlin.
Never mind that Fisher had faced historically treacherous schedules. Never mind that was he rebuilding a program that had underachieved under Sumlin.
The narrative was Fisher needed a "signature" victory to prove he was indeed making progress at Texas A&M. Coincidentally, No. 4 Florida was coming to Kyle Field.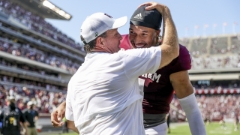 Bailey Orr/Texas A&M Athletics
Texas A&M defeated Florida 41-38. The Aggies are one of only two teams this season to beat an opponent ranked in the top five. Kansas State defeated No. 3 Oklahoma, 38-35.
One might think Fisher felt vindicated after the win over Florida.
Nope. He didn't. Probably because he doesn't feel the need for vindication.
"I didn't feel like I was vindicated," Fisher said. "There's other 'signatures' that say where your program is going, how it's going, why it's going, what's going to be in the future. Sometimes it isn't wins and losses. Sometimes there's a lot of things."
Like getting production from younger players.
At least six of A&M's top ten players are sophomores. That does not include injured receiver Caleb Chapman, who was lost for the season with an injury. He had two touchdown catches against Florida.
The Aggies are also getting significant contributions from freshmen, including receiver Chase Lane, cornerback Jaylon Jones and defensive tackle McKinnley Jackson.
It's a young team that's getting better.
Yet, the media was still suggesting Fisher was unsuccessful because he had not beaten a top-five opponent.
What the media wasn't saying was that Fisher previously had coached A&M to wins over two top-15 opponents — Kentucky and LSU in 2018.
Even more impressive, No. 12 Kentucky and No. 6 LSU actually finished in the top 15. In six seasons under Sumlin, A&M defeated just one regular-season opponent — No. 1 Alabama alongside No. 15 Oklahoma (in the Cotton Bowl) in 2012 — that finished in the top 15.
Should Florida, which is currently ranked No. 10, finish in the top 15, Fisher will have already exceeded that total.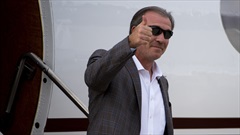 Brandon Jones, TexAgs
Fisher is under heavy scrutiny from the national media because of his $7.5 million salary, which isn't even the highest in college football.
However, Fisher is probably a target for criticism because he keeps proving the national media wrong. Most national writers — if not all — scoffed at the notion he would leave Florida State for A&M. They laughed at the thought, until he did it.
Then, his hiring was marginalized. The narrative became that he was a little overrated and wasn't even the among best coaches hired by a Power 5 program in 2017.
A dozen coaches were hired by Power 5 programs following the 2017 season. A third of those have already been fired — Joe Moorhead at Mississippi State, Chad Morris at Arkansas, Matt Luke at Ole Miss and Willie Taggart, Fisher's successor at Florida State.
Four others have not yet managed a winning season. That includes Sumlin, who is 9-15 at Arizona. That also includes Nebraska's Scott Frost, who was hailed as the best coaching hire that year. The Cornhuskers are 9-15 under Frost.
Only two coaches hired that year have more wins that Fisher, who is 19-10 at A&M. Oregon's Mario Cristobal is 21-6. Florida's Dan Mullen is 23-6.
Neither has faced nearly as difficult a schedule as Fisher. Eight of his losses have been to teams that finished ranked No. 14 or higher. That includes two national champions and two national runners-up.
"I've been in this game a long time and can see things coming. I love where we're going. I love where we're at. We're nowhere close to where we need to be, but we're heading in the right direction.
Further, Fisher has recruited more successfully than Cristobal and Mullen. His last two recruiting classes were both ranked higher than theirs.
"I've been in this game a long time and can see things coming," Fisher said. "I love where we're going. I love where we're at. We're nowhere close to where we need to be, but we're heading in the right direction. We've got great young players. Our older guys are doing a good job. And we can play some good football. Now, we've got to go do it again."
Heisman watch (If my ballot was due today)
1. Trevor Lawrence, Clemson, QB: Ho hum. Just another typical Lawrence performance last week. In an ACC "showdown" with then No. 7 Miami, Lawrence completed 29 of 41 passes for 292 yards and three touchdowns. He also ran for 34 yards and a touchdown. He has a 72.4 completion percentage for 1,140 passing yards and 10 touchdowns with no interceptions through four games. He's also rushed for four touchdowns.
2. Kyle Trask, Florida, QB: Even in a 41-38 loss to Texas A&M, Trask was great. He completed 72 percent of his passing attempts for 312 yards and four touchdowns. This season, Trask has passed for 996 yards, 14 touchdowns and has had just one interception.
3. Mac Jones, Alabama, QB: True, he's surrounded by the best supporting cast in college football, but he's playing at an enormously high level, too. Jones completed 28 of 32 passes for 417 yards and two touchdowns in a wild 63-48 victory over Ole Miss. For the season, he's completing 79.5 percent of his attempts for 1,101 yards with eight touchdowns and one interception.
4. Matt Corral, Ole Miss, QB: Why not? The first-year starter leads the nation in total offense. He's passed for 1,080 yards and rushed for 141 for a total of 1,221. He's passed for at least 320 yards in every game. Two of those games have come against top-ten opponents Florida and Alabama. He was exceptional in a 63-48 loss to Alabama in which he hit 21 of 28 passes for 365 yards and two touchdowns. He has a 76.1 completion percentage for 1,080 yards, nine touchdowns, and one interception on the season.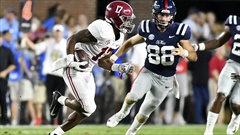 Matt Bush/USA Today Sports
5. Jaylen Waddle, Alabama, WR: Still the most dangerous big-play threat in college football. Waddle had six catches for 120 yards in the Crimson Tide's victory over Ole Miss. On the season, he's averaged 20.8 yards on 19 catches. He's scored touchdowns on receptions of 87, 23 and 18 yards. He hasn't yet had the opportunity to make an impact on punt returns as Waddle has only one return for 11 yards.
Predicted playoff participants
1. Clemson: The Tigers may be the most complete team in the country. The ACC is better overall, but Clemson is still unlikely to lose.
2. Alabama: The offense is scintillating, but their defense is a growing concern.
3. Ohio State: Expect the Buckeyes to be dominant once they start playing.
4. Georgia: Two losses would eliminate the Bulldogs, which probably will have to play Alabama twice. Until they lose, though, they must be considered. Their defense might be the best in the country.
This week's games to watch
No. 3 Georgia at No. 2 Alabama: Perhaps the first of two clashes between them. Georgia matches up physically. Psychologically is a different story.
No. 11 Texas A&M at Mississippi State: Following a big win over Florida, A&M must travel to Starkville, where previous visions of Aggie grandeur have gone to die.
Coastal Carolina at No. 21 Louisiana: Is this a de facto Big 12 championship game? Yeah, they're both undefeated and lead their respective Sun Belt Conference divisions, but victories over Big 12 opponents punctuate their schedules. In fact, Louisiana defeated Iowa State, which is tied for first in the Big 12 standings.
No 15 BYU at Houston: BYU is already making a bid for playoff consideration.
No. 8 Cincinnati at Tulsa: Like BYU, Cincinnati is looking to crash the playoff party. Tulsa narrowly lost to Oklahoma State.
MESSAGE FROM OUR SPONSOR
Call or text Chad at Covert Ford in Hutto at 512-633-4819 For new Fords, Chevys, and over 900 pre-owned vehicles. Thanks and Gig 'em.
Never miss the latest news from TexAgs!
Join our free email list
PRESENTED BY