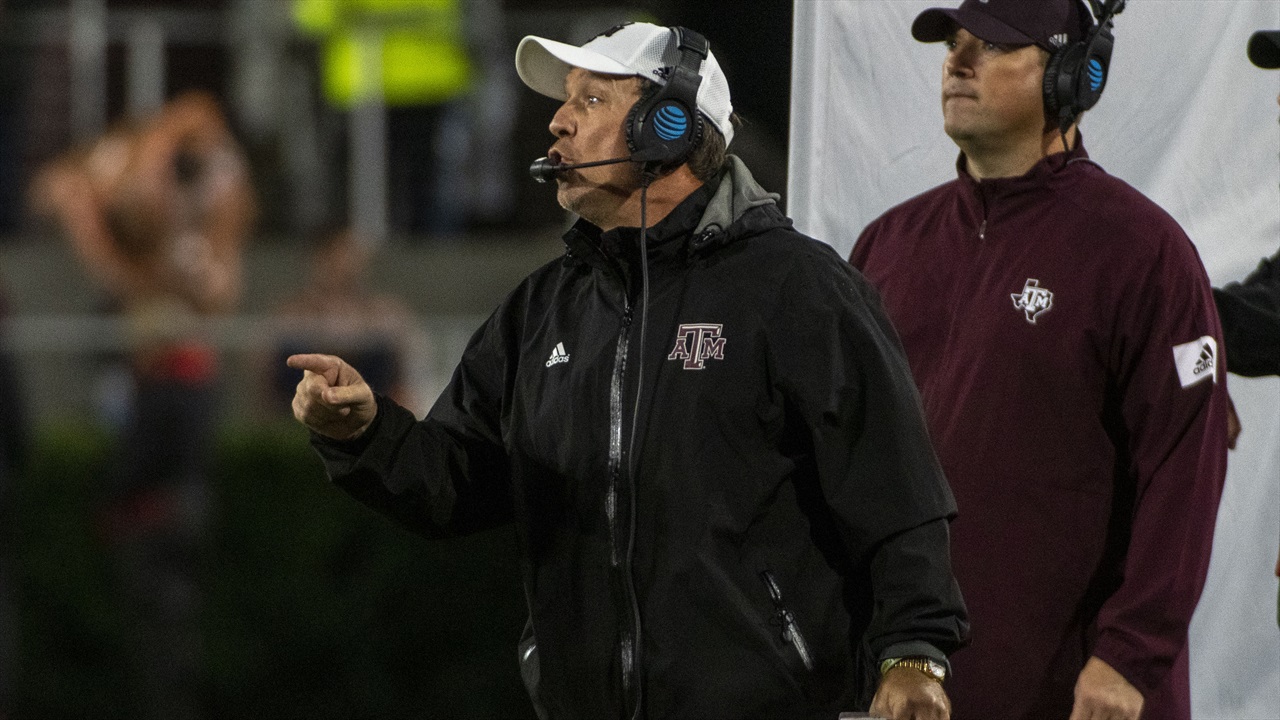 Texas A&M Football
Come off the ledge: Though struggles remain, A&M is progressing under Fisher
---
A maroon-clad crowd is forming on the ledge. Some seem resigned to jumping off.
After a 28-point loss to No. 2 Alabama with an impending visit from No. 4 Florida this week, some have seemingly given up on the 2020 season.
They're angry. They're frustrated. They're disillusioned.
They're also overreacting.
Losing 52-24 at Alabama is absolutely disappointing. It is absolutely no reason to wave the white flag.
Lopsided losses to Alabama aren't uncommon. They also don't define a season. LSU lost 29-0 to Alabama in 2018. The Tigers posted 10 victories that season. The next season, they won the national championship.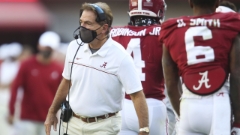 The Tuscaloosa News-USA TODAY Sports
Similarly, A&M endured a 44-14 blowout loss at Oklahoma in the second game of the 1993 season. A&M finished 10-2 and won the Southwest Conference championship that year.
Those were the good old days. But the crowd on the ledge — rightfully — isn't content to live in the past. If they were, they'd move to Austin.
No, they want — demand — a better, brighter future. That's why three years ago, the financial investment was made in coach Jimbo Fisher.
Now the crowd is questioning Fisher.
They're suggesting the game has "passed him by." They're wondering if he'll ever field a team that can compete and defeat the elite.
So, come in off the ledge and hear how the Aggies may be closer than it seems.
Three plays. Three maddeningly frustrating plays could have made the difference between a blowout loss and a close game against what might be the best team in the country.
All should've been made. None were. A field goal was missed. Two key passes were dropped.
Consequently, A&M trailed 35-14 at halftime. That had to be devastating psychologically. Even the most optimistic of Aggies knew A&M wasn't digging out of a three-touchdown hole.
But what if …
Unfortunately, these days, "if" is said at A&M more than "Gig 'Em."
But if Seth Small makes a 37-yard field goal on the opening drive, and if Ainias Smith and Jalen Wydermyer don't drop passes deep in Alabama's end of the field, then A&M faces no worse than a 28-23 deficit midway through the third quarter. The Aggies could have even had the lead.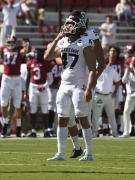 The Tuscaloosa News-USA TODAY Sports
A&M wasn't going to win. Alabama is too talented. But the Aggies could have gone into the fourth quarter with a "chance" to win.
That would have changed the narrative.
The national media that so gleefully chronicles seemingly every A&M misstep under Fisher would have had to acknowledge the Aggies are making progress under him.
Fisher has made progress. The run defense, which was once a sieve, is solid. The tight end position, which didn't even exist in College Station not long ago, is strong.
The secondary is more athletic. There is more team speed. Most of the talent remains in the sophomore and freshman classes.
Though it might be difficult to see from the ledge, Fisher is adamant that he has seen progress in various ways.
"One, we expected to win the (Alabama) game. When we first got here, we didn't expect to win those games," Fisher said. "I think our physicality up front in the defensive line has become very good. Even though, in the secondary, there's still some very good young players in there. Our skill guys on offense; we run much better. We've got good size coming in. We've got some youth creating more plays. We're moving the football consistently. Our young backs are going to be really good players.
"Our offensive line … in that game, we ran the football well. We didn't have a sack. We had pressures, but before, we had been dominated up front."
"One, we expected to win the (Alabama) game. When we first got here, we didn't expect to win those games."
Some might accept Fisher is still piecing together building blocks. Some might accept that a program that hasn't won a conference championship in more than two decades will take over three years to become elite.
Others might dismiss Fisher's optimism as typical coach speak. They might have come to the conclusion that A&M will never win a championship with Fisher as coach. They'd offer that blowout loss to Alabama as evidence.
I won't enter either side of that debate. Instead, I'll caution against overreaction.
The outcome at Alabama was no doubt disappointing and frustrating. However, it's not a reason to crawl out on the ledge.
Now, if the Aggies lose to Florida, I won't try to talk anyone off the ledge.
If they lose at Mississippi State in two weeks, I might crawl out to the ledge, too.
Never miss the latest news from TexAgs!
Join our free email list
PRESENTED BY