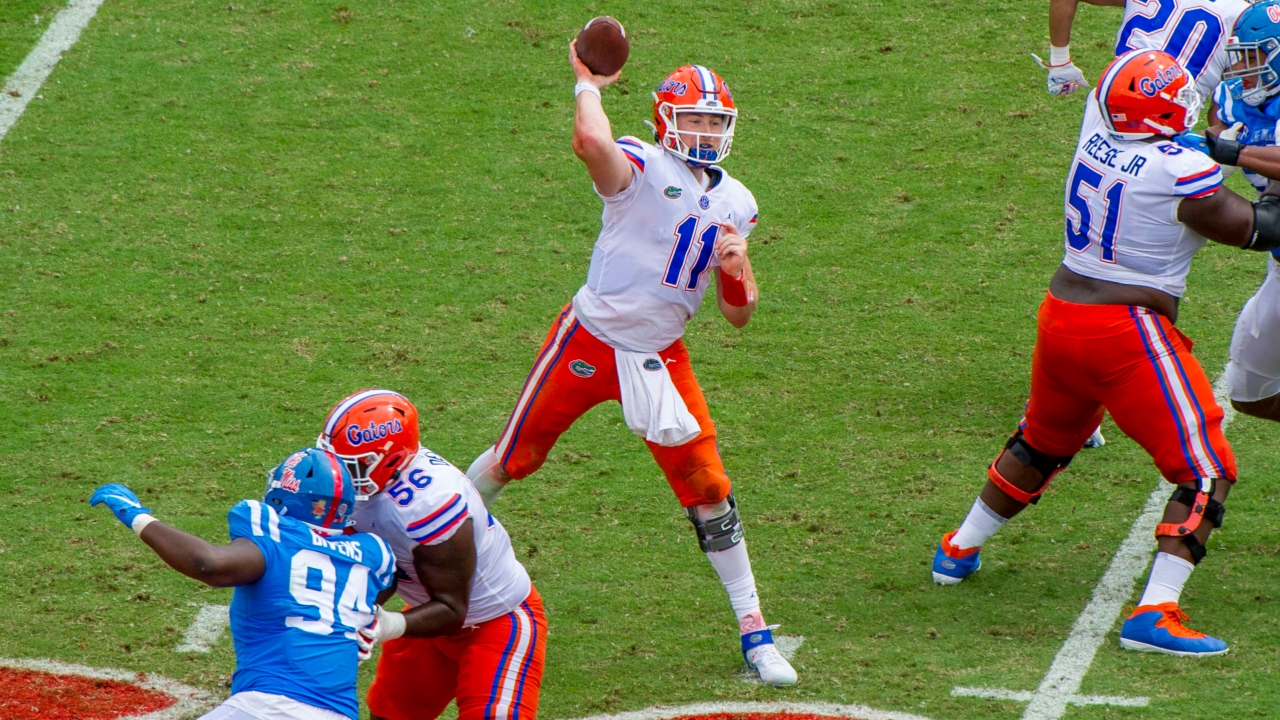 Photo by Justin Ford-USA TODAY Sports
Texas A&M Football
SEC Round-Up: Don't expect big passing performances to fade anytime soon
---
Bear … you wouldn't believe it.
Could it be that the Southeastern Conference is transforming from a "Line of Scrimmage" league to a wide-open pass-happy league?
Seriously, is the SEC becoming the Big 14?
Perhaps not. However, the league with a reputation for brawling appears to be trending toward ballet.
The first week of the SEC football season featured two of the most dramatic passing outbursts in league history.
Mississippi State quarterback K.J. Costello set a record with 623 passing yards in a 44-34 victory over LSU, while Florida quarterback Kyle Trask passed for 416 of the Gators' 446 passing yards and six touchdown passes (one short of a school-record) in a 51-35 victory over Ole Miss.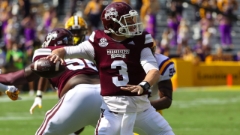 Derick E. Hingle-USA TODAY Sports
As impressive as the first week passing outbursts were, they aren't overly alarming. There have big numerous big passing performances in the SEC before.
Passing became a more prominent aspect of SEC football when Steve Spurrier arrived at Florida in 1990. It got another jolt in 2014 when Alabama coach Nick Saban hired Lane Kiffin to update and upgrade the Crimson Tide offense.
What is alarming was the modest rushing outputs for most SEC teams in Week One.
Last season, 12 of the SEC's 14 teams averaged more than 140 rushing yards per game. In the first week of the season, only four teams exceeded 140 rushing yards. Almost half (6) rushed for fewer than 100 yards.
Is that a one-week aberration? Or is that a sign of things to come?
Expect to see a continued reduction in the running game.
Leach isn't going to change from the Air Raid now. Florida coach Dan Mullen won't de-emphasize the passing game with Trask in charge.
Kiffin took over at Ole Miss at started passing quarterback Matt Corral over John Rhys Plumlee, who rushed for more than 1,000 yards last season.
It's just a matter of time — perhaps Saturday — before USC transfer JT Daniels takes over the quarterback duties at Georgia.
Mac Jones has thrown for at least 249 yards and two touchdowns in each of his last four games.
Chad Morris, who wouldn't run when he had Rakeem Boyd at Arkansas, is calling the plays at Auburn. They're going to throw. Besides, the strength of Auburn's offense is receivers Seth Williams, Eli Stove and Anthony Schwartz.
LSU will put up big passing numbers, too. The Tigers will have to if their pass defense keeps getting torched.
Even Kentucky's Terry Wilson passed for 239 yards last week. That was the Wildcats' highest total in 11 games.
LSU will put up big passing numbers, too. The Tigers will have to if their pass defense keeps getting torched.
Around the SEC
This week's games: No. 13 Texas A&M at No. 2 Alabama; South Carolina at No. 3 Florida; Missouri at No. 21 Tennessee; Ole Miss at Kentucky; No 7 Auburn at No. 4 Georgia; Arkansas at No. 16 Mississippi State; No. 20 LSU at Vanderbilt
Who's hot: Florida quarterback Kyle Trask's 416-yard, six-touchdown pass eruption against Ole Miss wasn't just one great game. In fact, that marked the fourth time in the last five games he's exceeded 300 passing yards. The one time Trask didn't reach 300 in that span was a 23-6 victory over Missouri last season. He threw for 288 yards and two touchdowns in that game.
Who's not: LSU's defense was frigid in the season opener. The Tigers were without star cornerback Derek Stingley, who was ill. But 623 passing yards? Yikes. That's more passing yardage than LSU allowed in its two playoff games against Clemson and Oklahoma combined (459).
Keep an eye on: The Georgia quarterback situation is certainly interesting. Redshirt freshman D'Wan Mathis started last week's 37-10 win over Arkansas. He lasted six ineffective series and was replaced by junior Stetson Bennett, who was considered the fourth-string quarterback before Jamie Newman opted out. Bennett threw two touchdown passes to lead the Bulldogs back from a 7-5 halftime deficit. He appears to have earned a chance to start against Auburn on Saturday. Except, USC transfer JT Daniels was cleared by the Georgia medical staff to play. He's been practicing but has not played in a game since tearing an ACL in his right knee in last year's USC season-opener against Fresno State.
The pressure is on: LSU Defensive Coordinator Bo Pelini must be feeling some heat. The Tigers suffered their worst showing in recent memory in the 44-43 loss to Mississippi State. OK, so most of last year's national championship team starters have departed, and Stingley was sick. So, perhaps Pelini gets a pass. The heat will get turned significantly if Vanderbilt freshman quarterback Ken Seals has success against the Tigers.
Best matchup: Auburn's Seth Williams, Anthony Schwartz and Eli Stove are probably the SEC's best group of receivers outside of Alabama. Georgia's secondary, led by safety Richard LeCounte is perhaps the best in the SEC. That's set up a great battle within the battle of top ten teams.
Never miss the latest news from TexAgs!
Join our free email list