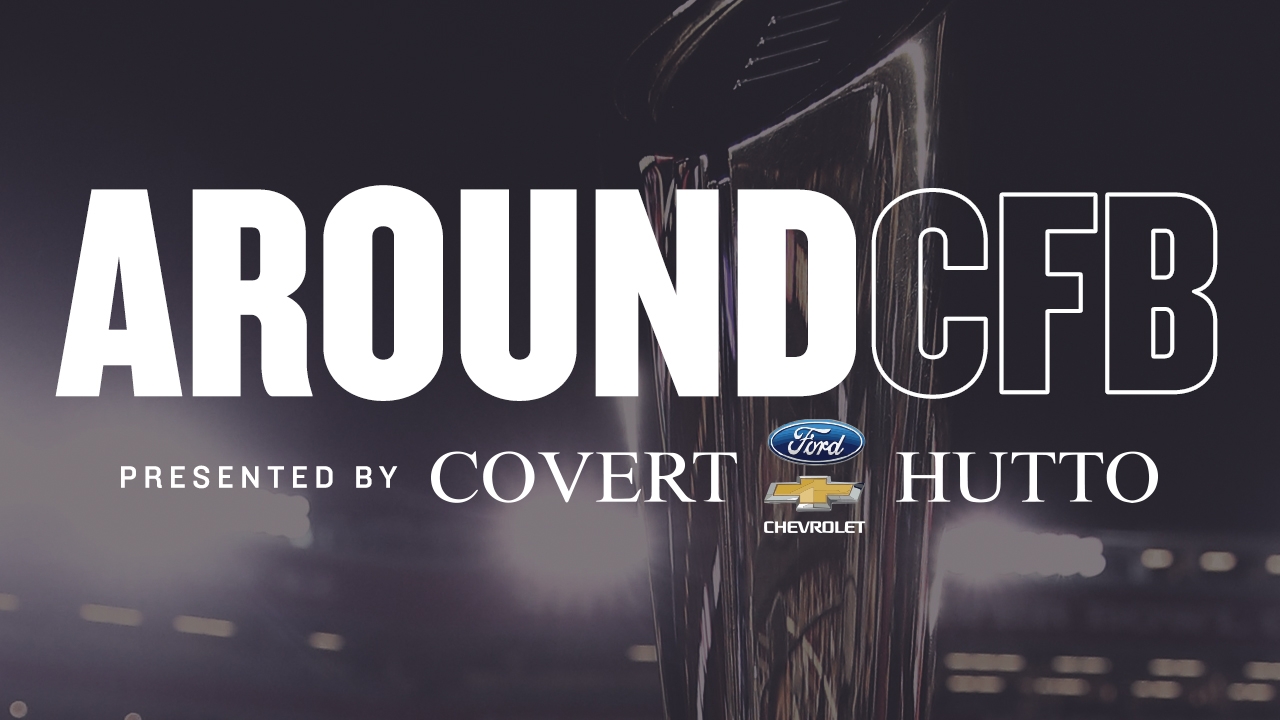 Photo by Mark Rebilas-USA TODAY Sports
Texas A&M Football
Around CFB: Big 12 already in danger of missing out on 2020 playoff
---
The Big 12 is magic. Two games into the season and — presto! — it's College Football Playoff hopes appear to have vanished.
Even the most staunch Big 12 supporter/apologist would have a hard time arguing that point. Only three of the conference's 10 teams — Texas, Oklahoma State and Baylor — have not have suffered a loss.
Those teams haven't been impressive. Oklahoma State was precariously close to losing to Tulsa. Texas escaped Texas Tech only because the Red Raiders botched an on-side kick. A couple of weeks earlier those same Red Raiders held on to defeat Houston Baptist, 35-33.
Yet, what's really crippled the Big 12's playoff hopes was Oklahoma's 38-35 loss to Kansas State. You know, the team that lost 35-31 to Arkansas State at home. That was one of three Big 12 losses to Sun Belt Conference opponents.
A Big 12 team would have to go unbeaten to get into the playoff. Texas would appear the most likely team to go undefeated.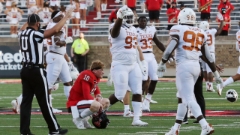 Michael C. Johnson-USA TODAY Sports
However, the Longhorns' porous defense and its own history suggest that's a long shot. A competent offensive team like Oklahoma, Oklahoma State, Kansas State, Iowa State and perhaps Baylor will be threats.
History says the Longhorns won't get through unscathed. The same goes for Oklahoma State.
Imagine trying to argue the merits of a one-loss Big 12 champion to the CFP committee. That is, if one of those teams finishes with just one loss. It would seem futile when comparing them to a one-loss team from the ACC, SEC and Big Ten.
The ACC has three Top 10 ranked teams. The SEC has four —three in the top four. The Big Ten has two and hasn't even played yet.
Indeed, an argument could be made that the American Athletic Conference is stronger than the Big 12.
The AAC has three teams — No. 11 UCF, No. 15 Cincinnati and No. 25 Memphis — ranked among the current Top 25. The same amount as the Big 12.
Memphis, by the way, has a 37-24 victory over Arkansas State.
You know, the team that beat Kansas State, which beat Oklahoma.
Heisman watch (If my ballot was due today)
1. Trevor Lawrence, Clemson, QB: The Tigers were idle last week. In two victories, Lawrence has passed for 519 yards and 4 touchdowns. He's completing 81.1 percent of his passing attempts. He's also rushed for 3 TDs.
2. D'Eriq King, Miami, QB: King passed for 267 yards and 2 touchdowns and rushed for 65 in a 52-10 blowout of Florida State. Through three games he's accumulated 893 total yards and has accounted for 7 touchdowns.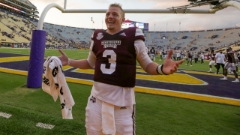 Derick E. Hingle-USA TODAY Sports
3. K.J. Costello, Mississippi State, QB: True, LSU's defense was without star cornerback Derek Stingley, who missed the opener because of illness. And true it's only one game. But WHAT a game. Making his Mississippi State debut, Costello set a Southeastern Conference record with 623 passing yards and threw for five touchdowns in a 44-34 victory over LSU.
4. Kyle Trask, Florida, QB: Once a high school backup to Miami's King, Trask has emerged as perhaps the SEC's top quarterback. He followed up a strong showing in 2019 by throwing for 416 yards and 6 TDs in a 51-35 victory over Ole Miss.
5. Jaylen Waddle, Alabama, WR: Perhaps the country's most explosive big-play threat, Waddle caught 8 passes for 134 yards and 2 TDs in a 38-19 victory over Missouri. Waddle's touchdowns covered 18 and 23 yards.
Predicted playoff participants
1. Clemson: Despite the rise of Miami and the threat of Notre Dame, Clemson still projects as the ACC's best bet to go unbeaten.
2. Alabama: Quarterback Mac Jones looked sharp in an opening blowout of Missouri. That showing erases any reason to doubt Alabama.
3. Ohio State: The Buckeyes project to be the class of the Big Ten. Once they actually start playing, quarterback Justin Fields will contend for the Heisman.
4. Florida: The Big 12's futility will open up opportunities for a second SEC team to get in the playoff. Florida looks to have the best chance among East Division teams to finish the season with one loss or less.
Games to watch
No. 7 Auburn at No. 4 Georgia: A Top 10 matchup of longtime geographical rivals with playoff aspirations coming off opening victories. What's better than that?
No. 13 Texas A&M at No 2 Alabama: Alabama might not be challenged often. The Aggies could mount a challenge but obviously must be much better than last week.
No. 18 Oklahoma at Iowa State: OU must bounce back from a stunning loss to Kansas State. Iowa State also has a stunning loss on its resume'. But remember, the Cyclones upset the Sooners in 2017.
South Carolina at No. 3 Florida: A boneheaded mistake in the final minutes prevented South Carolina from possibly launching a game-winning drive against Tennessee. That suggests the Gamecocks could be a threat if Florida takes them lightly.
Tulsa at No. 11 UCF: UCF has an outside shot at crashing the CFP party. Tulsa can't be taken lightly after nearly defeating Oklahoma State.
MESSAGE FROM OUR SPONSOR
Call or text Chad at Covert Ford in Hutto at 512-633-4819 For new Fords, Chevys, and over 900 pre-owned vehicles. Thanks and Gig 'em.
Never miss the latest news from TexAgs!
Join our free email list
PRESENTED BY