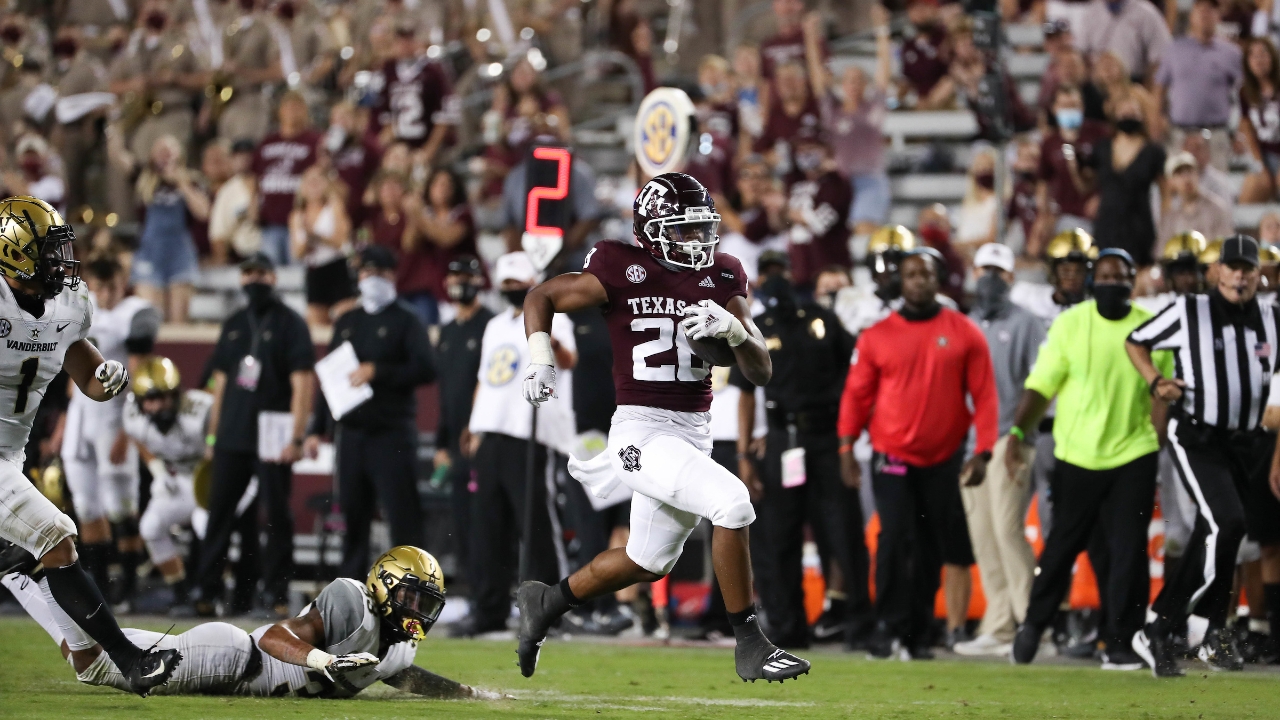 Photo by Bailey Orr/Texas A&M Athletics
Texas A&M Football
No sugarcoating Aggies' struggles in sloppy win over Commodores
September 27, 2020
23,174
---
Sugar was scattered in vast supplies in Kyle Field's postgame press conferences on Saturday night.
All of it was needed to sugarcoat Texas A&M's showing in a 17-12 football season-opening victory over lowly Vanderbilt.
The typical buzzwords from lackluster victories over weak opponents were repeated.
Any win is a good win. The Aggies made the plays they needed to make. They rose up when it mattered most.
"I give credit to our kids. (They) battled, found ways to do what we had to do at the end of the game to come out to a victory," A&M coach Jimbo Fisher said. "Again, a victory is a victory."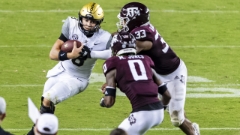 Maria Lysaker-USA TODAY Sports
"I think every win is a good win," quarterback Kellen Mond echoed.
Added senior linebacker Buddy Johnson: "You know, I think guys fought to the end. You know, we never gave up."
That sugar could be spun into cotton candy all night, but it wouldn't change the hard fact that A&M struggled to pull out a victory over what many in Nashville feel could be one of the worst Vanderbilt teams of all time.
Just when you wanted to laugh at Oklahoma for losing to Kansas State and Texas for narrowly escaping Texas Tech, the Aggies plodded along to perhaps the least impressive victory of the college football weekend. Vanderbilt was a 30.5-point underdog.
2020 is the season the tenth-ranked Aggies are supposed to emerge as bona fide championship contenders in the treacherous Southeastern Conference West Division.
Yet, two meager touchdowns on a Vanderbilt defense that last season routinely surrendered 30 points or more is hardly encouraging. Especially when A&M's next three opponents — Alabama, Florida and Mississippi State — combined for 133 points in impressive victories on Saturday.
The 25 percent capacity Kyle Field crowd saw the Aggies play at 25 percent efficiency.
The offensive line struggled to control the line of scrimmage. Receivers managed minimal big plays. The special teams made a trio of major blunders.
Chase Lane picked up a kickoff that rolled deep into the end zone and opted to return it. He only made it to the 7-yard line.
"I give credit to our kids. (They) battled, found ways to do what we had to do at the end of the game to come out to a victory. Again, a victory is a victory."
Smith topped that. He committed a cardinal sin of fielding a punt in the end zone. To make matters worse, Brian George was called for a personal foul for trying to make a block for Smith in the end zone.
That resulted in Vanderbilt being awarded a safety.
"Catching a punt in the end zone and trying to run out. I mean, I never get a penalty in there," Fisher said. "I mean, that's coaching, and that's my fault as a head football coach. Can't happen. Got to get that fixed. I'll make sure it gets fixed, I promise."
Then there was quarterback Kellen Mond. Fisher profusely praised the progress he'd shown in fall camp. Yet, he was perhaps more inconsistent than ever.
He threw a touchdown pass and executed a nice option pitch that led to an Ainias Smith touchdown run. Too often, though, his throws were inaccurate. And as been a recurring problem throughout his career, he was careless with the football — fumbling three times and losing two.
The other fumble was on a fourth down-and-1 play. Mond was able to recover but did not get the distance needed for a first down.
To be fair, the first fumble wasn't Mond's fault. The ball was slapped out of his hand via a blindside rush before he could deliver a pass. That was on embattled senior left tackle Dan Moore.
However, another came at the end of a 12-yard run that gave Vanderbilt the football at A&M's 43-yard line midway through the third quarter. That led to a Vanderbilt touchdown, which enabled to Commodores to pull cut the score to 14-12 late in the third quarter.
Boosted by an Isaiah Spiller 30-yard run, the Aggies responded by driving for a Seth Small 24-yard field goal that gave A&M a precarious 17-12 lead with 14 minutes remaining.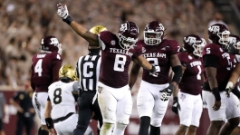 Craig Bisacre/Texas A&M Athletics
The A&M defense was able to protect the lead, but not without some drama.
Following a fumble by A&M receiver Jalen Preston, Vanderbilt drove to the A&M 20-yard line. But there, Micheal Clemons, DeMarvin Leal and McKinnley Jackson converged to sack Vanderbilt freshman quarterback Ken Seals for a 10-yard loss.
On the next play, Demani Richardson broke up Seals' pass, and Leon O'Neal snatched up the deflected ball. He returned the interception 35 yards to the Vanderbilt 44-yard line.
Four plays later, Mond's fumble on fourth-and-1 prevented him from picking up a key first down.
It didn't matter, though. On third-and-11, Clemons again swooped in to sack Seals. It was the Commodores' last offensive play and A&M's last big defensive stop.
"They did one hell of a job and made big plays when they had to make him," Fisher said in praise of his defense.
It was just one last sprinkle of sugar.
Never miss the latest news from TexAgs!
Join our free email list