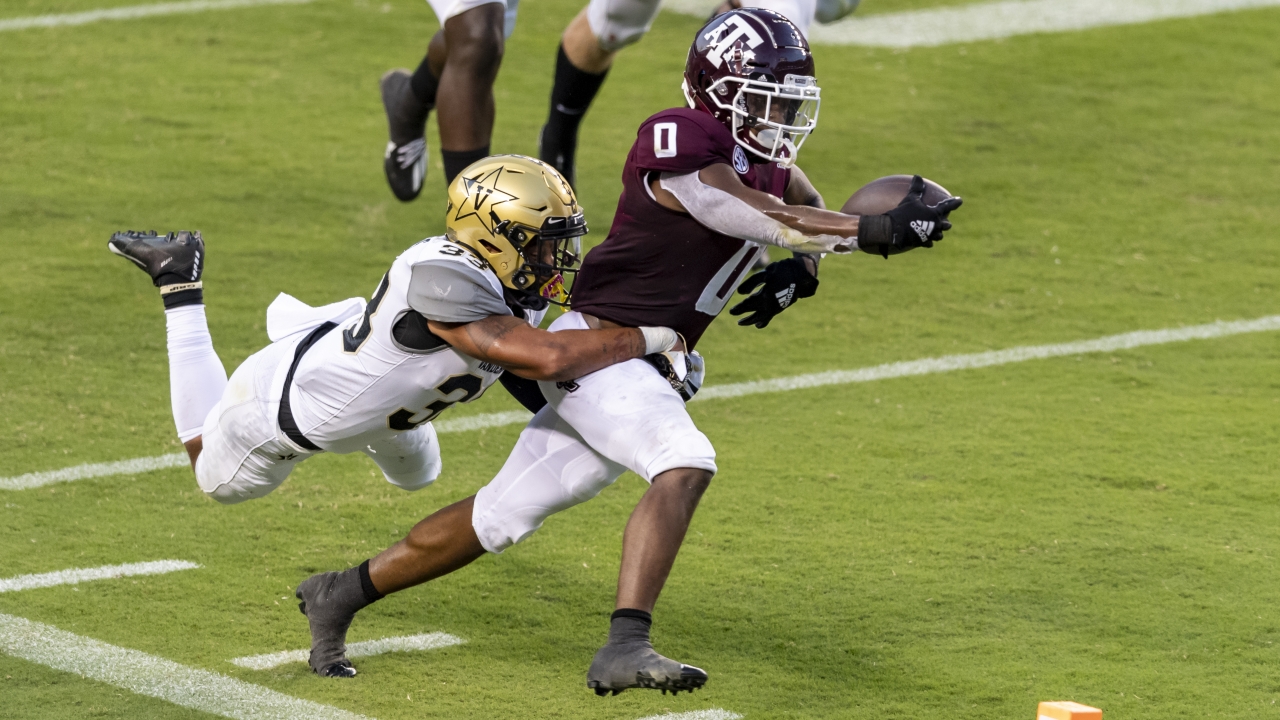 Photo by Maria Lysaker-USA TODAY Sports
Texas A&M Football
Post Game Review: No. 10 Texas A&M 17, Vanderbilt 12
---
A loss certainly would have been (much) worse, but Texas A&M is sure to spend the week before a date with Alabama reflecting on errors after escaping upset-minded Vanderbilt, 17-12, at Kyle Field Saturday night.
The Commodores offered an early signal that they would not go quietly, opening the game with a 13-play, 60-yard drive deep into Aggie territory. After allowing three consecutive third-down conversions, the A&M defense finally held, and Vanderbilt settled for a 33-yard field goal to take a 3-0 lead.
The Aggies also showed signs of trouble that would persist throughout the game on their first possession. Freshman Chase Lane decided to return a deep kickoff and was tackled at the 7-yard line. A&M then went three-and-out.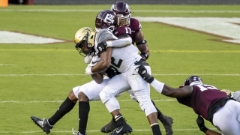 Maria Lysaker-USA TODAY Sports
After forcing a Vanderbilt punt, the tide seemed to be turning the second time A&M possessed the ball. Electric sophomore running back Ainias Smith popped loose on a 26-yard catch-and-run, and then four plays later, Smith broke free for a 25-yard touchdown scamper to push A&M ahead, 7-3.
Still, the Aggies couldn't build momentum on offense. On the ensuing possession, senior quarterback Kellen Mond converted first-down completions to Caleb Chapman and Jalen Preston, but another explosive reception by Smith to the Vanderbilt 2 yard line was nullified by a holding penalty. Two plays later, Commodore linebacker Andre Mintze got a hand on Mond's arm as he attempted to throw, causing a fumble that Vanderbilt recovered.
The A&M defense forced a punt, but a second special teams error would cap the scoring for the first half. Anias Smith fielded a punt running into his own end zone but elected to return the kick, appearing to believe he caught the punt before crossing the goal line. Brian George was flagged for an illegal blindside block in the end zone, which, by rule, resulted in a safety, narrowing the A&M lead to 7-5 at halftime.
The Aggies bolted out of the gates in the third quarter when Isaiah Spiller broke free on a 57-yard run on the opening play of the half. Two plays later, Mond found Chapman from 17 yards out for the sophomore receiver's first career touchdown catch, and A&M led 14-5.
However, mistakes would continue to plague the Aggies in the second half. After a Demani Richardson interception, Mond fumbled on A&M's next possession, and the Commodores took advantage. Freshman quarterback Ken Seals led a nine-play, 43-yard drive that again included three third-down conversions, the last one a touchdown pass to Amir Abdur-Rahman that pulled Vandy within two, 14-12.
Texas A&M mounted its own nine-play drive behind completions to Kam Brown and Chapman and a 30-yard burst by Spiller. However, a delay of game penalty late in the drive proved costly as A&M came up two yards short on third down and settled for a field goal, which proved to be the final points of the game.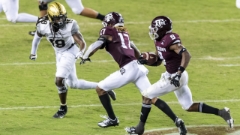 Maria Lysaker-USA TODAY Sports
Vanderbilt would threaten the Aggies throughout the fourth quarter, as drops, penalties and another lost fumble kept A&M from pulling away. However, two big sacks and a Leon O'Neal interception after a Demani Richardson deflection stifled the Commodores' upset bid.
RUMBLED: Sophomore running back Isaiah Spiller ran for 117 yards on only eight carries, making a case for a heavier workload in weeks to come. Linebackers Buddy Johnson and Aaron Hansford, playing without returning starter Anthony Hines, who opted out last week, each totaled 11 tackles on the evening.
STUMBLED: After an offseason when the only thing more tiresome than mask arguments was the unrelenting use of the word "unprecedented," some rust and mental errors were not a shock. However, excepting some big plays from running backs Isaiah Spiller and Ainias Smith, the A&M offense couldn't get out of its own way most of the evening. The Aggies fumbled five times, giving away three, and penalties in the red zone cost A&M points twice.
UNSUNG HERO: Jimbo Fisher praised defensive end Micheal Clemons regularly during fall camp, and the senior delivered at key moments in the opener. Clemons was first to a meeting of three Aggie defenders, including freshman McKinnley Jackson and DeMarvin Leal, in the Vandy backfield, sacking Ken Seals in a key fourth-quarter sequence that resulted in O'Neal's interception on the following play. On the Commodores' next (and final) possession, Clemons sacked Seals on third down, forcing a Vanderbilt punt.
TURNING POINT: Clemons' final sack proved to be the end of Vandy's offensive efforts, but A&M still had to bleed out the clock. Mond found Jalen Preston in the flat, and the sophomore made his way past the first down marker. Vanderbilt head coach Derek Mason actually delivered the nail in the coffin when he gave the Aggies a free final first down after being called for unsportsmanlike conduct for running onto the field to call timeout.
KEY STAT: Despite the win, A&M's five fumbles are certain to stick in the craw of head coach Jimbo Fisher.
Scoring Summary
First-quarter:
Vanderbilt: 8:58 - Pierson Cooke 33-yard field goal. Drive: 13 plays, 60 yards. TOP: 6:02. Vanderbilt 3, Texas A&M 0.
Texas A&M: 3:33 - Ainias Smith 25-yard touchdown run. Drive: 7 plays, 75 yards. TOP: 4:22. Texas A&M 7, Vanderbilt 2.
Second-quarter:
Vanderbilt: 7:23 - Texas A&M penalized in end zone; safety. Texas A&M 7, Vanderbilt 5.
Third-quarter:
Texas A&M: 13:20 - Kellen Mond 17-yard touchdown pass to Caleb Chapman. Drive: 3 plays, 75 yards. TOP: 1:40. Texas A&M 14, Vanderbilt 5.
Vanderbilt: 2:45 - Ken Seals 7-yard touchdown pass to Amir Abdur-Rahman. Drive: 9 plays, 68 yards. TOP: 4:22. Texas A&M 14, Vanderbilt 12.
Fourth-quarter:
Texas A&M: 14:00 - Seth Small 25-yard field goal. Drive: 9 plays, 68 yards. TOP: 3:45. Texas A&M 17, Vanderbilt 12.
Never miss the latest news from TexAgs!
Join our free email list