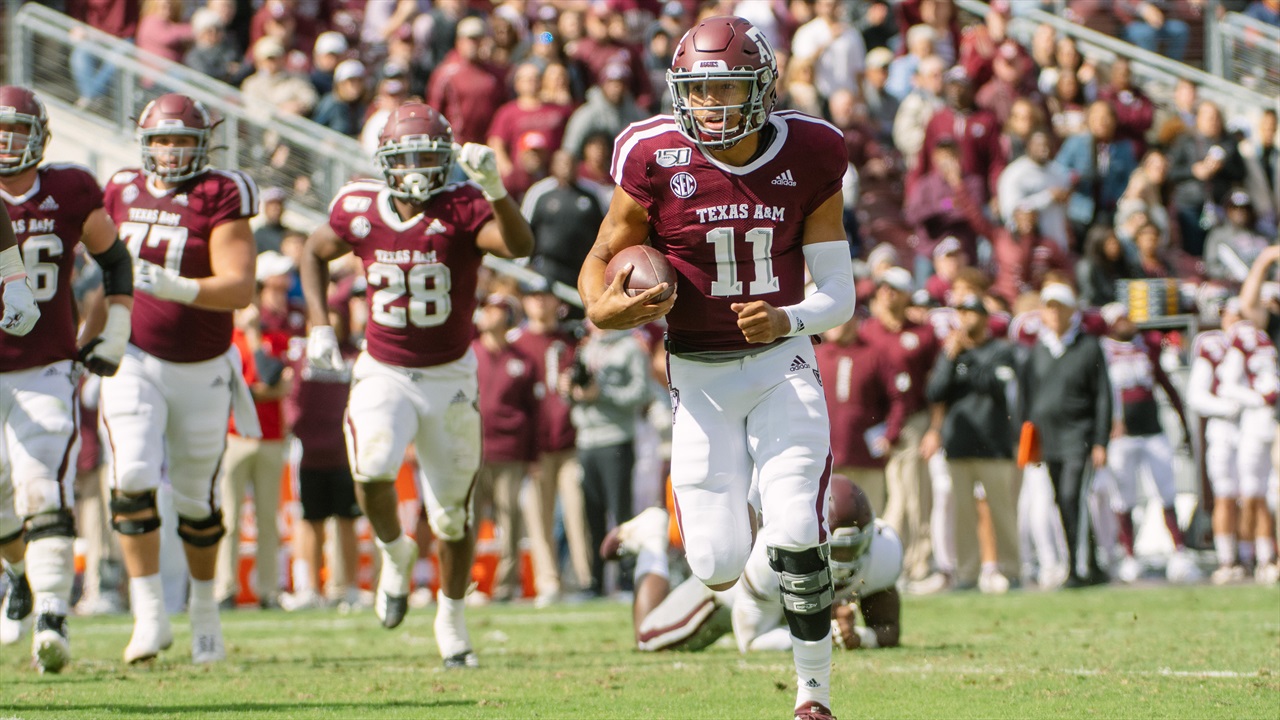 Photo by Rey Romo, TexAgs
Texas A&M Football
No. 10 Texas A&M vs. Vanderbilt: Players to Watch
---
Texas A&M
QB Kellen Mond
One of the hottest topics of discussion in the Southeastern Conference is whether Mond can make the step from good to great.
Last season, he ranked third in the SEC in passing with 2,897 passing yards and second in total offense with 3,397 yards. His passing has been inconsistent. He's also been criticized for what seems to be apprehensive about running the ball, which is actually one of his greatest strengths. However, in the second half of last season, Mond was quicker to use his running ability. He ran very effectively in victories over Ole Miss, Mississippi State, South Carolina and Oklahoma State.
Coach Jimbo Fisher has lauded Mond for demonstrating improved decision-making and understanding of the offense in fall camp. If he shows those qualities during the season, Mond has a legitimate chance to garner All-SEC honors. He figures to get off to a fast start as Vanderbilt was ranked 101st in total defense last season, and Mond has typically been productive against mediocre defenses. Last season, he accounted for multiple touchdowns against five opponents that ranked 67th or lower in total defense.
TE Jalen Wydermyer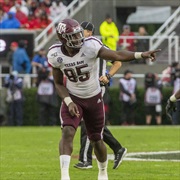 Lia Musgrave, TexAgs
The 6-foot-5, 265-pound sophomore established himself as one of the SEC's best at his position during a stellar freshman season. He projects to be even better in his second year.
Wydermyer debuted with 32 catches for 447 yards and six touchdowns to earn All-SEC recognition. Those were the SEC's third-highest catch and yardage totals among tight ends. It's even more impressive because Wydermyer was used sparingly early in the season. He emerged in October when he started an impressive six-game stretch with three catches and two touchdowns against Alabama. In that six-game stretch, he had 22 receptions for 350 yards and four touchdowns.
Wydermyer is a difficult matchup in coverage because his size is a significant advantage against safeties, and his speed typically cannot be matched by linebackers. Consequently, Wydermyer had nine catches that covered 20 yards or more. He projects as an even more significant big-play threat this season. His continued development and A&M's lack of proven experience at the wide receiver positions may result in Wydermyer becoming Mond's favorite target.
RB Ainias Smith
Perhaps no player on A&M's roster stokes the imagination for than Smith, who can be used in a variety of ways. Smith was a productive receiver much of his freshman season, but was moved to running back for the Texas Bowl and played exceptionally well in a 24-21 victory over Oklahoma State.
The 5-foot-10, 190-pound sophomore has excellent speed and even better elusiveness. He'll carry the football as a running back to complement starter Isaiah Spiller, and he'll be used as a pass-catcher out of the backfield as Fisher tries to find ways to get him the football in space. He'll also line up at receiver in some sets.
Smith is also among the most exciting return specialists in the SEC. Last season, he averaged almost 12 yards on 16 returns. He accumulated 190 returns yards despite only getting two chances in the first six games. He's arguably A&M's most exciting player with the football in his hands. Last year, he had five punt returns and three receptions of 20 yards or more. Those totals are expected to increase substantially.
DE DeMarvin Leal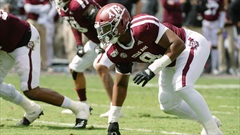 Rey Romo, TexAgs
Somehow Leal has managed to maintain a stealth quality in the SEC. He wasn't even listed on the third unit of the preseason All-SEC team, yet there is a popular opinion that he may be A&M's best overall player.
Leal has the speed and athleticism to play on the end, but he also has the size and physicality to dominate at tackle. He figures to shift between positions as defensive coordinator Mike Elko looks to create mismatches along the defensive front. A five-star rated prospect out of Converse Judson, the 6-foot-4, 290-pound Leal got off to a slow start due to injuries during his first collegiate campaign in 2019. He managed just three total tackles in the first five games combined.
However, Leal came on strong in the second half of the season. He posted at least five tackles in five games and finished the season with 38 stops, including two sacks. He was also credited with five quarterback hurries. Those stats figure to climb dramatically.
LB Aaron Hansford
Thus far in his three-year career, Hansford has made just one start. Yet, Hansford is penciled in as staring outside linebacker after Anthony Hines' sudden decision to opt-out. There is speculation that Hansford — a 6-foot-3, 245-pound senior — won the starting job in fall camp. While that has not been confirmed, Hansford is athletic, fast and proved capable in a backup role last season when he posted 15 tackles. That included sacks against Alabama and Georgia.
Four years ago, it wouldn't have come as a surprise that Hansford would develop into a starting linebacker. He was a four-star recruit who was ranked the nation's No. 12 outside linebacker and No. 148 overall recruit. He ranked higher than Alabama defensive tackle Quinnen Williams, Notre Dame receiver Chase Claypool, South Carolina receiver Bryan Edwards, LSU cornerback Greedy Williams and TCU defensive lineman Ross Blacklock, who were all high NFL draft picks.
Hansford's development was stunted. He was moved to tight end despite showing modest catching skills and the previous coaching scheme seldomly using that position. After sitting out the 2018 season because of injury, he was moved back to linebacker.
CB Myles Jones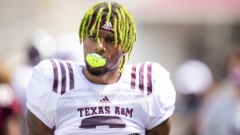 Texas A&M Athletics
Coach Jimbo Fisher has gushed about Jones' improvement over the offseason. He raved how the 6-foot-4, 180-pound senior has learned how better to use his large frame in pass coverage.
Based on Fisher's appraisal, Jones appears to have clinched a starting job. He needs to take the improvement that Fisher has seen in practice into games. Thus far in his career, Jones has been largely inconsistent. He's broken up 15 passes over the two seasons and tied for the team lead with two interceptions in 2019. However, he's also been prone to allowing big plays.
If Jones demonstrates the improvement that Fisher has raved about, A&M could significantly better its pass defense, which was ranked 41st in the nation.
Vanderbilt
QB Ken Seals
A true freshman out of Weatherford, Seals won the starting quarterback competition over junior college transfers Jeremy Moussa and Danny Clark and freshman Mike Wright. Interestingly, he makes his collegiate debut in his home state of Texas.
He'll direct an offense that plans to have a more up-tempo pace than last year's unit, which ranked 115th in the nation and produced as many interceptions (10) as touchdowns.
Seals can be an effective runner. He rushed for nearly 500 yards and seven touchdowns as a high school senior. However, he's not really considered a dual-threat.
Passing is unquestionably the strength of Seals' game. In two seasons at Weatherford, he set school records with 5,714 passing yards and 53 touchdown passes. Last season, he passed for 3,060 yards and 33 touchdowns in leading Weatherford to its first Class 6A state playoff appearance.
WR Cam Johnson
A year ago, Johnson was the Commodores No. 2 receiver behind Kalija Lipscomb. This season, as a third-year sophomore, he'll be the top target.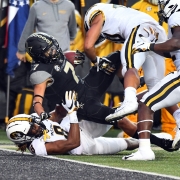 Christopher Hanewinckel-USA TODA
The 6-foot, 198-pound local product from Brentwood (TN) Academy, Johnson caught 30 passes for 316 yards and tied for the team lead with three touchdowns. Johnson arrived on the West End two seasons ago but played in only four games as a freshman before suffering an injury and sitting out a redshirt year.
Johnson had six catches in a victory over Northern Illinois and four in a loss to Tennessee. In every other game, he managed just three catches or less. That figures to change significantly as the Commodores are expected to throw more often.
He's not blazing fast as his 10.5 yards per catch average suggests, but he was a four-star prospect in 2018 and has shown the ability to make big plays. On a game-winning, 21-yard touchdown against Missouri, Johnson caught an out route at the 15-yard line, spun around a defender and then ran through two tacklers at the 1-yard line.
LB Dimitri Moore
Scouts project Moore as a next-level inside linebacker with excellent range and closing speed, and he has certainly had the on-field production.
The brother of former Texas A&M linebacker Richard Moore, Dimitri initially opted out for this season. Much to the relief of Commodores fans, the 6-foot-3, 234-pound junior changed his mind.
His presence is desperately needed. As a redshirt freshman out of Cedar Hill High School, Moore posted 84 tackles, a sack and three pass breakups in 2018. He built on that performance in 2019 by leading Vanderbilt with 48 solo tackles and 99 total tackles. He posted double-digit tackle totals in five games and had nine solo tackles against South Carolina. Moore was rated as a three-star prospect out of high school and chose Vandy over Kansas State and Colorado.
He's a rising star that would be much better known if he played in a more successful program.
DL Dayo Odeyingbo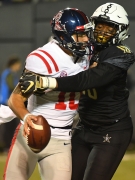 Christopher Hanewinckel-USA TODA
Once a four-star rated prospect from Carrollton Ranchview, the 6-foot-6, 276-pound senior has developed into one of the Southeastern Conference's most productive defensive ends, especially against the run.
Though he posted only 1.5 sacks last season, Odeyingbo totaled a dozen tackles for loss. He was also credited with seven quarterback hurries. Odeyingbo finished strong last season with at least four tackles in six of the last eight games. Overall, he compiled 45 tackles as a junior.
Odeyingbo has the speed to play on the edge and the strength to shift inside to nose tackle in some sets. A native of Nigeria, Odeyingbo is clearly established as Vanderbilt's top defensive lineman.
S Frank Coppet
His career at Vanderbilt has been nothing if not interesting.
In 2017, he was suspended after receiving non-critical birdshot wounds to his arms while trying to retrieve a teammates' stolen cell phone. Then, last season he sustained a knee injury in August camp that forced him to miss all but two games. He came back to make starts against LSU and Northern Illinois but re-injured the knee in the win over Northern Illinois.
Coppet has been productive when on the field. He made six starts in 2018 and accumulated 30 tackles, forced a fumble and grabbed six interceptions. He's needed to help boost the Commodores pass defense, which surrendered 23 touchdown passes a year ago.
His presence became even more vital when starting safety Tae Daley entered the transfer portal last week.
CB Jaylen Mahoney
A three-star prospect from South Pointe, South Carolina, Mahoney had a solid true freshman season. He made starts as a nickel back against South Carolina, Florida, Kentucky and Tennessee. He posted 23 tackles and had an interception against Tennessee. Mahoney was the Commodores' highest-rated defensive back in 2019.
Never miss the latest news from TexAgs!
Join our free email list
PRESENTED BY