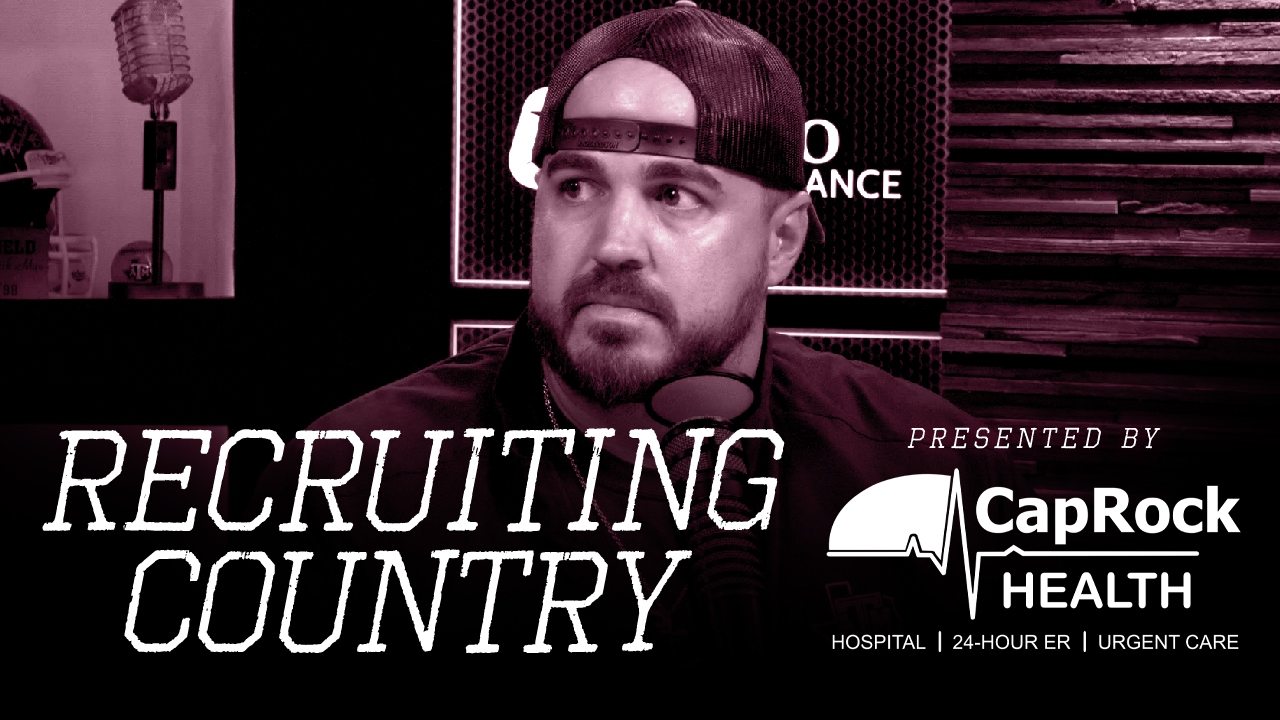 Texas A&M Football Recruiting
Recruiting Country: The latest recruiting news surrounding the Maroon & White
September 23, 2020
10,154
---
Key notes from Recruiting Country
It's getting busier, and it's more complicated than ever for me because every school has different COVID-19 guidelines regarding people they allow on their sidelines. You have to be physical. The biggest thing that's eliminating high school games is the contact tracing. If we adopted a rule like English soccer has, we could eliminate a lot of these cancelations.

This week, I'll be at Bridgeland vs. Klein Cain in Cypress on Thursday, and then on Friday night, I'm going to see Shadow Creek at North Shore.

Dematrius Davis‍ can play. I love him as a player. If you look at all-time great quarterbacks in the state, if he does it again, you absolutely have to put him up there with Kyler Murray. MaxPreps has North Shore at No. 2 behind Duncanville, and I don't have a problem with them being the top-ranked team, but North Shore is the defending champion.

I'm excited to see Shadrach Banks‍ move around fully for the first time in 18 months. He's more excited about it than I am for sure. He's ready to go against Shadow Creek.

Shadow Creek has a ton of talent. They've got a group of 2022s that don't have many offers yet, but with a couple of strong weeks of tape, you could see them start rolling in for a lot of those kids.

Locally, I haven't even seen A&M-Consolidated yet, but I know they've got a couple of younger players they're excited about. Coach Huff at College Station High School has done an incredible job since that school has opened up. They've got some outstanding juniors and seniors. Huff's a great human being. When I went to see Bryan's Nic Caraway‍ in a scrimmage with Rudder, I could tell that Rudder quarterback EJ Ezar‍ is very skilled. Rudder could surprise some people this year, and they could be a playoff team.

If Deion Sanders can make some hay in the transfer market or the JUCO market early on, they can succeed at Jackson State in the SWAC. He could then grab two or three players every recruiting cycle. I don't think he's going to recruit at a top-level nationally each year. If he overhauls everything and makes that program look like what we see in the SEC and ACC in terms of facilities, then maybe.

Deion Sanders has done a great job of staying relevant among recruits. The swagger resonates with this current generation. It's intriguing. He has loaded up a staff of guys that everybody knows. You have to figure that Jackson State will be able to take advantage of that Mississippi Junior College circuit that Mississippi State has taken advantage of for years. Deion will be a good figurehead. The Mack Brown or Coach O blueprint.

MJ Daniels‍ said he was going to delay his decision, but then the next week, he commits to Mississippi State. He has a cousin on the team that he's close with, and that eventually won out. I'm not exactly sure where the Aggies go from here, but they'll formulate a plan here in the next couple of weeks. I do think they'll go and sign another defensive back.

There is a 2021 defensive end Je'lin Samuels‍. If you look at one scrimmage tape — and you obviously need to do more research — at 6-foot-8, for him to move that way, it's incredible. There will be guys like this kid who will come out of nowhere. If we had spring camps or summer camps, we would've heard of Samuels. I don't know if I've ever been more impressed with just a minute of tape. It was incredible. I can promise you he'll play college football, and there are already people scrambling to find any information they can on this kid.

There is not a primary target at QB for 2022. I would think Ty Simpson‍ is at the top of that list right now, but I also think Conner Weigman‍ and Cade Klubnik‍ are there as well. I would add Nick Evers‍ out of Flower Mound to that list as well.

We don't have a set target to watch for because nobody else has set a commitment date. Right now, it's up in the air.

I don't think any decision has been made, but the NCAA keeps extending the dead period. I'm not sure what they'll do with the early signing day. Liucci wants to push it back, but I think if the kid wants to get it done, you should allow them that opportunity at the early signing period.

Just because there is no official visit doesn't mean that kids can't go to the game on their own dime. They're just like you and me in that regard. They can show up, be around town on game day. I'm sure prospects are planning on doing that. We're monitoring that kind of thing, but I don't think it'll be a public visitor list like normal. There will be kids from the state of Texas who want to see their favorite in-state schools play.

I think Eric Hemphill III‍ is a guy whose name popped up on our list the other day. He's good in coverage. He could be a perfect slot corner or nickel guy in that 2022 class if A&M wants one. He's probably 5-10, so he's not too short to play.

I think Harold Perkins‍ is fantastic. Tyler Santucci is leading the charge for the Aggies there, and they are in a great spot. I spoke to him after the game.

I'm looking at Jaydon Blue‍ out of Klein Cain on my trip this week. I think A&M is behind there, with LSU and Texas being the leaders. Bridgeland is quarterbacked by Conner Weigman, so I'll see him as well.

At running back in 2022, you have to look at who A&M gets in the current cycle. Could A&M get LJ Johnson Jr‍ and another in 2021? That will determine their list of running back targets in 2022.
A SPECIAL THANKS TO...
CapRock Health System, the only 100% locally owned and operated healthcare system in B/CS, has 4 convenient locations; CapRock Hospital with ER, CapRock 24-Hour Emergency Center, CapRock Urgent Care at Century Square, and CapRock Urgent Care at Jones Crossing. Visit CapRockHealthSystem.com
Never miss the latest news from TexAgs!
Join our free email list
PRESENTED BY