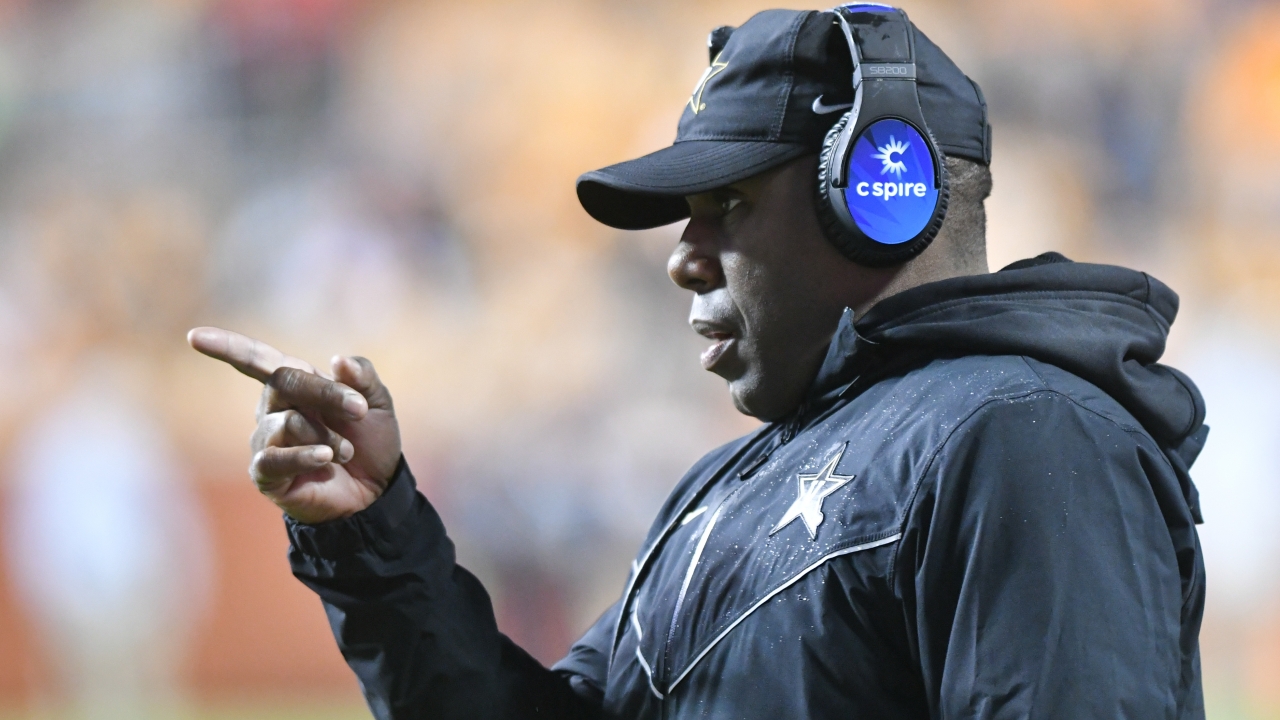 Photo by Randy Sartin-USA TODAY Sports
Texas A&M Football
VandySports.com's Chris Lee analyzes the Vanderbilt Commodores
---
Key notes from Chris Lee interview
I don't think we're sleeping on the Commodores by picking them last, but that defense has many starters returning and veterans backups everywhere with Ted Roof leading them. I was surprised that Mason was able to bring in Roof. They're picked where they're picked because that's probably where they are right now. That defense will definitely be better than it was last year.

If there's a formula where this team is way better than we think it is, I think it's because the quarterback, Ken Seals, will have much better protection this year. They were so bad a quarterback last year that it's hard for them to be worse. However, Vanderbilt's most likely scenario is a zero or one-win season.

When you look at freshman quarterbacks, we don't know what we're looking at until they play real competition. However, at this stage of camp, he's the best I've seen in 18 years. I don't remember Kyle Shurmur being anywhere near Seals at this point in his development. I'm interested to see what happens when he actually plays a game, but in terms of his accuracy, ball security, and play-making ability, I've been surprised with how good he's been.

What's the problem? Where do I start? Administratively, it's a disaster. I don't think they have a clue about what it takes to commit to football. I think Derek Mason has done some great things, but I see him as more of a coordinator. They haven't updated facilities, which draws in talent, and of course, it takes talent to win in this league. I'm interested to see what this new Chancellor does, who just took office this summer. They've already brought in Louisiana Tech's athletic director. They need to raise hundreds of millions of dollars to update the facilities in order to compete in this league.

Some people are head coaches, and some people are not. There are reasons that they're paid millions of dollars. I don't think Derek Mason is a lousy football coach, but he's more of a coordinator to me. I'm not so sure he has the drive to commit to the recruiting. It's just never been a fit, and Vanderbilt has stubbornly stuck by him. They've changed their coordinators too many times. It's just looking to place blame elsewhere.

Their defensive front will be good relative to what they had. Malik Langham should be good. They brought a guy in from a JUCO from Chicago. Dayo Odeyingbo was on the preseason All-SEC team. They don't have a lot of guys that can rotate in and out like they did when James Franklin was here, but they have more options than they have in the past. I think that is going to help.

It's going to be tough to come back from the loss of so many offensive players, but they weren't very good on offense last year. They'll be better at quarterback, but the offensive line is going to be dreadful. There will likely be many freshmen playing on the line on Saturday because they don't have much of a choice. At running back, Ke' Shawn Vaughn was the best they've ever had. They didn't have much behind him last year, and you'll see that this year. I'm not so sure they'll have enough to be a competent offensive unit, and I'm not sure that the line will even give Seals time to throw.

Vanderbilt has been good at making promises that are a couple of years down the road and all kinds of built-in excuses they fall back on. Eventually, they need to commit to things. At some point, the SEC needs to hold them accountable. I think boosters and fans have a lot of the same questions you're asking right now.

Vanderbilt has pulled stunners every now and then, but maybe not as a 30-point underdog. They went to Georgia a couple of years ago. If you're not the most talented team on the field, you need to win the turnover battle. You can't miss kicks or extra points. They'll need some breaks and catch A&M on a down day. I'm not expecting them to go into College Station and pull off an upset, but for them to do so, they'll have to play their best day and catch the Aggies on an off day.
Never miss the latest news from TexAgs!
Join our free email list