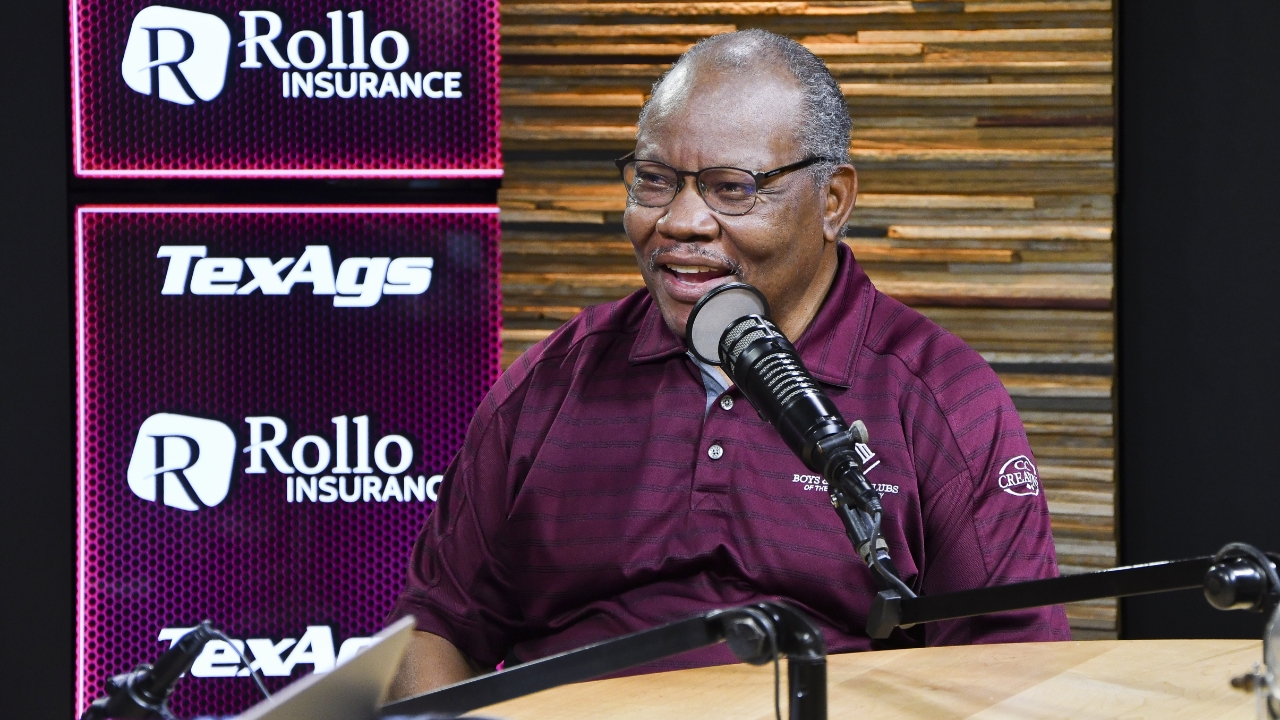 Photo by Jamie Maury, TexAgs
Texas A&M Football
Hugh McElroy reflects on his historic TD catch at LSU on the 50th Anniversary
---
Key notes from Hugh McElroy interview
I never even thought about being 50 years old myself, let alone doing something 50 years ago and having people remember it. A lot of things about that play still seem to be clear, but over time, my recollection has changed and might be a little bit off in terms of what was called and how it happened. Just the fact that it's still on people's minds is amazing to me.

I don't recall anything leading up to that LSU game because it was just another game. There was no reason to believe that anything special was going to happen. It just rolled in with every other pregame. We just went through our normal routine. No one could've predicted what happened that evening.

I always want to pay homage to Sammy and JT because I was the third Black Texas A&M football player behind Sammy Williams and JT Reynolds. At first, I was a track athlete at A&M. They were there together and were roommates as I recall. They were in Henderson Hall, and the track team was in Fowler Hall across the way. That's how I met them. I should always give them credit for the rigors they went through. I don't know if I could have gone through by myself the things they went through and tackled together. I'm not saying that I couldn't, but I certainly don't want to assume that I could have. I have to give them credit. Sammy and JT made the team in 1968. I made it in 1969, but I didn't play much at all.

There aren't any things that are burned in my mind that we just indelible. As I think I definitely had friends, and I don't think I had any enemies on the team that we absolutely hated the sight of each other. There wasn't anything like that. However, this was the late-60s, so certain things were in concert with everything else that was going on in the world. We got along. We were teammates. The good thing about football, and the thing that I like, is regardless of what's going on out here; when you go to practice every day and you "hate" the same coaches and the drills you have to go through together, it makes you appreciate one another. "Adversity makes strange bedfellows" as the saying goes.

There is a term called "Godwink." That LSU game was a "God kick in the butt and slap upside the head." I didn't expect it. Nobody expected it. The media didn't have much coverage of that game because it was expected to be so lopsided in the other direction. That's what makes it more special to me. It was almost a "Dewey beats Truman" kind of deal. It just came out of nowhere.

I knew Tommy Cassanova's name. One of the things we do in the meeting rooms is looking at who you're going to go up against, but I don't think we broke down the film as minutely as they do now. The look at every twitch and millisecond now. We were just looking at what routes he was good against. We knew Tommy Cassanova was good. We knew who he was, that's for dang sure.

I think we were cautiously optimistic. I don't think we were expecting to go down there and kick butt. There was nothing in recent history to suggest that was going to happen, but I don't recall us worrying about going to Baton Rouge. The blowout of Wichita State the week before, we had reason to be optimistic and have hope. As I recall it, we were definitely looking forward to the game.

I was with former Texas A&M President Bill Mobley one year, and I had gone with him to a meeting in Houston. There were some Aggies there, and a guy told me there were two places that he'll never forget where he was: When Kennedy got shot, and when I scored that touchdown. That doesn't even make sense! For that touchdown to mean that much, it's very humbling, almost embarrassing. In my older age, I've grown to accept it more. When I was a younger man, I used to deflect. Now I appreciate it.

That was a night game in LSU. That's all they did at LSU back in those days. I remember some of the pregame stuff of the following year. We had to go back in 1971. We were going through the program, and something introduced the mascot, Mike the Tiger, who occasionally eats a wide receiver named Hugh McElroy. That cracked me up. They always had the tiger out there by your dressing room as you went out.

You always have pregame jitters. It doesn't matter who the opponent was. The key to having butterflies is getting them to fly in formation. We went out and just played the game. I never thought about a comeback or thinking it was a lost cause. It was just play-by-play for me and letting it happen.

During the flow of the game, I remember a couple of catches, but I didn't think I was having a great game or anything. I had 100 yards before the catch, but you're not tallying those things up. It was survival mode the entire time. We were behind, so there was no room to get a big head or to gloat. We were chasing LSU the whole time.

There may have been a moment where someone rallied the team, but after 50 years, some things get lost and glossed over. What I do recall is that — in my mind — I always thought the play in the huddle was to go to Homer. As Coach Stallings tells the story, he called basically a fly pattern. I really don't remember that. As I think about it, a play to the tight end at that point in the game with the limited time we had left didn't make a lot of sense other than Homer May was one of Lex's safety baskets. Regardless of what was called, I certainly wasn't expecting to get the ball.

As I recall, the play was supposed to go to Homer on the left side. I was lined up wide to the right side. I was going to go down to do something just to occupy the DB, and then I was going to turn around and see what happened. I can't remember if Cassanova was on me the entire time or if he had come over to try and make a play on the ball. I was not expecting to see the ball, but low and behold, here it comes. As I look at replays, it looks like Lex may have been looking left and turned the other way to throw back the other way. It was a great throw, and Cassanova dang near made a play on the ball.

Once I caught it, you're motivated by fear at that point. I did not want to get tackled. I was still on my feet, so my thought was to do something.

As I crossed the goal line, and I'm glad the field wasn't five yards longer because that guy had an angle on me.

It didn't dawn on me until about a year or so later. The significance never resonated with me. What I didn't realize when you make a play like that: It's hard to put your shoes on with all of those $100 bills in there. That's back when the boosters could go in the locker rooms. It's hard to put your shoes on with money stuffed in the,

Dave Elmendorf was a team captain. He was the one who presented me with the game ball. I don't remember his exact words, but it was something along the lines of never having a Black player before — something along those lines. He said I was getting the game ball because of that moment and how the game ended. I thought, "Oh wow. Really?" I didn't expect it. I kept that ball with me. I think I sat with that ball with me on the plane, and then of course, there's that picture of us getting off the plane at Easterwood. There was a huge crowd there for the team, but I happened to be the focal point. It was exciting.

I have to say, and embarrassingly so, I kind of got the big head there for a little bit. Once I realized that it wasn't about me, it helped me do a 180 in terms of showing me that was no way to act. That, fortunately, is something I have carried with me for the rest of my life.

I do still have that football. I wish I had taken better care of the football. I'm actively looking for a place to send it to have it refurbished. It needs a new bladder as it's deflated. It still has the score painted on it. I'm hoping to do something special with it I get it repaired.

The net of it all has been a huge plus. I guess about a week or two after that game, I was walking across campus and a group of students was walking, nobody I knew in particular, came up to me. Some girl knew who I was. She asked how it made me feel to know people were cheering for me in the stadium. In terms of what has happened positively, that catch has allowed me the opportunity to do things that I never would have been able to, sometimes with no correlation or crossover skill from the catch itself. One of the things is that I've been able to serve as the general chairman of the 37th Rotary Lombardi Award for the outstanding college lineman of the year. I was a member of the Rotary Club of Houston. That got me back in touch with football again. That was huge, and I'm certain it was a result of the celeb I enjoyed from that catch.
Never miss the latest news from TexAgs!
Join our free email list