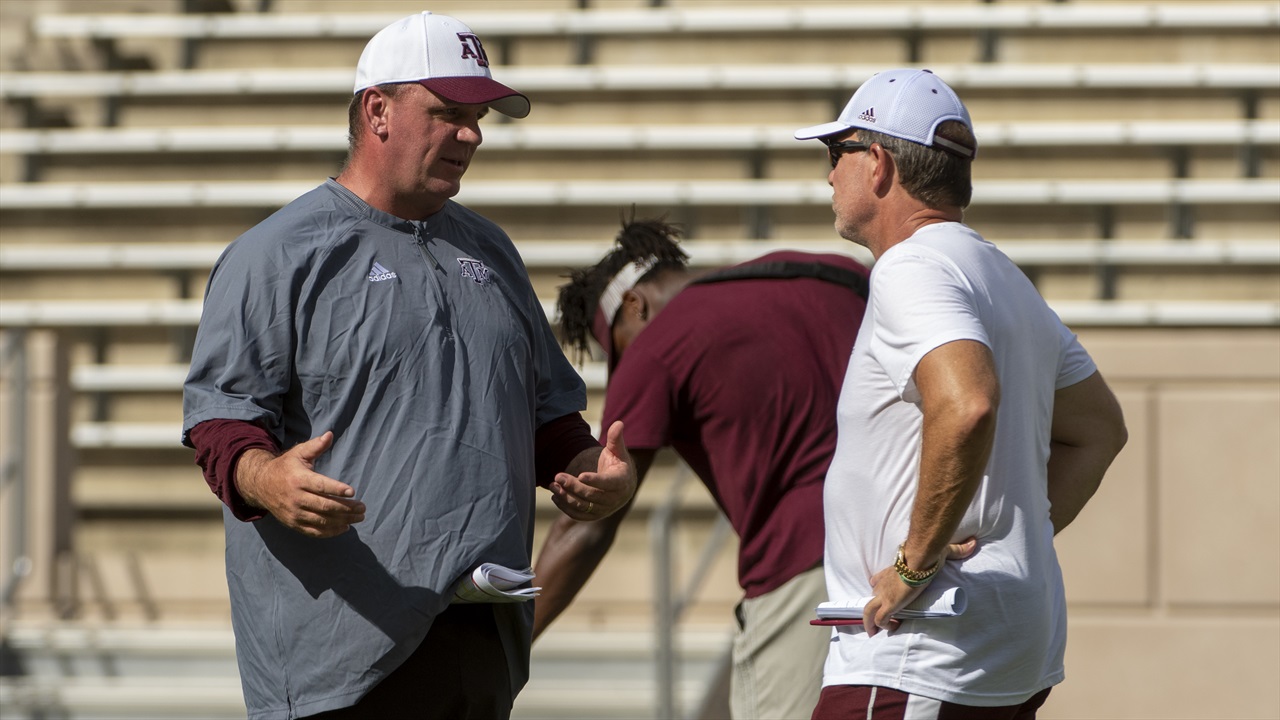 Photo by Lia Musgrave, TexAgs
Texas A&M Football
The case for Texas A&M against the Vegas expectation
---
On my August 27th weekly spot on TexAgs Radio, I picked Texas A&M to go "over" their Vegas total of 6 wins. Gabe and I went quickly through the 14 SEC teams, so I wanted to use my first TexAgs post as a deeper dive into my 6+ win prediction for A&M.
First off, for credibility sake, I am not just making this pick because this is an A&M website. My annual season preview book is rated the "Most Accurate in America" since 2012 by Stassen, and after the 2019 edition, I was selected to become a Heisman voter. I've done over 100 radio spots across the country this summer, and it would be impossible for me to hop around and simply praise the home team. Not to mention, it'd be inaccurate!
In my 2020 edition, I have Texas A&M ranked No. 10. Additionally, that high praise was published in June in the context of a full season even before the Big Ten and Pac-12 backed out.
Before looking at the revised schedule, multiple key indicators were all pointing up for A&M in 2020.
Staff Continuity
In this short offseason with no spring ball, a limited summer and delayed fall camp, the benefit of coach continuity and scheme continuity hold even more weight than usual. 2020 is the third year for both head coach Jimbo Fisher and defensive coordinator Mike Elko. In my opponent-adjusted percentiles, the Texas A&M defense moved up from 56 percent in 2018 to 80 percent in 2019, which marked the third-best improvement in the SEC. This is right on brand for Elko, who turned Notre Dame into a Top 25 defense from outside the Top 50. Elko even fielded three straight Top 35 units at Wake Forest. Top 35 doesn't usually make headlines, but given the talent pool at Wake Forest – 61st of the 66 Power 5 – it is an achievement.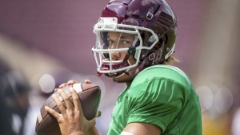 Texas A&M Athletics
Returning Production
Like the increased importance of staff continuity, returning starters and experienced players matter more than ever. The usual spring development season was cut short, meaning first-time starters may be an extra step behind veterans. More good news for A&M — the third year for Fisher/Elko is paired with the most experienced team in the SEC. In the entire SEC West, only three units rank in the Top 40 of returning production: Texas A&M's offense and defense along with Ole Miss' offense. That's it.
Raw Recruiting Talent
Recruiting rankings are a nuanced topic. While the recruiting services can miss on a player here and there, in aggregate over a class of 25+ signees, they are more right than wrong. Then when you stack four or five signing classes together, the 85+ provides some usable data.
Now, where I differ from other publications is that most will stop at that raw recruiting average. But something (a lot) happens on campus those four years: Are the coaches developing players effectively? Are they recruiting towards their scheme? Do the schemes themselves work? Are they retaining players or losing them to the transfer portal? These are reflected in my "Player Development" and "Win Conversion" metrics.
You'll find Texas near the bottom of both, since they recruit at a Top 5 clip but fail to match those expectations, even in the Sun Belt Big 12.
In short, A&M has stacked consecutive Top 6 classes, so any vacancies in the two-deep are now being filled with elite athletes. Elko and Fisher have had no issue with maximizing player talent at their past stops.
2020 Outlook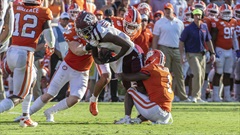 Lia Musgrave, TexAgs
Those are three huge positives and momentum rolling into 2020. Initially, the schedule benefit helped factor into my high forecast for A&M. Swapping 2019 opponents Clemson and UGA, both Playoff contenders, for below-average Colorado and Vanderbilt, meant an automatic two-game swing.
On that 8/27 show, I used the term "lock" too often. I guess in spoken word it makes for a good conversation. But I am more selective of word choice in my writing, so I've broken A&M's ten opponents into four categories.
Likely Losses: Alabama, Florida
Alabama has a Joe Moore Award candidate offensive line and the league's best back with Najee Harris. Even post-Tua, and with a reloading secondary and edge rush, Alabama remains the West favorite.
In my 2020 edition, I picked Florida to win the SEC. They hold similar benefits to A&M, like staff and roster continuity, recruiting firepower and a favorable cross-division schedule. While the home field advantage would typically entice me, I wish it was a full Kyle Field for maximum impact.
Locks: Vanderbilt, Arkansas
I ranked Vanderbilt dead-last. Not just in the SEC, but in the entire Power 5: 66th of 66. After seeing Kansas last Saturday night, maybe 66th was one spot too harsh. Regardless, these are two true "locks." While Arkansas does have an experienced SEC starting quarterback in Florida-transfer Feleipe Franks, a 1,000 yard back in Rakeem Boyd and a stable of five four-star pass-catchers, the offensive line needs a total overhaul. Arkansas is also the worst defense in Power 5 over the last three seasons, per my opponent-adjusted percentiles.
Likely Wins: Ole Miss, Mississippi State, South Carolina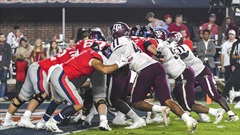 Lia Musgrave, TexAgs
Over the past five years, A&M is just 5-5 against the teams from the Magnolia state, but this year they both are going through coaching transition years. As noted, it's an even more difficult season to change coaches and install new schemes. So far (as of 9/12), first-year head coaches are just 2-8 against-the-spread. Vegas spreads aside, new coaches and new coordinators have been slow out of the gate overall. A&M benefits by facing Mississippi State relatively early in Week Four. A&M has struggled in SEC road games under Fisher (just 2-5), but this year, home field advantage means much less, and A&M will overpower South Carolina at basically every position unit. Additionally, the Gamecocks' star freshman running back MarShawn Lloyd is out for the season.
Swing Games: LSU, Auburn, Tennessee
These three make or break the prediction and 2020 A&M outlook. To "push" at six wins, A&M needs to win just one of three, while two of these would surge past the total. No other preseason publication in America had Tennessee rated higher than me. I have them at No. 15, behind a Top 5 offensive line and a defense that surged into the 90th percentile over the last six games in 2019. Conversely, LSU and Auburn are teams I am much lower on. LSU was pre-ranked No. 6 in the AP poll, while I have them down at No. 11. Auburn was pre-ranked No. 11 in the AP poll, and I don't have them ranked at all!
LSU was an all-time one-year wonder, but now 14 starters were drafted, the mastermind pass-game coordinator is gone, the defensive coordinator is gone, the Heisman is gone, and the Biletnikoff is gone. After the dust has settled from opt-out season, not much remains: 6 (of 22) starters and 17 (of 44) from the two-deep.
While the national media loves Auburn this year, I point to the trenches. Two four-year starting defensive linemen were selected in the Top 50 picks (Derrick Brown and Marlon Davidson) while a third (Nick Coe) also departs. The offensive line must replace four starters themselves. This, after being pushed around on both lines by Minnesota in the Outback Bowl.
I see A&M definitely winning one of three, probably winning two of three, and with a puncher's chance to go for the clean sweep.
Thanks for reading – I am very excited to publish a few articles per month on TexAgs, and to continue my weekly spot on TexAgs Radio. I've always admired the A&M tradition and fan base passion, and I'm looking forward to connecting with more Aggies.
TEXAGS DISCOUNT AT PICK SIX PREVIEWS
The 2020 Preview book is on sale now. Check out the sample team pages, and please use TexAgs' special discount code "TexAgs" for a 12% discount.
Never miss the latest news from TexAgs!
Join our free email list
PRESENTED BY