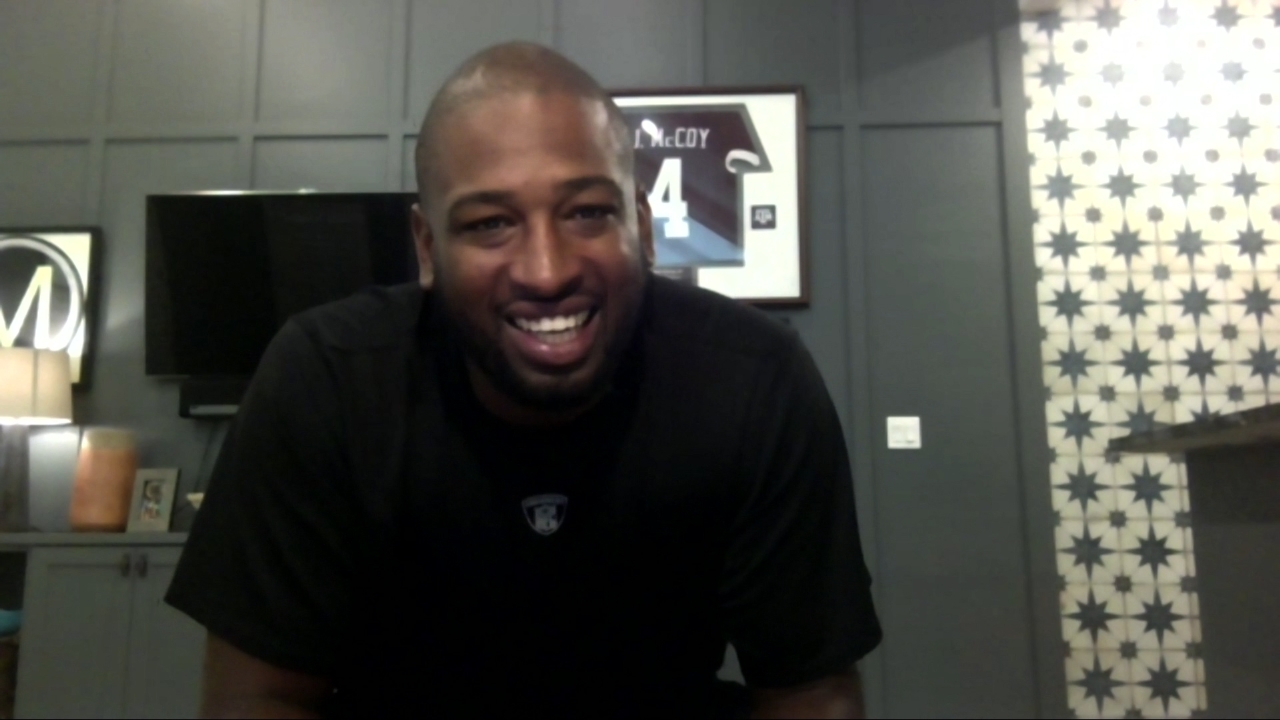 Texas A&M Football
Jamie McCoy: Ainias is now the most important offensive weapon
---
Key notes from Jamie McCoy interview
I was able to watch the Steelers game last night, and I liked what I saw. I am still a fan of the Steelers, but everyone in my family are Cowboys fans. To me, Cowboys losses are just another loss. They don't affect me. The defense looks tough for the Steelers this year, and I'm hoping that is how the Aggies will look this year as well.

Since Ryan Tannehill took over for Marcus Mariota, I saw he's won something like ten games for the Titans, which puts him as one of the best quarterbacks in the NFL in that span. He came into A&M much like I did as a quarterback. He wasn't going to get on the field at quarterback, so he was willing to do whatever it took to help the team win games.

Tannehill always had a nice arm and tight spiral, but at the time, we turned a lot of quarterbacks into other impact players. He proved what kind of athlete he was as a receiver, but going back to quarterback for him was a natural move. He knows how to take control of a huddle.

I have a few thoughts about Jhamon Ausbon's decision to opt out. I hate the timing of it because you could have said something a long time ago and not done it right before the season starts. I felt it was similar to how these recruits commit to schools at the last minute and spurn other choices. To me, if you don't want to be at A&M, I don't want you here. I don't say that necessarily to Jhamon because I know he was a great representative for A&M, but I want people who want to be at Texas A&M.

I just don't get how these players think they can grab a spot in the NFL. We've seen it with guys like Kendrick Rogers and Quartney Davis that could have seen their stock rise tremendously by coming back for another season. Who are these guys telling our players they have a first-class ticket into the league? It's not that easy.

I know Ausbon had a great chance to set himself up to make a lot of money by coming back for another season. There's no substitute for getting on the field and getting another year of tape. The top 15 wide receivers drafted last year all had over a thousand yards receiving with around eight to fifteen touchdowns. Jhamon is not at that level yet.

I thought Ausbon was going to be our guy this year and put himself in a great position to get drafted. Now I'm not sure. Scouts are going to be looking for guys that will show out this year, not for players who did two seasons ago.

Personally, I didn't experience any agent manipulation when I was in the league, but that doesn't mean it doesn't exist. You want to believe everyone has your best interest at heart, but that is not the case. My advice to any player is if you are not going to get drafted in the first or second round, why not come back?

Von Miller could have left early as a junior and been a back of the first-round draft pick, but he came back and became a legend at Texas A&M. There's no rush to get to the league. It's not what you think it is. You're fighting with seven or eight guys on your team alone for a spot. It's not easy to break into the league, and if you're not a high draft pick, it's even more challenging.

I think Jimbo can get these players to start coming back because the proof is in the pudding. If you are leaving early, you're not always setting yourself up for success. Jimbo is a good coach, and as he gets his guys in, I think these guys will start to see what he's building and how special it can be. These guys will start to stay in order to get a ring, knowing that it is a real chance with the way this team is built. These guys know they are getting close.

I think the most valuable offensive player for this team is Ainias Smith. He's valuable because we may need him in the backfield, at slot receiver, and returning kicks. He doesn't need to leave the field. I could go Isaiah Spiller as well, but I think having guys like Ainias, Devon Achane and even Demond Demas on the field gives them a new dynamic. We have to have speed on the field as often as we can, and I know guys like Demas are ready for the limelight.

This team looks a lot like my Steelers. We have a more mature defense, a veteran quarterback in Kellen Mond, and a lot of young receivers itching to get on the field. Do your job. Don't be afraid of the bright lights. Play your heart out this season and see what the results are.
Never miss the latest news from TexAgs!
Join our free email list