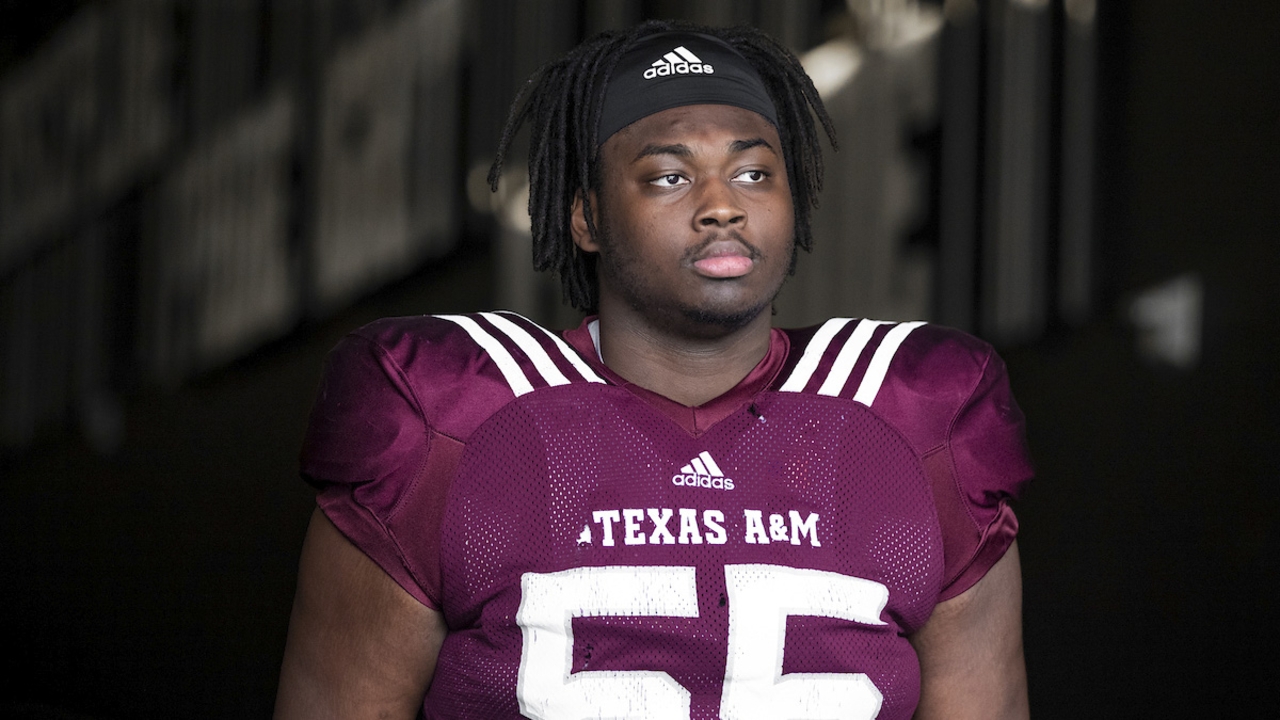 Photo by Texas A&M Athletics
Texas A&M Football
Reasons to Believe: Aggies have cause for optimism about an improved offensive line
---
Everybody needs something to believe in.
Movies and songs have been created about that belief.
The Aggies need a reason to believe that their 2020 offensive line will be much improved.
A list of 10 reasons to believe could easily be compiled: That's the number of defensive ends and defensive tackles A&M's offensive line faced last season that were selected in the first four rounds of the NFL Draft.
In fact, facing Auburn defensive tackle Derrick Brown — a first-round pick — changed A&M sophomore guard Kenyon Green's outlook on college football.
"That game right there changed a lot of things for me," Green said on Thursday. "I realized I was not strong enough yet, and I had to get in the weight room a lot. Derrick Brown welcomed me into college football."
"That game right there changed a lot of things for me. I realized I was not strong enough yet, and I had to get in the weight room a lot. Derrick Brown welcomed me into college football."
New stars are always emerging in the ultra-competitive Southeastern Conference. Consequently, the Aggies may find little optimism in facing fewer adversaries with high-level NFL talent.
However, Green was quick to provide more reasons to believe the Aggies line will improve on last year's showing in which they allowed 34 sacks and averaged a mediocre 159 yards per game on the ground.
"This year, with the front five, I feel like we are much stronger," Green said. "We communicate better. Everything feels like it's coming together. We're gelling together. I think we're going to have a great year this year."
One theory for last year's struggles were communication problems along the line. Green was a true freshman, and offensive line coach Josh Henson was in his first year in Aggieland.
Green said that remarkable progress has been made in that area.
"The communication is way better," he said. "Sometimes we don't even have to talk to each other and tell each other what to do or even call out stuff. We just know. We give each other a little nod or a little couple of words, and we're already in the play and trying to see what the defense is going to give us."
That's much different than a year ago.
"I was asking every play what I need to do," Green said. "Trying to make sure I don't mess up or give up sacks or any bad communications."
A&M coach Jimbo Fisher said Green is a significant reason the offensive line will be better.
"You've got to have tough guys up front, smart guys up front. It helps when you're both," Fisher said. "He's a very self-motivated guy; has a lot of talent. He can play multiple positions across the board. His techniques are really getting down. He's being able to use his power and size.
"I think he has a tremendous future in the game. As he continues to mature and gets bigger, stronger and the things that go on in the future. I think he'll go down as one of the best we've had here."
Green, who is shifting from right guard to left guard, will be in the starting lineup when the Aggies open the season on Sept. 26 against Vanderbilt at Kyle Field.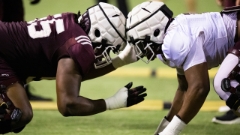 Craig Bisacre
Along with Kenyon Green, the starting line up is projected to consist of senior tackles Dan Moore and Carson Green, senior guard Jared Hocker and senior center Ryan McCollum. Should that hold true, Moore, Carson Green and Hocker would be third-year starters.
Although A&M returns 17 starters from a year ago, Fisher said the starting lineup is not yet set.
"There's still a bunch of competitive battles across the board that we'll wait and see how they play out," Fisher said. "We have another scrimmage this Saturday. We'll see in the last couple of weeks of practice."
One of the starting positions in doubt might be center.
There were reports that 6-foot-4, 340-pound freshman Smart Chibuzo was working with the starting unit in last week's scrimmage.
As with Kenyon Green last season, Fisher won't hesitate to start a freshman that is ready to play. However, Fisher is also known to mix and match linemen in practice to see how young players mesh with veterans.
Fisher did not reveal if Chibuzo was making a serious bid to unseat McCollom, but he did praise the youngster from Fresno, Texas.
"You can't have enough centers," Fisher said. "Center is a very unique, hard thing to do. You've got to develop guys there.
"He's a big guy. He's physical. As big as inside D-tackles are now holding the point getting things up there. I think he has a chance to be a very good center in the future."
Could that be the near future? That remains to be seen. But improved center play is another reason to expect an improved offensive line.
Never miss the latest news from TexAgs!
Join our free email list
PRESENTED BY