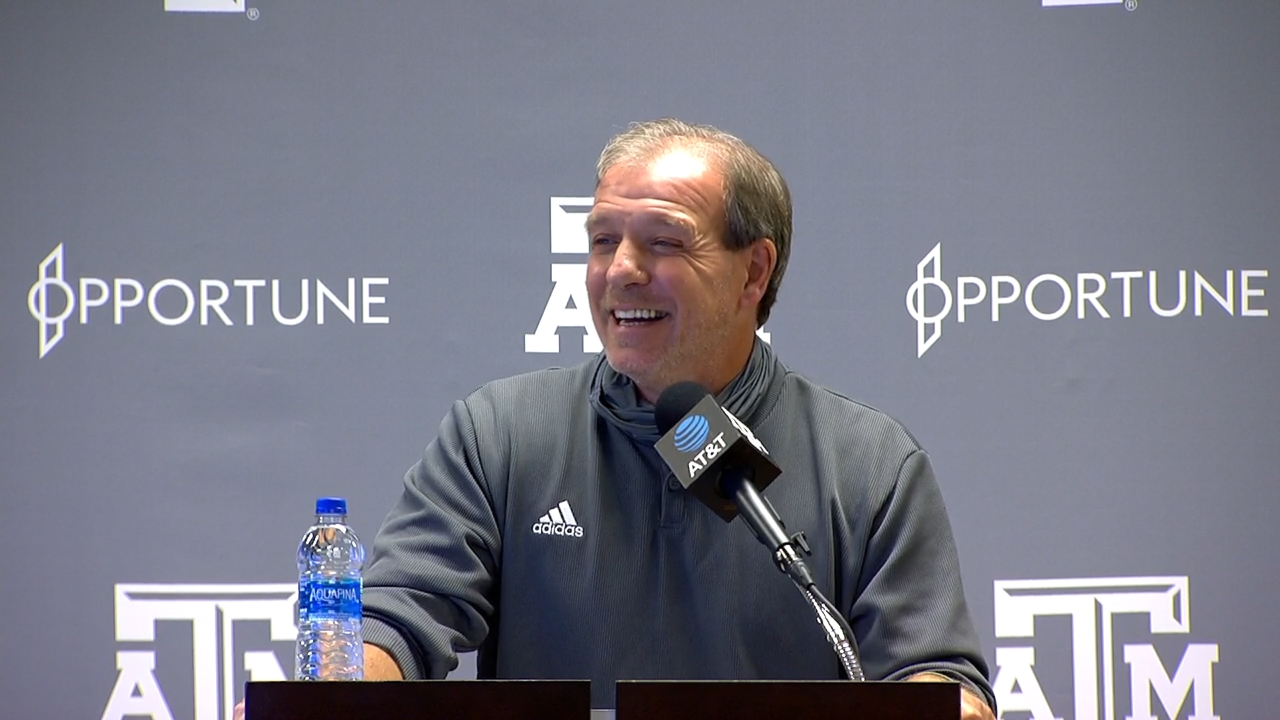 Jimbo Fisher
Buddy Johnson
Anthony Hines
Texas A&M Football
Press Conference: Fisher, Johnson and Hines address the media
---
Week three of Texas A&M's fall camp is going strong as the Aggies continue to prepare for the 2020 football season. On Thursday afternoon, Jimbo Fisher along with linebackers Buddy Johnson and Anthony Hines spoke to the media about the team's ongoing progress.
Video courtesy of Texas A&M Athletics.
---
The following are live, paraphrased notes from head coach Jimbo Fisher's press conference on Thursday.
The social injustice issues are a constant learning curve for all of us. We want them to know we support our young men 1000 percent. I think our team leaders did a great job in that regard. Our players voiced some things. The reason I spoke was to let them know we are aware of what they are feeling. We want to keep those lines of communication open. Social injustice has no place in this world.

You're learning every day. I am a tough coach and a tough-love guy. We want our practices to be tough, so they're aware when it happens to them in the real world. We continue to learn as coaches and listening to what these kids see. We want our kids to know we love them, support them, and we will continue to communicate daily on what you feel, how we can help you, and how we can get better.

I think our awareness for the things a lot of these young men face in the world has grown. The things we don't even know they face when they walk away from this building. The processes change, and we have to change with it. We have to be open-minded as we still try to get where we're trying to get to, but we have to be aware of the players. We are going to do everything we can to help our players in every way, shape and form.

I wouldn't say I was surprised with Blades' and Tucker's decision to opt-out. They're both outstanding young men and have bright futures. Blades has been coming back from a shoulder injury, and he was close to being fully cleared. He has a tremendous future, and Tuck is the same way. He has said that he is going to step back from football and do somethings for Black lives in the community, and that's wonderful. From a depth perspective, you hate to lose two excellent football players.

We're aware of the COVID-19 difficulties, but that's easier said than done because they're still trying to master the protocols we have now. We might have receivers play DB and DBs play receiver if we need to. We don't want to move the younger guys around too much as they need to be established before you can go. We have those conversations as coaches. We still don't know what it means if you can't play. Those questions might be never-ending.

We're always aware of issues with agents. We don't feel those issues right now. Our players have done a tremendous job in that respect, so I don't foresee any of those issues. We always keep an eye on the agent issue.

There is open competition as we get ready for the first scrimmage this weekend. We expect both Blades and Tucker back. There has been nothing said of the contrary. We love both of those guys and would love to have them back.

Our numbers of reps are the same. 1s, 2s, 3s and 4s all get the same numbers of reps. They are getting the same number of reps as Mond. Zach Calzada and Haynes King have done an excellent job. Of course, James Foster has opted out. We worry about that because quarterback is an important position.

We have been almost completely virus free since we started practice. Our players have done an outstanding job. Very mature and disciplined in that regard.

Experience helps. Each guy learns differently. The game and world slows down for everyone differently. Experience is a big part of that. That comes from work and understanding every day. It's part of maturing and growing and learning to play those situations.

We're thrilled we have these freshmen. Some of them will have an impact. We're very pleased with the guys we have recruited and how our staff has recruited them. We're happy. That's all I'll say.

I think these guys care for each other and know each other. They have a goal. They love A&M and love being at A&M. They support each other and want to play for each other. I can't answer that totally. You'd have to ask them. I think they love each other. That's a reason we don't see more opt-outs.

In the offensive line, you see the ability. We do. It's just a matter of getting all of the reps. I take it for granted how tough it is to come in as a true freshman on the offensive line with all of the stuff that they see. Those guys are going to have to be ready to play this year because of all of the things that are going on.

I'm never comfortable, but our players have done a great job. They've done an excellent job with the virus, so they're getting reps. The energy is where it needs to be. We're progressing well. Going into this first scrimmage, we're right where I think we should be.

Ainias Smith came back in tip-top shape. He's a worker and loves to play ball. His dad did a great job because he came back in great shape, both physically and mentally. He's done a great job.

I don't know how the Big Ten coming back would affect us. If they do, I'll be happy for those kids and those families. If they do, then that's great. If they decide to play, I'm sure it will be safe. Whatever they decide will be what they decide, and it won't bother me one bit.
Never miss the latest news from TexAgs!
Join our free email list