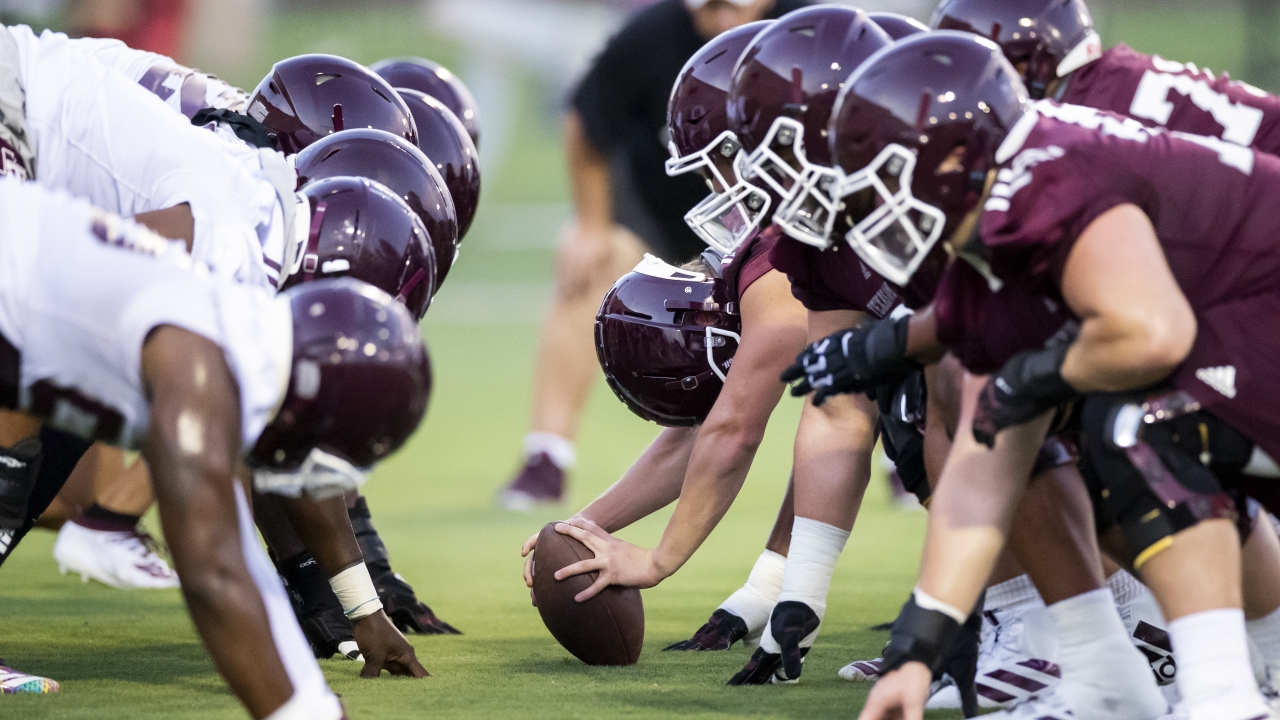 Photo by Texas A&M Athletics
Texas A&M Football
Beginning a fall camp that wasn't guaranteed, Aggies focused and faster
---
The Aggies returned to football practice on Monday night as an enthusiastic team with focus, lofty expectations and increased speed.
That's the way Texas A&M coach Jimbo Fisher saw it as the Aggies returned to the field for the first time since the Texas Bowl last December.
"Our kids were very excited and did a good job," Fisher said via a Zoom press conference on Tuesday afternoon. "For our first practice, we had great energy. Had great enthusiasm. Had some really good execution on some things. And, of course, some things we have to clean up."
Fisher spoke about a variety of topics, including A&M's response to the COVID-19 threat that has forced the upcoming season to be delayed until Sept. 26.
He announced that quarterback James Foster has opted out for this season. Also, redshirt freshman defensive end Adarious Jones has sustained a season-ending knee injury.
Fisher said senior Ryan McCollum is the leading candidate to start at center, and that members of the sixth-rated 2020 signing class will be needed to play this season.
Those freshmen made an excellent first impression on their coach.
"I'm very happy we signed every one of them," Fisher said. "Those guys all showed a lot of things … a lot of the things in which we thought in recruiting.
"Their size. Their speed. Their athleticism. Their work ethic. You saw their ability to play football. I'm very happy with that."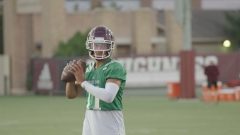 Texas A&M Athletics
That freshmen exuberance complimented the leadership of an experienced team with 17 returning starters.
"Our upperclassmen … I really felt a lot of leadership on that field," Fisher said. "I thought Kellen (Mond, quarterback) was outstanding. I thought McCollum up front, (tackles) Dan (Moore), Carson Green … you felt those guys up front. (Receiver) Jhamon Ausbon out wide.
"On defense, I felt (DeMarvin) Leal and Micheal Clemons, boy, their energy level, their ability to chase the ball, them bouncing around and playing and doing things I thought was outstanding. (Cornerback) Myles Jones, I felt good about in the secondary. Guys are happy to be out there and did a really good job."
The Aggies were 8-5 last season against one of the most challenging schedules in college football history. More tested and experienced, quarterback Kellen Mond said this year's edition of Texas A&M could be exceptional.
"I think this team is going to be very special," Mond said. "But we've got a long way to go and have to continue to work."
The influx of speed from newcomers like receiver Demond Demas and running back Devon Achane is among the reasons this year could be special.
"Our team speed has increased," Fisher said. "We felt much more athletic as far as speed yesterday on the field. We do look like we're running pretty well. Our big guys, too. Not just our skill guys. Our big guys are moving well. Our guys are in good shape."
Fisher said true freshmen will need to play because of the ten-game, all-conference schedule the Southeastern Conference has adopted.
Typically, a quarter of the schedule is against overmatched non-conference opponents, but a conference-only schedule will take a more substantial physical toll.
"Hopefully, nothing happens to anybody, and we play with what we have them listed. When you've just added two more SEC games, you're going have to have guys ready. Guys are going to get bruised and banged."
"You're going to have to build your depth. You're going to have to have guys (freshmen) ready," Fisher said. "One day you can be a third-teamer, and the next day, you can be a first-teamer. We don't know what's about to happen in the future.
"Hopefully, nothing happens to anybody, and we play with what we have them listed. When you've just added two more SEC games, you're going have to have guys ready. Guys are going to get bruised and banged."
There's also the possibility of positive tests for COVID-19. That would require at least a ten-day quarantine.
Fisher said no Aggies have currently tested positive. However, he did say that two players are currently quarantining despite having tested negative.
During camp, A&M football players are being tested once a week. Once the season begins, they will be tested three times per week.
Until then, the Aggies following guidelines social distancing in hopes of preventing the spread of the virus.
Players are wearing shields on helmets. Coaches wear face coverings. Only essential personnel are allowed at practices. On the sidelines, players are encouraged and reminded to separate.
"It makes you communicate more," Fisher said.
Mond said following safety guidelines has been a team effort.
"It's something we've emphasized in our meetings and our unity council that we, as an entire team, have to be held accountable and making sure we're doing the right things and staying away from certain distractions and certain people," he said. "As a whole, entire team and a collective unit, I think we've done a really good job."
Mond hopes the students will be equally diligent in helping ensure the football season proceeds.
"Wear your mask. Limit the partying. Football players … we're not even partying. I don't think there's time for it," Mond said. "If they could limit that and try to stay as healthy as possible, I think that will definitely help us.
"If they're able to do that. We're definitely going to have a season."
Never miss the latest news from TexAgs!
Join our free email list