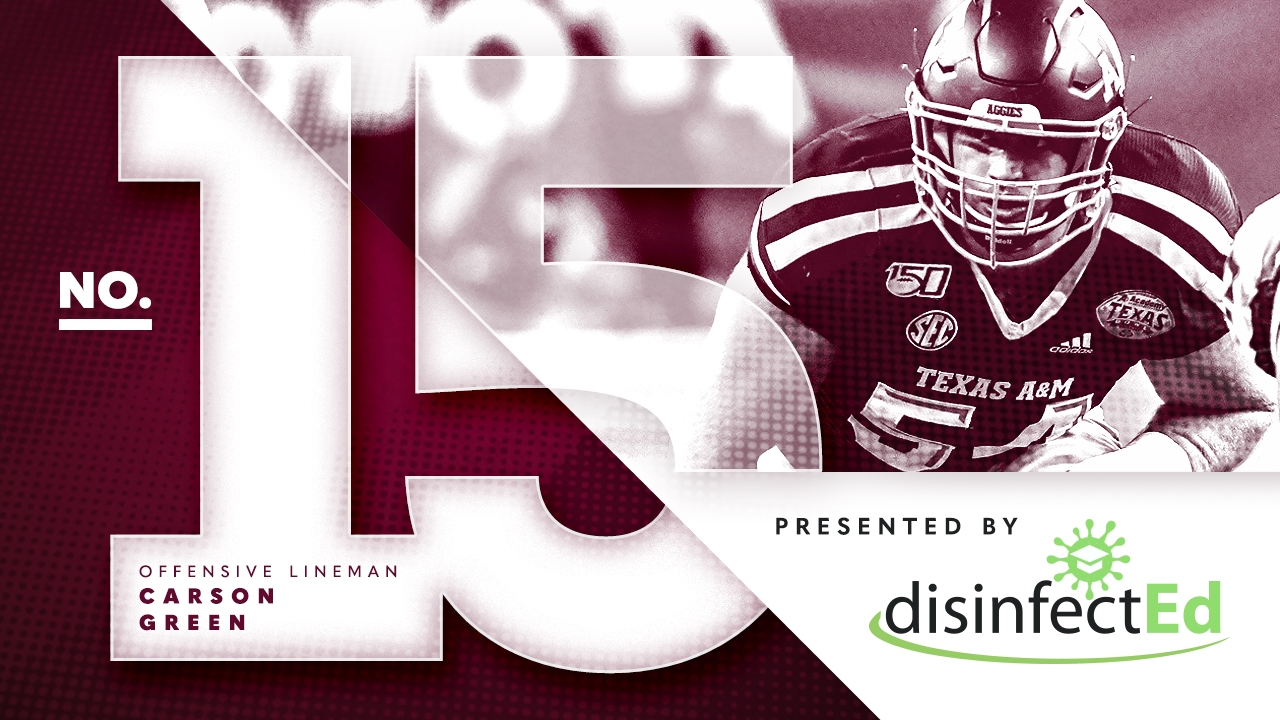 Texas A&M Football
30 Players in 30 Days #15 — Carson Green
---
Position: Offensive Line
Classification: Senior
Hometown: Southlake, TX
Listed Height: 6-6
Listed Weight: 315
Key notes from Billy's analysis on Green
30 starts for Carson Green. By the end of this season, he's probably going to start over 40 games in his career. 40 or 41 might be against Bama, LSU and Florida.

He is a guy who has had his moments. He has had some games. He still has to get better.

Carson Green was a good sophomore who had a promising season. He played hurt his entire junior season. That's not an excuse for how he played, but it needs to be considered when talking about how good this guy could get.

How good could Carson Green's senior year be? If it's just a little bit better than his sophomore and junior year, that's not good enough. If he, along with Dan Moore, takes a huge jump, this team will be exponentially better.

As a junior, with the transition to a new coach with new asks in what he was doing with new terminology, steps and everything else; that affected him. Still, he had his moments last year. Then again, he had his moments where he got beat as well.

If you watch the course of a game, Green and Moore have nice stretches. They'll make nice blocks and all that, but they'll also have the stretches when they get beat. With Carson, he gets beat quick. If he could slow those plays down when he gets beat, those plays won't be disastrous because Kellen is mobile enough to get away. Turning those losses into less devastating losses is huge.

I think he's an NFL offensive lineman. If this year is his best, he could definitely be a good SEC tackle. He has shown me enough that he can block talented SEC defensive linemen.

He's a leader. I love that Josh Henson's room has some dudes in it. Ryan McCollum might be the toughest guy in there. These are some dudes. They have played a lot of football together, know the offense, know their quarterback. I love that room. I think Carson Green could be a tone-setter in that room.

The line can be better. I think Carson's best would be hearing his name on draft day.
Follow the entire 30 Players in 30 Days series here.
MESSAGE FROM OUR SPONSOR
DisinfectED……Sanitizing, Disinfecting, and Protecting where we Work, Live, Educate, and Play. For more information, call Jason at 409-939-6323 or visit www.thedisinfected.com.
Never miss the latest news from TexAgs!
Join our free email list
PRESENTED BY