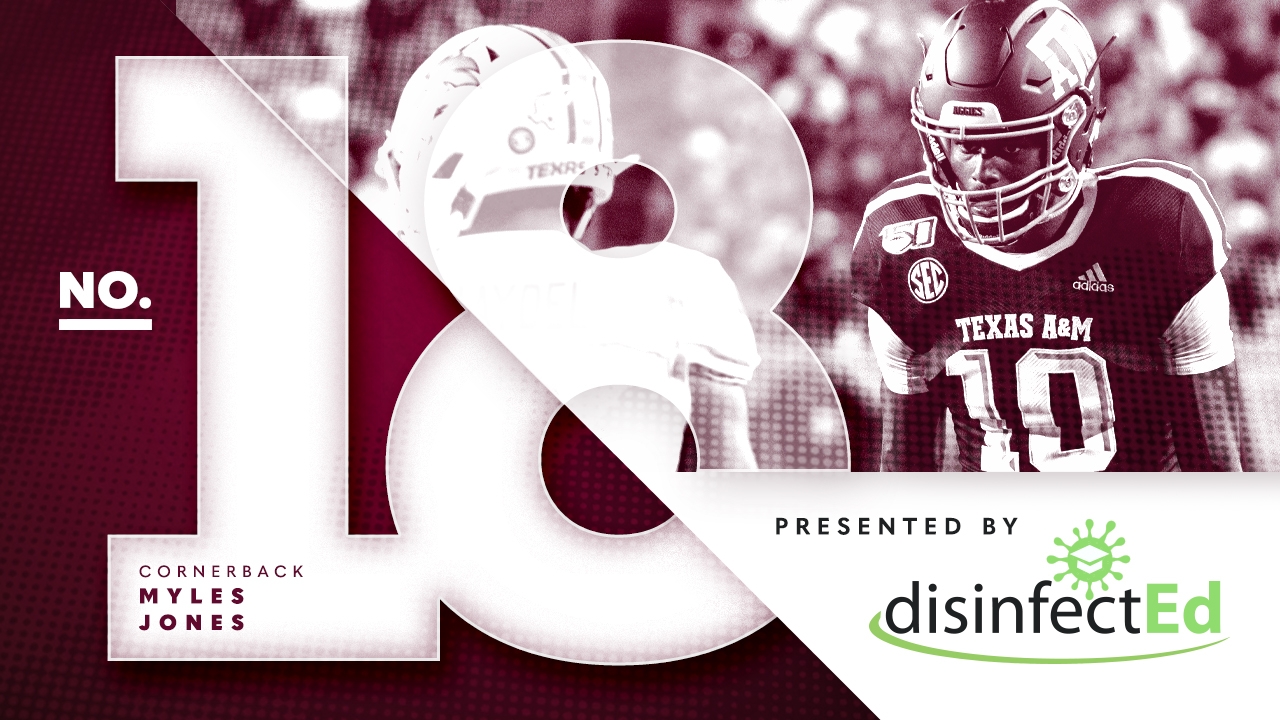 Texas A&M Football
30 Players in 30 Days #18 — Myles Jones
---
Position: Cornerback
Classification: Senior
Hometown: Magnolia, TX
Listed Height: 6-4
Listed Weight: 185
Key notes from Olin's analysis on Jones
I think Myles Jones is an enigma. He'll rate high in stats as far as passes broken up; I think he had six last year. It seems like half the time I see a touchdown pass, I feel like Myles Jones is the one getting beat.

I question his ball skills. He had two interceptions last year, and both were against Texas State.

He's a big guy and there is ability there. I think he will raise his level of performance this year because if he doesn't, he won't be playing very much. There is more competition this year, and I think that's good for him.

It is not unusual to see a guy that has been inconsistent put it together as a senior. Myles Jones may put it together as a senior. We have heard that Jimbo Fisher has been very complimentary of what he has done this offseason. Maybe this is the year.

If you don't acknowledge that he's struggled in the past, then you're not being honest. Yeah, I don't know what the coverage or the assignment was. A&M gave up a lot of big plays last year. Not all of that was his fault, but he was part of that secondary that gave up so many chunk plays.

Emerging doesn't mean you have emerged. It doesn't mean you can't, though. A lot of people are projecting that he will put it together. If he doesn't, Jaylon Jones or Brian George will be starting at some point this season. They have to get better at the cornerback position.

Will he be a week on starter? I have not seen Jaylon Jones or Brian George play at this level. I've seen Myles Jones and I've seen him struggle. My answer would be that based on what I've seen, Myles Jones will open a starter but will not be a starter three weeks later.

Billy has said that Myles has made significant improvements. Jimbo has said that. I always say to trust your coach. If that's the truth, then it's hard not to be optimistic about him.

You can look good (physically) and it doesn't matter if you don't play well. If you look bad (physically) and play well, it doesn't matter how you look. I don't care how they look physically. Ray Mickens was 5-8. You tell me who was better.

Jimbo Fisher is indicating that Myles Jones is going to be much better, and I hope that's the case. I hope that Myles can come back and show me that I was wrong. He will need to show some significant improvement to prove that he earned his spot at #18 on this list.
Follow the entire 30 Players in 30 Days series here.
MESSAGE FROM OUR SPONSOR
DisinfectED……Sanitizing, Disinfecting, and Protecting where we Work, Live, Educate, and Play. For more information, call Jason at 409-939-6323 or visit www.thedisinfected.com.
Never miss the latest news from TexAgs!
Join our free email list
PRESENTED BY