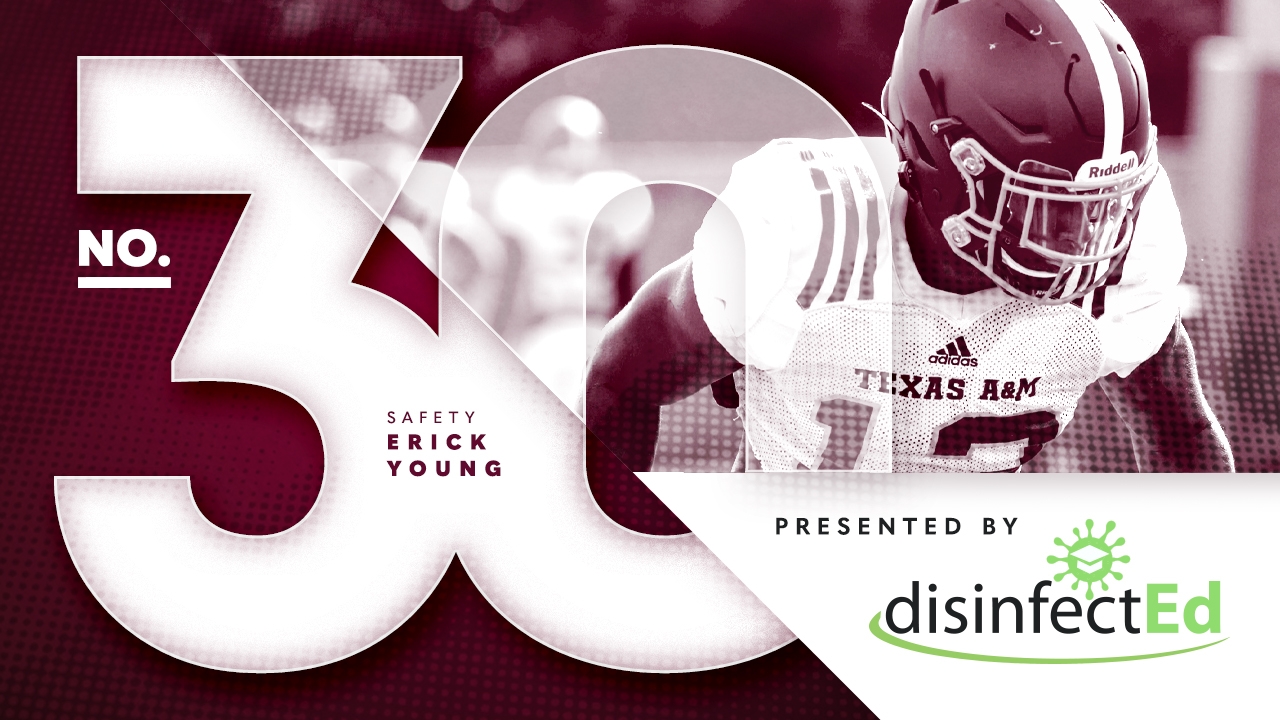 Texas A&M Football
30 Players in 30 Days: #30 — Erick Young
---
Position: Safety
Classification: Sophomore
Hometown: Richmond, Texas
Listed Height: 6-1
Listed Weight: 205
Notes from Billy's breakdown on Young
I think we have him way too low. If you're starting at 30, he'll be one who moves way up.
He's a guy that has a real chance to start as a sophomore. People forget that he was one of the more highly ranked and highly regarded players on the roster in terms of recruiting. He was a five-star and the no. 6 player in the state. He chose A&M over Ohio State, Oklahoma and USC. He went to The Opening and was one of the defensive standouts as a corner. He has grown into a safety and looks exceptional there. He's going to play and play a lot. He has the potential to be a multi-year starter at safety.
As far as talent, Erick Young might be No. 2 on this roster at safety behind only Demani Richardson. He's just smaller than Demani, but probably just as talented. He has a chance to play.

He's a tough, physical kid who works really, really hard at this. He wants it badly. Erick is extremely competitive. He was upset last year when he started off hurt. He wanted to play so badly. His time is here.

He's going to be in that group of exceptional freshmen from a year ago. That was a great class with Baylor Cupp, Jalen Wydermyer, Kenyon Green, Isaiah Spiller and Ainias Smith. There is still more to come from that class, and Erick Young is one of them.

Young has a lot going for him. It'll be hard to predict how he plays without a spring. It'll also be hard to predict the guys like Demani Richardson, Leon O'Neal and so many others. There are going to be like five other guys in that defensive backfield that could be competing for a starting spot.

I would take similar production from Young that we got from Leon O'Neal. Demani is going to get twice as many reps as any other safety. He's going to be on the field for every down. After that, it's wide open. If Young gets that kind of production, it means he will be starting or getting most of the other reps.
Follow the entire 30 Players in 30 Days series here.
MESSAGE FROM OUR SPONSOR
DisinfectED……Sanitizing, Disinfecting, and Protecting where we Work, Live, Educate, and Play. For more information call Jason at 409-939-6323 or visit www.thedisinfected.com.
Never miss the latest news from TexAgs!
Join our free email list
PRESENTED BY