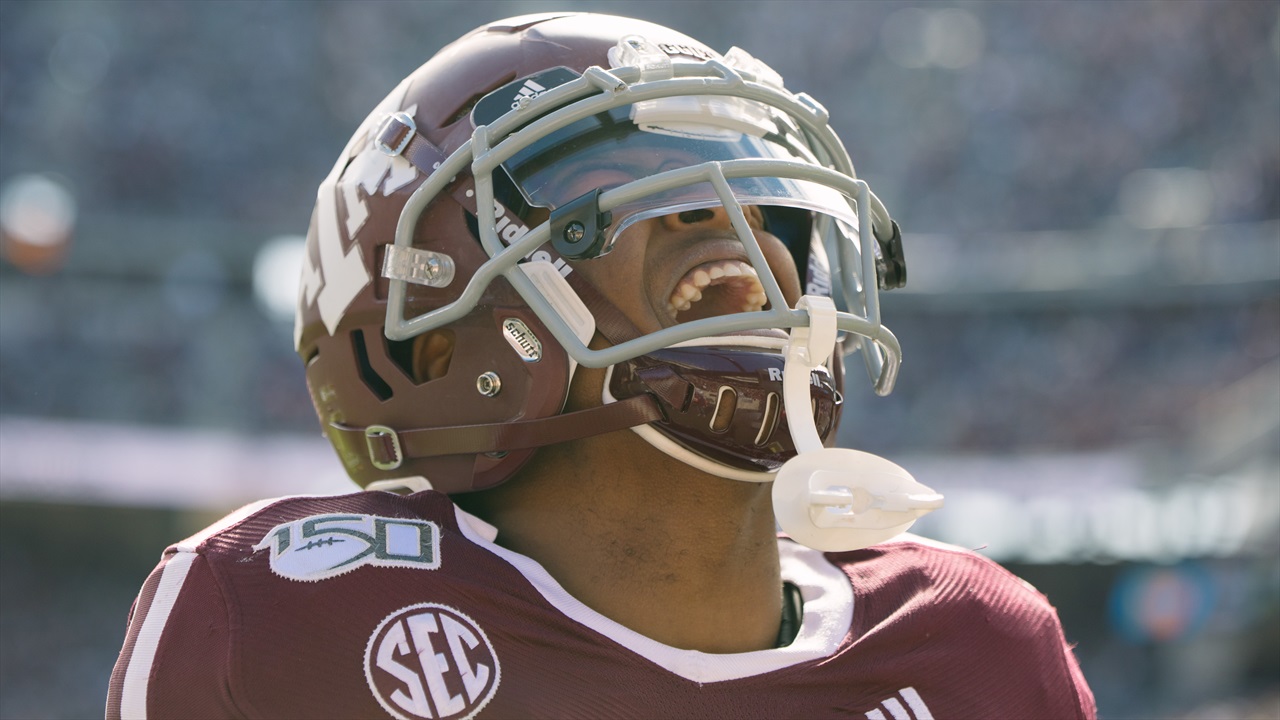 Photo by Rey Romo, TexAgs
Texas A&M Football
Klein Collins' Mitchell excited for Isaiah Spiller's continued development
---
Key notes from Adrian Mitchell transcript
You mentioned Isaiah Spiller's dad, Fred Spiller. We started Isaiah off by playing him at linebacker. Fred came by at a 'Meet the Tigers' event and told us that Isaiah played a little bit of running back, too. We probably weren't going to play him at running back as a freshman if Fred didn't tell us that. We can't take too much credit for that.

As a sophomore, Isaiah was on varsity. He had a great year and learned a lot from a great group of senior leaders. He took the bull by the horns as a junior. We didn't want to overwork him. No running back is ever happy with the number of carries they get, but he ran the ball well with us those first two years on varsity.

After his first couple of years in our program, we sat down with Isaiah and Fred to discuss the recruiting process. We have had some good running backs come through Klein Collins, so we could project that he was going to blow up. He kept a level head through it all. You could see him taking off athletically and started noticing that he could get to the NFL someday. It has been great to see him grow over the last few years.

Isaiah is a great kid. He really, truly is. He was invited by our running back coach — Coach Miller — to come in and talk to our current kids during the quarantine. He spoke about his journey and his career. He wants to be a mentor in this community. We've had kids who have come specifically to talk to Isaiah. To have a young man of his magnitude come back and tell them to stay humble and take care of themselves in the classroom is huge. All the young guys want to play college football, but they don't know what it's all about. For someone like Isaiah to do that, it helps them a lot. He is one of the most humble kids I've ever had come through this program. He's truly a special young man.

Isaiah's body doesn't represent his little babyface. He still looks like he's 15 in the face. But with a back that is 6-1, 220 pounds who can run a 4.5, it's a blessing for a coach. Telling a DB to try and tackle this kid is a tall task. He can shake you a little, and he has excellent form too. It's been awesome to see him develop and continue developing. A&M is doing a great job with him.

Having your son play for your alma mater is a dream come true. It would be a dream for me to have my son follow my footsteps at Tulane or even just play college football anywhere. It's hard to imagine the giddiness that Fred has seeing him play in the Maroon & White. His mom wasn't going to let him go very far, either. I'm excited for that entire family. The success he has had already, the success he is going to have, and the success A&M will have has to make a dad like Fred very proud.

Isaiah is extremely humble. With being humble, he knows where it all came from. Knowing him as a young man, I know that he knew the work was still there. He knew that if he kept grinding and trusting, then it was going to happen. He's a believer. He's one of those kids who drink the Kool-Aid. He has had a few gallons of that A&M Kool-Aid. He has a great family that supports him. Our running back coach gave him some uplifting thoughts, and Isaiah is always smiling when I see him. He's never going to dwell on anything.

I know the numbers. He was over 1,000 yards all-purpose. He could rush for over 1,000 and catch another 500 over the next three years, easily. He's an every-down back. He has an extremely high football IQ. In high school, he understood everything. I'm sure he's becoming an even smarter college football player. He's going to get his degree, and maybe he'll go on to play in the NFL. Whatever he does, the world is going to feel his impact.
Never miss the latest news from TexAgs!
Join our free email list